Don't Forget Your Sunblock
Before baring your body bear in mind safe rules of UV engagement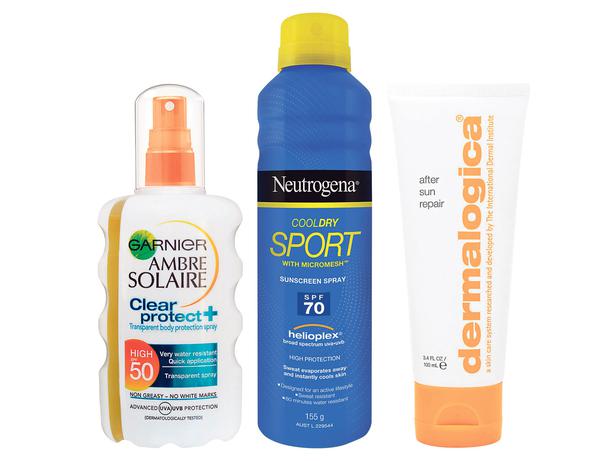 Tuesday Oct. 13, 2015
It's a battlefield out there, with UV rays firing up free radicals deep within your skin. Rather than fight a rearguard action against the visible signs of damage that inevitably result from sun over-exposure, get in training now to combat those environmental assaults.
Most of us are pretty good at protecting our faces, but often we overlook our bodies, until it really is beach weather. With the first long holiday weekend — of what we hope will be a long, hot summer — looming, it is time to check your stock of sunscreen. If it is past its use-by date then top up supplies before limb-bearing weather is consistently upon us. UV levels start to soar in spring and so does our appetite for the outdoors, so now is the time to get into a skin-saving routine.
Remember any broad-spectrum sunscreen is better than none, but it pays to find one with a pleasant feel because you will be more motivated to use it. I've been checking out a few of the latest offerings.

Garnier Ambre Solair Clear Protect SPF50 $22.99
Forget white marks with this clear translucent sunscreen spray with high protection in a non-greasy, non-stick formula. French company Garnier was the first to add a sun filter to its sun oil way back in 1935, following up with facial suncare in 1951 and photo-stable filters in the 1990s. It is the number one selling brand in France and Spain and is extending its big Ambre Solaire range in New Zealand.
From selected supermarkets and pharmacies.
Neutrogena Cool Dry Sport Sunscreen SPF70 $24.99
Active outdoors types will want to check out this new sunscreen inspired by sweat-wicking athletic gear. It has a cooling feel when sprayed on and the new "micromesh" formula creates a breathable barrier allowing perspiration to pass through the sunscreen and evaporate rather than drip it all off. Sweat and water-resistant for up to 80 minutes, so you can play hard.
Stockists ph 0800 444 802.
Dermalogica After Sun Repair $56
If you get a bit lax with sun care then don't stint on the aftercare. This cooling gel will help soothe sore skin on the face and body. Applying a mix of calming botanical extracts combined with rehydrators means skin will recover faster. Can also be used after waxing to reduce redness.
From Dermalogica salon stockists, see dermalogica.co.nz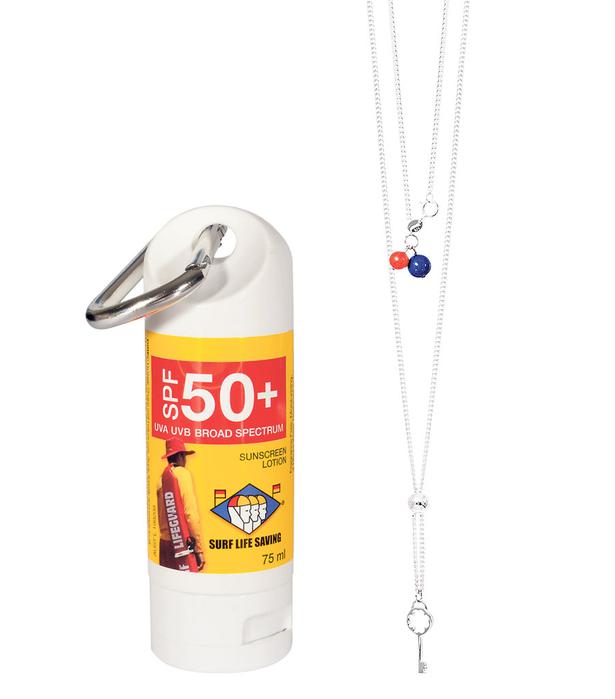 Surf Life Saving New Zealand sunscreen; Lindi Kingi necklace. Pictures / Supplied.
IN BRIEF
Dive into this
As part of its support of Water Safety New Zealand's campaign to keep school pools open, Europe's leading suncare brand, Garnier Ambre Solaire, has commissioned jeweller and mother-of-three Lindi Kingi to design a limited edition necklace. From sales, $90 of the $129 purchase price will be donated. The sterling silver necklace features beads in Swarovski pearl and orange howlite.
Buy it at themintrepublic.com and find out more about the campaign at watersafety.org.nz
Splash out
Surf Life Saving New Zealand is preparing for another summer guarding our beaches and is hoping for plenty of sales of its sunscreen to bolster fundraising. The water-resistant SPF50 is priced from $9.99 for a handy clip-on, with $1 from all bottles going to the organisation.
Find it, and larger sizes, in Farmers, New World and Pak n Save and some pharmacies.
Stock up
The Cancer Society sunscreen range is another way to help as you buy. The range features 1 litre bottles for group use, a handy combination SPF30 sunscreen with insect repellent and a dry-touch low irritant children's formula in addition to the standard sizes. Items sold in Countdown supermarkets.
See the full range at auckland-northland.cancernz.org.nz
Share this:
More Beauty & Wellbeing / The Latest