Sunscreen Test-Drive
This blistering hot summer has called for sunscreen-testing overdrive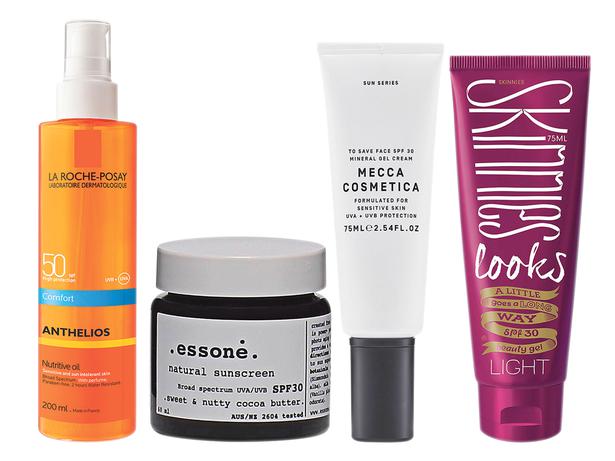 Saturday Feb. 3, 2018
What sunscreen to choose? I've tried plenty of new varieties, am a convert to oil and have been experimenting with gels. If you haven't tried these fresh formulas or lightweight lotions (some with polymers that improve sweat and water resistance), give them a go.
Like many people, I have some old favourites, particularly antioxidant-loaded facial sunscreens to combat environmental damage (like Ultraceuticals and Elta MD) and, for the body, family-friendly value buys chosen on texture and convenience.
To manage oiliness or if you like to wear makeup, then add layering SPF priming products and face bases to your outdoor armoury (Coola's stand out).
Next month "smart" makeup will get smarter, with the launch of CliniqueFit, a new "active lifestyle" SPF40 foundation, with sweat and humidity resistance.
So far this summer we've held off making picks so as not to add to the confusion after Consumer testing faulted a range of brands.
With many others untested, we've now decided to cast our net wider, but stand by our earlier call to overhaul New Zealand's voluntary regulatory regime that sees shoppers buy on trust. Whatever you use, follow accepted expert sun sense advice.
RELATED ARTICLES
The Truth About New Zealand Sunscreens
Ways to Stay Safe in the Sun
La Roche-Posay Anthelios XL SPF50 Spray Huile $38
French brand La Roche Posay arrived in New Zealand this summer with a great reputation for its sunscreens, including for sensitive, eczema- and rosacea-prone skin. There's a big range, but for the body this oil, which leaves limbs silky and hydrated, is hard to beat. (Bondi Sands oils come close, but with a fruitier fragrance younger users are likely to love.) From Life and Unichem pharmacies and dermatologists.
Essone Sweet & Nutty Cocoa Butter Natural Sunscreen $39
Natural sunscreen fans wanting rich moisturising will like this plant-based and zinc-oxide choice. The lush-feel and slight sheen is likely to be too much on oilier complexions, so best if you prefer that unmade-up glow. Also comes in two other moreish smelling combinations. The Muriwai company also makes phytonutrient skincare. Essone.co.nz
Mecca Cosmetica To Save Face SPF30+ Sunscreen $38
This cream has a cooling feel and offers hydration without heaviness from hyaluronic acid. Feels dewy, looks more matte, so works well under makeup for dry to normal skin. It was developed to fill a gap based on customer feedback from a store that has a stack of good sunscreens. I've been using it a lot and will restock. From Mecca Cosmetica stores or MeccaBeauty.co.nz
Skinnies Looks SPF30 Beauty Gel $45
The original locally made Skinnies sunscreen launched a few years back with the gel said to go five times as far as a regular lotion. Travellers who don't want to be weighed down like its fast-drying formula. Now this BB-style antioxidant-infused gel, in light and dark tints, offers more hydration and repair antioxidants. GotSkinnies.com
Share this:
More Beauty & Wellbeing / Wellbeing