5 Sunscreens to Protect Your Skin
Stay beautiful in the sun this summer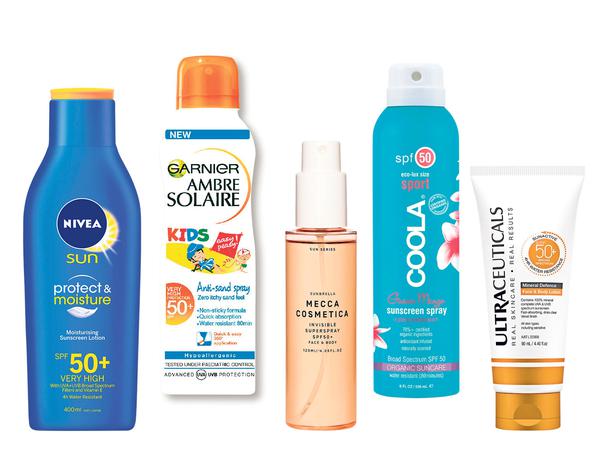 Saturday Oct. 22, 2016
1. Nivea Sun Protect & Moisture SPF50 400ml Sunscreen Lotion, $23.49
Tests have shown that 24 hours after using this light lotion, subjects had nearly three times the moisture levels of untreated skin. Add in high SPF and water resistancy, along with skin-salving vitamin E and panthenol for more reasons to apply and reapply. From department stores, pharmacies and supermarkets.
2. Garnier Ambre Solaire SPF50 Easy Peasy Kids 200ml Anti-Sand Spray $22.99
Don't leave trying this just to the kids ... I'm a fan of formulas for littlies, they're often good for sensitive skins, offer cool-feel sprays and wet-skin application and this one is a first in boasting it keeps sand at bay. The mist technology allows for very fast drying, thus saving sand from sticking, short of any sudden drop and roll. From department stores, pharmacies and supermarkets.
3. Mecca Cosmetica Sunbrella SPF50 Invisible Superspray 120ml, $46
Mists on all over for a clear, fast-absorbing cover. The gentle water-resistant formula is also usable on the face, under or over makeup. You can wipe it across your limbs, but for the face just tap it in to avoid smearing and it will soon soak up and settle. From Mecca Cosmetica, visit meccabeauty.co.nz
4. Coola Sport SPF50 Guava Mango 235ml Sunscreen Spray $59
This Californian company has an eco-luxe tag going on, and with its summery scents and pretty cans presents an appealing package. There is a mineral range, but in an effort to reach high SPFs in its Sport sunscreens it does use FDA-approved chemical actives. But by adding phyto protectors such as algal and plant extracts, it can keep the chemical filters at lower levels than many cheaper brands. Stockists ph 0800 223 288.
5. Ultraceuticals Sun Active SPF50 Mineral 90ml Face & Body Lotion $69
This uncommonly high SPF physical block of titanium dioxide and zinc oxide contains an antioxidant complex, a cornerstone of this smart Australian skincare. The complex is also in an organic filter clear body spray. If used on face as well as body, this lotion dries quickly, but is on the thick side, so would be best for drier skins. Other types should check out Ultra UV Protective Daily Moisturiser SPF30 now in both hydrating and mattifying mixes. From selected salons or visit ultraceuticals.com/nz
Share this:
More Beauty & Wellbeing / Wellbeing