Karen Elson Talks Style, Beauty and Music
Chameleon supermodel-turned singer-songwriter Karen Elson embraces an oh-so English emblem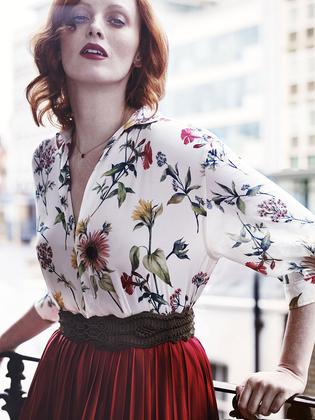 From being called an English rose to naming her soon-to-be-released second album Double Roses, you'd be right in thinking Karen Elson has a thing for roses.
But don't try to typecast this top model as an ethereal romantic, wafting around an English country garden. She is well and truly transplanted, balancing touring with her band with bringing up her two young children in Nashville, Tennessee.
Elson first moved to the music hub with former husband Jack White, of the White Stripes. He produced her first album and now seven years on she will release her second next month. Double Roses takes its name from a Sam Shepard poem she loves.
This alludes to hidden depths and plays with imagery in a similar way to her haunting songs. These skills have also carried over from her career as a top model, known for being a canvas on which photographers could project varied interpretations.
From the mid-90s the red-headed, blue-eyed model became a flag-bearer for ever-so-slightly askew English allure. She was discovered in Manchester at age 16 and her career took off when Steven Meisel shot her for the cover of Italian Vogue on her 18th birthday.
Since then she has been re-imagined by a slew of leading photographers, racked up a stack of magazine covers and campaigns and walked the runway for major designers, including for Marc Jacobs when she was pregnant. She went on to design an accessories collection for Nine West and has dabbled in film, but it is in music that Elson has most strongly developed a second string.
READ: Musician Theia's Beauty Routine
From appearing in White's Blue Orchid video, to being filmed playing auto-harp singing Marlene Dietrich's Falling in Love Again to dueting with Cat Power on a tribute album to Serge Gainsbourg, Elson has now gone from eye candy to centre stage, with a guitar slung across her slim frame. She has also recorded with Beck and Robert Plant.
Her decade-plus involvement with New York-based cabaret troupe The Citizens Band has seen her transition from covers to penning her own lyrics for their, at times, political performances. A revolving troupe of members has included actors Maggie Gyllenhaal and Zooey Deschanel and The Cardigans lead singer Nina Persson.
Elson's debut solo album The Ghost Who Walks was released in 2010. She initially kept her song-writing from White, although he lent his name with production. But her vocal talents on the country-noir pop release won independent praise.
Double Roses is hers alone, with the pair having parted ways in 2013. They are both largely based in Nashville and have a daughter, Scarlett Teresa, and a son, Henry Lee.
Elson advocates for children's and women's right and has travelled to Africa as an ambassador for Save the Children. Two years ago Harper's Bazaar named her its "Woman of the Year" for her work with the charity. With film-maker friend Liz Goldwyn she started Vintage Vanguard in 2014, persuading designers to rework vintage pieces to auction for funds for the Dress for Success organisation which helps women into work clothes.
This past January she joined her non-identical twin sister Kate, a film-maker, on a post-Trump election Women's March in London. Harking back to suffragette days and union picket lines, the song based on the old poem, Bread and Roses, played out as they strode the streets of London. "The worker must have bread, but she must have roses too," goes its most famous line.
Roses and Elson — who spoke of her pride in the march on social media — are it seems destined to be a continued refrain. They fit neatly into her other role as a brand ambassador for Jo Malone London.
The 38-year-old was a natural choice for the role and says her absolute favourite item in the range is its Red Roses Bath Oil. But on stage this chameleon beauty takes on a different persona, favouring to wear the darker Velvet Rose & Oud. It's a typical Elson mash-up.
"My image of a Jo Malone London girl is an elegant, fun-loving and very feminine woman, who uses fragrance to portray the many different sides of her personality," she told Viva. By day Elson loves the light Wild Bluebell cologne, but her on-stage choice has "a sensual, sultry feel to it."
"I usually wear the Dry Body Oil. The scent lingers on the skin, without overwhelming."
Handily, since taking up the new role late last year, she has bottles of the stuff to choose from. She also gets to travel internationally to represent Jo Malone London, appearing at glamorous dinners and parties.
"The role has taken me across the pond to London, back to NYC and LA so far — it's very jet set!" says Elson. Part of her job as the brand's "London girl" involves gifting scents to friends of her choice. "Lucky them," she says.
Lucky her, we think.
The days of sneaking into her grandmother's bathroom to steal a cheeky spritz are long gone, but the appeal remains. "Fragrance always held that allure for me — something secret and grown-up and comforting," she explains. For this self-admitted scent hoarder, her latest career add-on has certainly come up smelling of roses.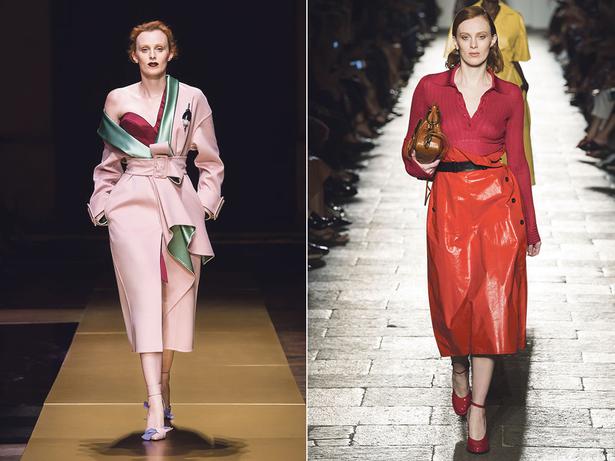 Q & A
How do you feel about being described as an English rose?
I find it the hugest compliment, as the English Rose is indeed a lovely one.

What do roses represent to you?
They're sweet, mysterious, romantic and yet seductive.

What rose is most you?
A dark blood red rose, hence Red Rose bath oil is my all-time favourite. It's divine. In the bath after a long day or when I'm off a long flight the thought of a bath with Red Roses is a welcome relief.

Do you like roses for romance, or . . .
Roses for romance and for any occasion. Viva the rose.

Describe your personal style in three words?
Elegant, whimsical and practical (because I'm a mum).

What's the significance of the name of your forthcoming album Double Roses?
It's a Sam Shepard poem that I love, but it also feels very appropriate to my Jo Malone London role!

READ: Behind Jo Malone's Bloomsbury Collection
If London was a Jo Malone London cologne it would be . . .
A lush English garden with bluebells, an array of roses, lily of the valley, mixed with a couple of gin and tonics.

Do you ever combine your scents?
My favourite way is to use a body creme in one scent and then layer a different cologne on top. I love to use the Wood Sage & Sea Salt Body Creme, then spritz Blackberry & Bay Cologne — heaven.

What scents do you use at home?
For home fragrance, I'm obsessed with the Green Tomato Leaf Home Candle. It's especially great for the kitchen — it smells really clean and fresh. Red Roses Scent Surround Diffuser is another favourite. I love it in my bedroom or living room. If I'm entertaining in the evening, I like to light some scented candles — I tend to change the scent depending on time of year — about an hour before my guests are due to arrive. It really helps set the mood.

What is your go-to Jo Malone London gift?
Bath oil is always a good gift for a female relative or friend. Something indulgent and pampering that one doesn't often buy for oneself.
For a man, the Lime Basil & Mandarin Shower Oil is always a big hit. The Black Cedarwood & Juniper Cologne is another, although I would absolutely wear it myself, it has an earthy, masculine scent that on a man would just smell ravishing.

Which fragrance gives you the happiest memories?
Wild Bluebell Cologne. It reminds me of my childhood in England, when we'd go bluebell picking in the spring.

Are there any other scents that remind you of home?
Wood Sage & Sea Salt reminds me of the English seaside — rocky and bracing. And of course all the rose-based scents feel like home. There's nothing more English than a rose, and I like to think I'm a bit of an English Rose ...
Be inspired by the good things in life. Sign up now to receive emails from Viva, and twice a week you will be sent the latest news, profiles, videos, fashion shoots, competitions and more.
Share this:
More Beauty & Wellbeing / Features & Profiles