What Beauty Means to Susan Sarandon
Actress and activist Susan Sarandon talks empowerment and beauty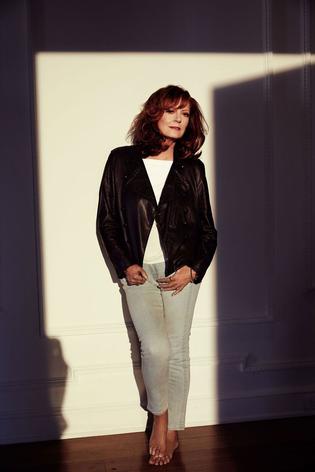 Susan Sarandon is the sort of woman who in the golden age of Hollywood would have been called a hell of a dame.
These days the forthright star is usually tagged "actor and activist" and is celebrated for her professional versatility and earthy appeal. The Academy Award winning actress has come a long way since playing easily led Janet in the Rocky Horror Picture Show. In 1999 she was appointed a Unicef goodwill ambassador and is known for campaigning for liberal and women's causes alongside her prolific film, television and theatre career playing strong, sexy women.
The natural redhead believes there are more roles for women aged 50-plus than when she began acting in movies in 1969, largely because more women are writing and developing projects — but, she says, progress is slow going.
With awards season underway, a number of older women are making stylish appearances on the red carpet. Sarandon, who says it is empowering for all women to celebrate their own unique beauty, has just begun a new role as a L'Oreal Paris brand ambassador. One of the drawcards, she says, was that "they didn't ask me to be any different than who I am."
With age she has come to appreciate that beauty is a state of mind and recalls that when she initially heard the company's "Because I'm Worth It" tagline she liked that it was a shift in the framing of why women should look good. "It had to do with women taking the time to celebrate themselves as opposed to trying to get a guy. It's an extremely powerful statement."'
For herself, approaching 70 and currently single, she likes to keep active, healthy and "authentic" and to have fun along the way. She lives in New York and keeps fit with everything from ping pong to boxing sessions and has two movies coming up in 2016.
What gives you confidence?
Knowing that if I fail, I am strong enough to pick myself back up and again and start over. In my life, I have crashed and burned a few times, but I'm still here. I feel happy to wake up each day. I try to say yes more than I say no. I make my own choices and try to live a full life.
READ: Susan Sarandon's 5 Must-Have Beauty Products
Beauty evolves with time, what does this mean to you? 
Through time and experiences you start to become less hard on yourself, you start to enjoy who you are, and are naturally more comfortable in your own skin. The flaws you thought you once had now become your strengths and you wear them with a badge of honour — no apologies!
What is the most daring thing you have done in your sixties? 
Got all my tattoos.
Do you have any beauty secrets? 
Not really. I don't smoke cigarettes. I try to eat well. I try to be happy. Always hydrate inside, moisturise outside, sleep and repeat. Sex is good for your skin, probably, right?
How do you get ready for a red-carpet evening? 
Luckily, I usually have the help of my favourite glam team. We listen to great music — I love R&B. We catch up and laugh while they work. I like to sip green tea with ginger and if it's been a long day, I'll also have a hot coffee with lots of milk. My makeup look will change based on what I'm wearing or sometimes even what kind of mood I'm in. But generally I like to have a distinct but still understated eye look and a pretty shade of neutral or apricot lipstick or gloss.
Have you ever had a beauty faux pas? 
I was in Russia for a film festival and the makeup man had sparkles in everything.
What is the best beauty tip you've had?
Gabriel Garcia Marquez in Love in the Time of Cholera said that age has no reality except in the physical world. The essence of a human being is resistant to the passage of time. Our inner lives are eternal, which is to say that our spirits remain as youthful and vigorous as when we're in full bloom.
When do you feel most beautiful?
When I am with my children and grandchildren. I am so proud of them. My kids make me laugh and I think laughing keeps you feeling beautiful and looking younger.
Who are your beauty icons? 
Christy Turlington, is beautiful inside and out. Vanessa Redgrave radiates courage and warmth. Women everywhere who look confident and engaged.
What is your beauty philosophy or mantra? 
Beauty is something that leaves the world a better place. It's arbitrary and capricious. To me, a beautiful person is someone who has inner beauty and strength and helps make this world a better place. That's what I try to do in my life.
Do you have a life motto?
A new dawn, a new day. One must live, not just exist.
Share this:
More Beauty & Wellbeing / Features & Profiles