Taryn Brumfitt Wants You to Love Your Body
Body image activist Taryn Brumfitt talks to Jessica Beresford about her mission to change the world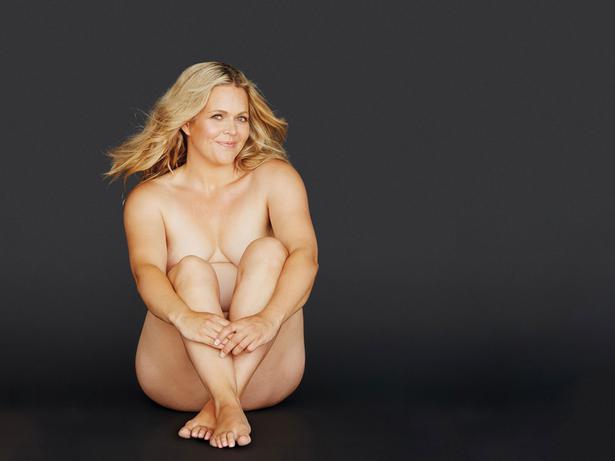 Tuesday July 26, 2016
Taryn Brumfitt is sitting in front of a plastic surgeon, who's critiquing the various idiosyncrasies of her body: her soft stomach, modest buttocks, the fact that the left side of her upper lip is slightly smaller than the right side, the shape of her breasts.
"In order to give you that youthful look, what we need to do is place an implant to give you the volume that you need, and also a small nipple lift to bring the nipple up to where it's supposed to be at the centre of the breast," says the consulting Beverly Hills surgeon, who's part of a scene in new documentary Embrace.
Taryn, who directed and appears in the film, accepts that she doesn't need to look like a Victoria's Secret model, so this consultation is purely to illustrate the kinds of procedures some women feel the need to undergo in order to obtain "perfection".
However, being happy with her given body wasn't always the case for Adelaide-based Taryn, who nearly underwent plastic surgery after having children. She didn't go through with the nip or tuck because of the example she thought it would set for her daughter — so acceptance was the only way forward, and after a brush with virality, she's become a figurehead for positive body image.
In 2013, she posted a before and after picture of herself to Facebook, but it wasn't the kind you're accustomed to: the before was her on a stage, ripped in a bikini; the after shot was her sitting naked, embracing the figure pregnancy had given her.
"I was speaking to some girlfriends earlier that day and they were saying to me how they were struggling with how they felt with their bodies," explains Taryn, of the day she went viral. "It was just one of those decisions I made, it wasn't thought through, it was just, 'Maybe I could share how I look now and how I used to look, and just show them a non-traditional before and after and hope that it might help them'."
The post was captioned 'Be loyal to your body, love your body, it's the only one you've got', and it soon became much bigger than helping her circle of friends, gaining millions of likes and shares, messages of support and making headlines around the world. "It was overwhelming just how many messages there were, over 7000 emails and messages.
"Some of the stories people were emailing me they had never shared with anyone before. When there's someone who's a sexual abuse survivor who's opened up to you, a complete stranger, and she's never shared it with anyone, that's pretty full on."
Although Taryn was getting media coverage as a result of the viral post, she didn't think short TV or radio segments were enough to get the message across. "I thought, 'What's a great platform to have people's attention for longer than four or five minutes?' It just seemed like a really obvious choice to make a documentary. I have been a photographer for 12 years and a speaker, so I thought maybe I could combine the two for storytelling and make a documentary that shares not only my story but the stories of women all around the world."
Embrace, showing now at the New Zealand International Film Festival, certainly isn't exemplary in terms of seamless documentary making, but you can't fault Taryn's authenticity, nor her message: to encourage girls and women to be happy in their own skin.
That point is reiterated through interviews with key body image activists, experts and celebrities, such as Ricki Lake, Turia Pitt, Nora Tschirner and Amanda de Cadenet, who help to spread the positive message.
"I want the film to start a conversation. I want people to recognise that they have the power to change, within themselves, that they don't need to seek out a new diet or a pill or a potion or a lotion to embrace their self esteem and self love," says Taryn.
"That they actually have access inside their head and it's a choice to flick the switch and live a rich and abundant life, or they can go through life battling this unnecessary war with their body."
Embrace is a mere kick-off point for Taryn — she wants legal change in order to achieve greater self-esteem, worldwide. She's pursuing a law change for Australia that would see companies obliged to admit to digitally altering models — similar to one passed in France in 2015.
"What it will do is put pressure on the companies and marketers. They will have to start making the choices to not airbrush the models, and they're going to become accountable as well — if they're choosing to enhance imagery, they've got to wear the badge, and I'm not sure how that fits with most brands."
Though law changes may take time, Taryn says there are small things everyone can do to make positive change, including choosing which messages we send to the younger generation. "I never talk about how my daughter Mikaela looks — it's always about what she does, and how she contributes.
"It's about teaching her the true currency in life, which is all of the things which you can't see, it's nothing to do with the outside. Beauty is humility, compassion, kindness, humour and that's what I'm teaching her."
• Embrace shows at The Civic on July 30, and Taryn Brumfitt will hold a free discussion about body image after the film at 2.30pm at the Civic Wintergarden. Visit nziff.co.nz
Share this: