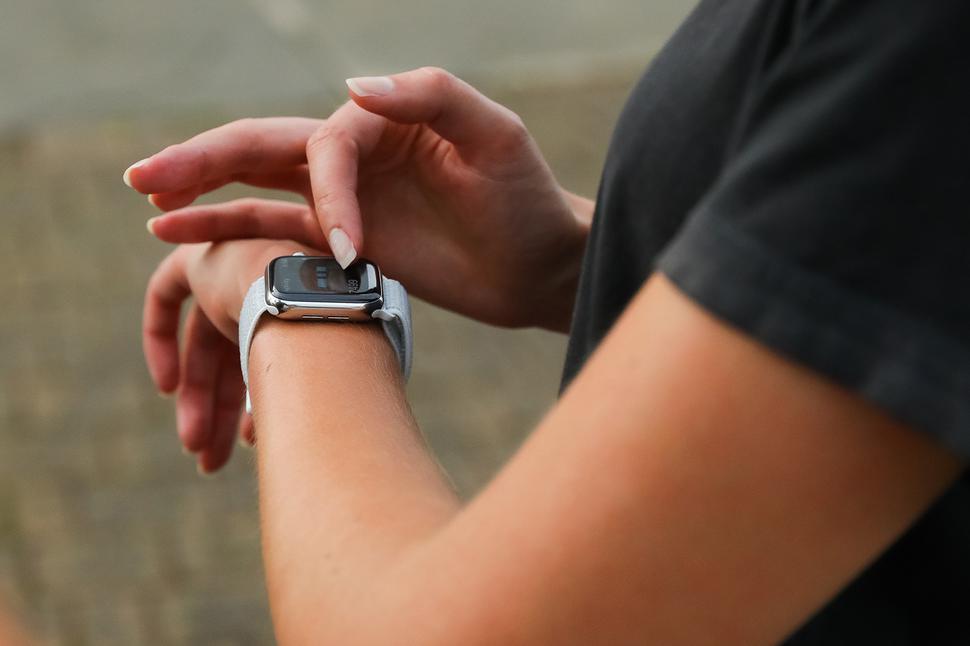 The Test Drive: Can Technology Help Improve Fitness & Wellbeing?
Products like the Apple Watch Series 5 are changing the future of fitness, as Viva assistant fashion editor Rosie Herdman discovers
Wednesday March 18, 2020
"The best surfer is the one with the biggest smile." I tried to remember these words, gritting my teeth as I wiped out on yet another warm, Byron Bay wave.
The town formerly known as a hippy hotspot and now as one of the world's ultimate wellness destinations holds no end of possibilities for the fitness-inclined.
Personally, I wouldn't consider myself uber-fit, but I try to stay active and am interested in trying out new and varied forms of exercise that aren't just plodding on a treadmill repeating "I hate this, I hate this, I hate this," inside my head.
Learning a new skill, no matter what it is or where you are, can be hard in that you know exactly how well you're doing aside from a vague impression that you've got a lot to learn — without help, that is.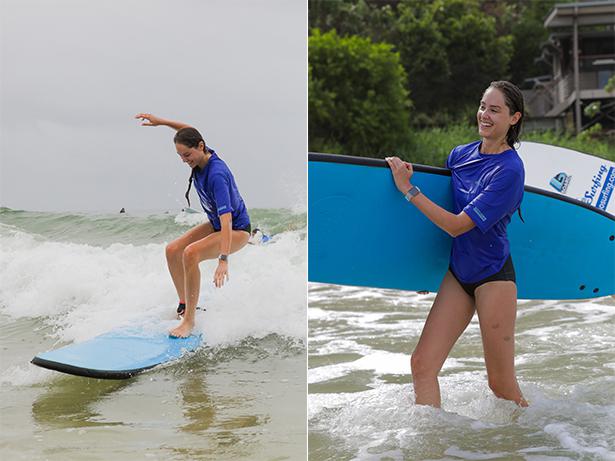 A new wave (pun intended) of technology is making it easy to track progress through all manner of fitness activities, and on this particular trip to the Australian coast I tried out new features on the Apple Watch Series 5, which was released in September last year and is the most up-to-date version in the Apple Watch family.
While it's to be expected that the watch allows you to keep up with notifications like messages, emails and appointments without having to look at your phone all the time, what Apple really prides itself on is a product that supports a healthy, active lifestyle.
The Series 5 is its most sophisticated iteration yet, and thanks to features like built-in GPS, a heart rate monitor and compass, users can comprehensively track how much they're moving and in what way.
READ: Discover Byron Bay, The Hippie Enclave Turned Must-Visit Wellness Haven
From surfing to stand-up paddle boarding, running, swimming and yoga, over two days I was able to put the watch (and myself) through our respective paces, and having never owned or used one before, I was curious to see how the Apple Watch would help me to take the guesswork out of fitness and wellness activities.
Something I didn't actually know was that the Apple Watch is water-resistant to 50-metres, meaning it is ideal for the aforementioned watersports. External app developers are also taking advantage of the watch's features to create targeted apps for tracking specific activities.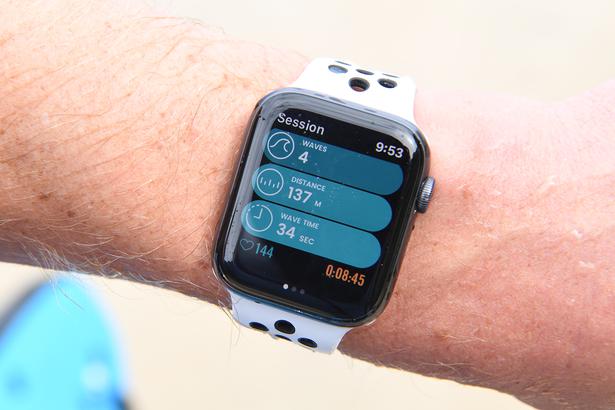 For my best imitation of Kate Bosworth in Blue Crush, I used Dawn Patrol, a clever surf tracker app created by UK-based Dutchman Anton Bremer. Dawn Patrol can tell you tide forecast information for your chosen beach, how many waves you caught, your top speed, heart rate and number of calories burned.
My impressive results, in case you were wondering, were three waves caught, for a total distance of 287 feet and my top speed was 14.9 kilometres per hour. Kelly Slater, watch out.
READ: The Rise Of The Life-Changing 'Power Half Hour'
Regardless of results, I can see how the app would be a great tool for both avid surfers, or those like me who are just beginning and want to have a good idea of metrics — and whether you're in the water at Byron Bay or Piha, another responsible in-built Apple Watch feature is the Emergency SOS which gives users easy access to emergency services, should you get into trouble out there.
Anyone who has parked up on Herne Bay beach in the summer knows how many stand up paddle-boarders you're likely to see, and I've always been curious to try it out. Given the opportunity in Byron Bay, I fared better than surfing (at least I didn't fall off) and can see why people say it's a full-body workout.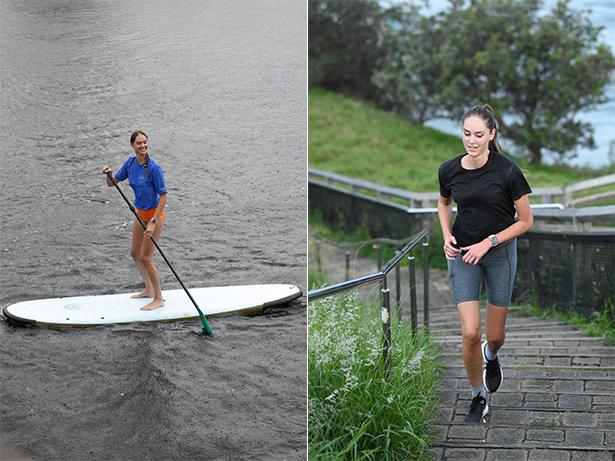 This time I tracked my journey with GoSUP. Created by Swiss developer Sascha Thoni, it's another comprehensive watersports app and meant I could see how efficient the strength of my paddling was, whether I favoured my left or right side and my distance travelled.
Back on dry land, I took the watch for a run up to one of Byron's most well-known landmarks — the Cape Byron lighthouse. I've only recently started running as a regular form of exercise, having sworn off it for most of my life, and it's been helpful to have numbers to look at to get an idea of where I'm at compared to friends who regularly run. 
There are other dedicated running watches that do this, of course, but being able to go for a run or a swim without your wallet, then walk into a cafe and pay for a coffee in places that are set up with Apple Pay, is even more convenient. 
READ: Why Getting A Good Night's Sleep Is More Important Than Ever
Running in 92 per cent humidity (those numbers don't lie) I wouldn't wish on anyone, but once I'd finished it was satisfying to see that I had gained 121 metres of elevation to the top of the lighthouse, and raised my average heart rate to 167 BPM. Plus, the view was amazing.
Any workout or movement you do while wearing the Apple Watch helps close your 'rings' — activity trackers that work towards your personal daily goal of overall calories burned, exercise undertaken and how often you've stood up over 12 hours.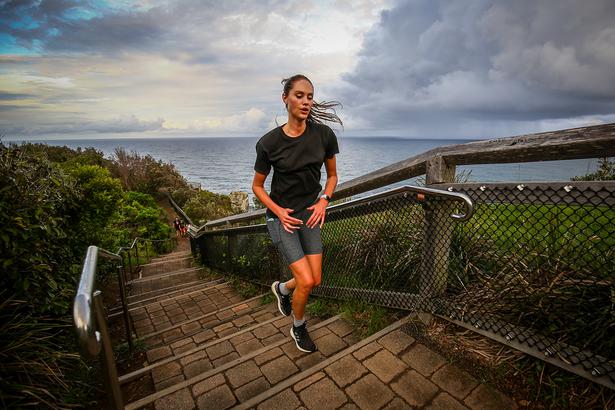 Since returning to Auckland, I've enjoyed trying to close my rings each day either through a walk to work, or a quick run afterwards. This is not always achievable of course, but on days when I'm slouched like Smeagol over my keyboard, that gentle hourly reminder to stand up and move around for one minute is a life-saver. I generally use it as an excuse to get a glass of water, go to the bathroom or just take a moment away from my screen. 
While travelling, I've used the in-built Workout app to track short HIIT work-outs in my hotel room, and can see myself doing this for home work-outs too — especially if I'm going to need to be working from home at some point.
Another less active but equally important feature I've been getting a lot of use out of in these stressful times is the Breathe app. It might be my imagination, but my watch seems to sense when my feelings of anxiety or stress might be slightly heightened and has often vibrated with "don't forget to breathe" at a crucial moment.
READ: Why Meditation Is One Health Trend Worth Tuning Into
One thing to note is that you definitely do need to charge an Apple Watch every night, as the battery life only lasts a day if you're wearing and using it frequently. That caught me out a couple of times when I treated it like a new iPhone at first, which seem to have everlasting batteries.
Regardless, having used it for a while now I've come to realise the real charm of the Apple Watch lies in its ability to offer something unique to each user.
Whether you're a driven exercise fan, or are just after a more holistic way to support awareness of your body, it can be a helpful tool to aid you in your journey to whatever your goal may be.
Heading to Byron Bay? Here are five things you can check out: 
Do: Book a surfing or stand up paddle-boarding class with Let's Go Surfing
The surf education initiative has four locations in Australia, including Byron Bay, and you can book in for a private lesson or a group session.
Stay: Crystalbrook Byron at Byron
Situated within 45-acres of subtropical rainforest, the Byron at Byron offers a luxury experience in the middle of nature.
Eat: Three Blue Ducks at The Farm
Get a full The Simple Life experience at iconic Byron Bay location The Farm with a stroll around the grounds. Visit the Highland cows, black pigs and chickens; gaze upon organic gardens and walk through a macadamia orchard, then sit down to enjoy a beautiful meal at Three Blue Ducks using The Farm's bountiful organic produce.
Go: Run (or walk!) up the Cape Byron lighthouse
No matter your fitness level, it's a beautiful route and the view from the top is worth the climb.
Try: Yoga with Tahl Rinksy
A class with yoga guru Tahl will leave you feeling relaxed and rejuvenated — she co-owns local studio Creature Yoga, and also teaches online for Chris Hemsworth's fitness platform Centr.
Share this:
More Beauty & Wellbeing / Wellbeing