Test Drive: Dafni Hair Straightening Ceramic Brush
This straightening iron promises to be safer on your hair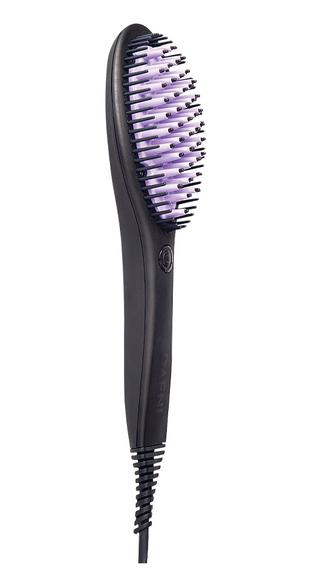 The promise: Irons hair safely and easily, up to 10 times faster than with regular stylers, and at a lower temperature.
The practise: It is important to brush or comb hair well before using the Dafni, as hair needs to be snarl free before beginning. The Italian-designed brush was very easy to use and it only took a few strokes on each section of hair. Mine is relatively thick and wavy and I like to section it first for good styling results which slowed the process. If you skip this or divide into larger sections, the Dafni can grab more hair in one stroke than a normal styler. The handle wasn't hot which can be a problem with rods on straighteners. The brush was effective and I didn't feel like my hair was being fried. The only downfall was it was hard to completely straighten right up to the roots and at the very ends, because it was hard to get the hair "inside" the brush as instructed on the box.
The place: From Farmers stores.
The price: $249.99
The verdict: I was very happy with the results, but it didn't seem that much faster than stylers on my thick hair, although the brushing process felt more productive. The Dafni would work really well and quickly on fine hair and for people with naturally fairly straight to wavy hair looking for extra smoothness, rather than on those wanting to tame tight curls or with very coarse hair. It doesn't leave hair looking unnaturally poker straight. I liked the naturally brushed straight look it left me with.
Share this: