Test Drive: Ghd Advanced Split End Therapy
See how Ghd's split end treatment fared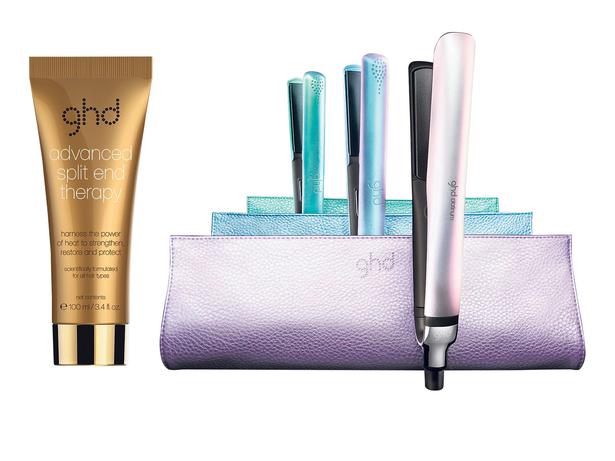 Monday July 25, 2016
The promise: Bid adieu to split ends with a product from the makers of ghd, applied into the hair using the styler.
The practise: I didn't want to chop inches off my mop just to get rid of silly split ends (thank you, heat damage), so wanted to give this a whirl. After shampooing my hair, I reluctantly refrained from slathering on conditioner because it apparently stops the product sealing deep into the hair fibre. After lightly towel-drying my hair, I worked an almond-sized dollop of the therapy product through, focusing on the ends as instructed and wherever else I saw damage, being careful to avoid coating my roots. After combing to ensure even distribution, I blow dried my hair straight, and ran a ghd Platinum Styler through to finish. This is where the magic happens. As you use your styler, the heat activates and seals the product into your hair using ghd's innovate new "thermo-marine bonding system" which is designed to fill and bind broken hair fibres together, while a "super nutrient complex" nourishes and protects from further breakage.
The price: Advanced Split End Therapy product costs $38. For use with ghd stylers. The new limited edition Azores collection (pictured) is priced from $310 for the pearlescent Atlantic jade and marine allure models to $230 for the pearl-toned Platinum styler.
The place: From selected salons, for stockists ph 0800 880 2019. www.ghdhair.com/nz
The verdict: After a month of using Advanced Split End Therapy, I'm loving it. My hair feels sleeker and smoother, and although not all my ends are entirely split free, I think this will prevent them from splitting so easily in the future now hair is fortified with a clever protective coat. Using the product too much can create a build-up on your ends, but too little will give too slight an effect, so I settled on applying it about twice a week. It's no miracle worker, but the therapy left my hair feeling great. Perfect for those wanting to strengthen, grow and achieve healthier looking hair.
Share this:
More Beauty & Wellbeing / Trends