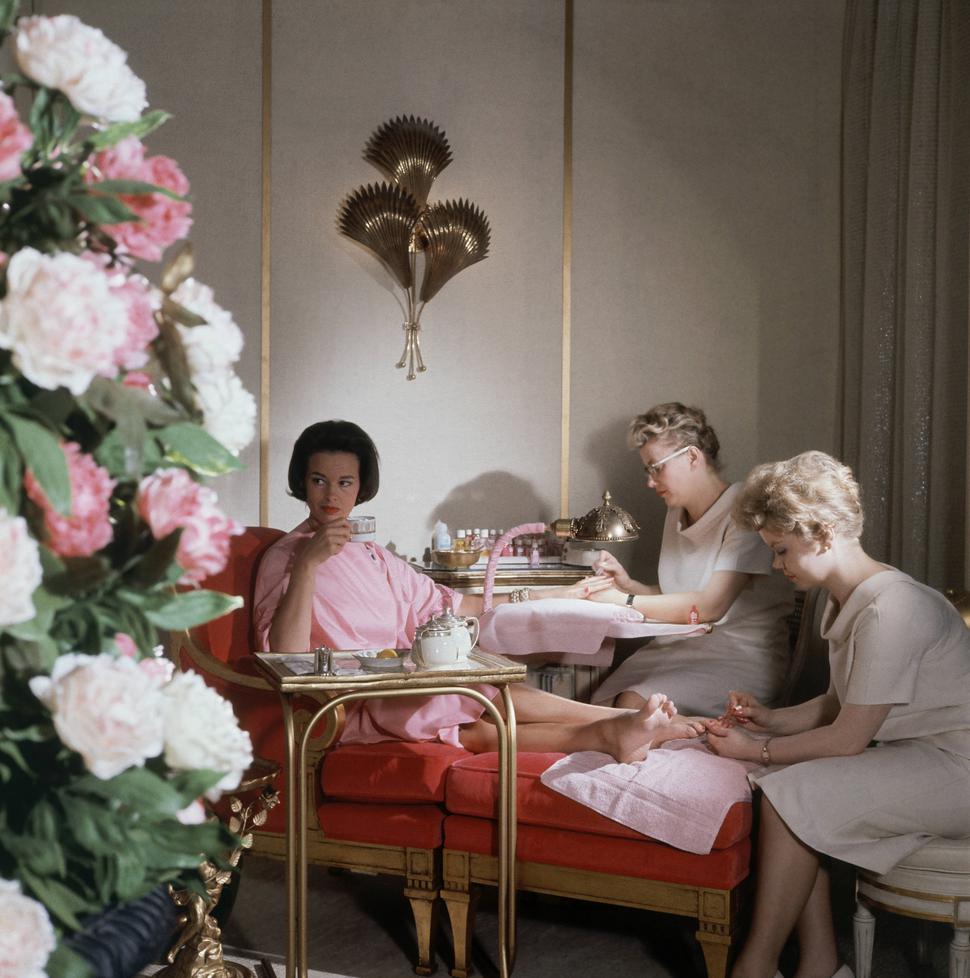 The Test Drive: Patchology PoshPeel Pedi Cure From Mecca
Emma Gleason gives the 411 on foot peels. Do they hurt? Are they gross? And will they fix your winter feet?
Monday Jan. 11, 2021
Sandals are one of summer's pleasures — feeling the sun and breeze on your feet is bliss, and they have a laidback air that elevates nearly any outfit. My favourites are a second-hand Marni pair, satin with a Velcro strap and a footbed that's great for walking around the city. I love them, but I don't love my feet.
I feel ashamed when anyone admires my shoes, hoping they don't notice my dry, cracked heels. It's all my own fault really.
I have to confess I barely look at my feet all winter, keeping socks or tights on at all times (changing them daily of course) and alternating between boots, loafers, and low-top Dr Martens. It works very well until the weather warms up, and I suddenly realise that my feet are dry and cracked, and not fit to be seen in public. Moisturising helps somewhat, but the effects never seem to last.
So, with summer looming, I decided to take things up a notch with a foot peel.
The promise 
I gave Patchology's PoshPeel Pedi Cure a whirl in November. It's billed as a "refining and brightening foot treatment" which is a polite way of saying it strips all that heinous winter skin from your feet. Perfect!
While a foot peel may sound intense, in reality it works quite simply (and gently) to remove dead skin through chemical exfoliation.
The secret to this foot peel is an advanced AHA + BHA blend featuring glycolic, salicylic, lactic and citric acids. You'll recognise these ingredients if you use chemical exfoliants on your face — in that instance they're used sparingly, and there is no visual peeling or flaking. For the feet however, it's all a bit more dramatic.
PoshPeel Pedi Cure combines these four potent ingredients and they work together to deeply exfoliate the surface of the skin by speeding up cell turnover and encouraging all your dry, dead skin to shed. And shed it does, if all the bravely uploaded photos on the internet are to be believed.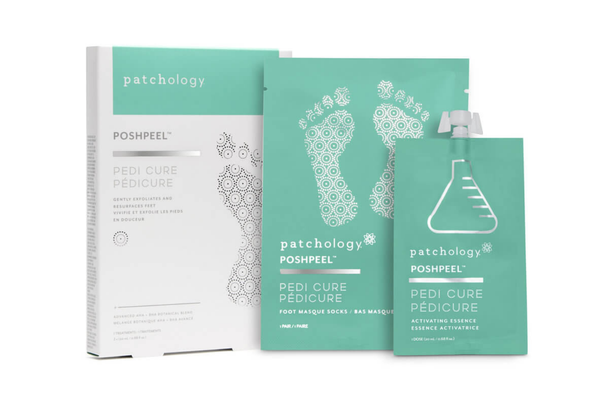 The practice
I chose a Tuesday night in the middle of November to do the treatment, very aware that summer was hurtling closer. I was working late at home, so it seemed like an opportune time to sit around with my feet swaddled in acid.
The PoshPeel pack comes with plastic booties and the treatment itself (in two separate sachets, one for each foot). I squeezed one of the treatment sachets into one bootie, and slid my foot in, then did the other foot.
There's adhesive tape attached to each bootie that lets you seal it around your ankles securely, however, I wouldn't walk around unnecessarily or lie horizontally in case anything seeped out the top. I put socks over the booties to keep things extra secure, and set my alarm for an hour and a half.
READ: Happy Feet — How To Combat Dry Skin & Cracked Heels 
The recommended time is 60 minutes, though the instructions say that you can do longer if you want more exfoliation (up to 90 minutes) which is what I did. After my alarm buzzed, I removed the booties and rinsed the solution off by having a shower.
The following week, I waited.
It takes around five to seven days for peeling to start. My feet were itchy, though not uncomfortably so, and I made the most of wearing sandals this week, knowing I wouldn't be able to soon.
By the Sunday my feet were starting to look drier, and by Monday they began to properly peel. Success! The peeling itself lasted around a week for me — it was most noticeable on the soles of my feet and the toes.
If you're wondering whether the skin flakes off by itself, the answer is yes. To mitigate any stray shedding I wore enclosed shoes for two weeks, and wore socks to bed. When showering I scrubbed my feet with a silk exfoliating cloth to speed up the process — also quite a satisfying task.
The price and place 
Patchology PoshPeel Pedi Cure, $35, is available from Mecca stores or online at Meccabeauty.co.nz. 
The verdict
By the end of November the peeling process had finished, just in time for the weather to be properly warm, and sandals essential.
My feet felt and looked noticeably softer and less dry, especially around the soles, arch and forefoot — and my toes looked much better. I still have some dry cracks on my heels, an eternal struggle for me, which I think may require a more intense solution (stay tuned).
That said, I feel far more confident wearing sandals now, and recommend giving this treatment a try — I do it once or twice a year. It's oddly satisfying (especially if you're guilty of being a picker or a peeler) and helps justify that special pair of sandals.

Share this: