The Best Dog Care Products
Four-legged friends need pampering just like you do, but they have their own needs when it comes to cleansing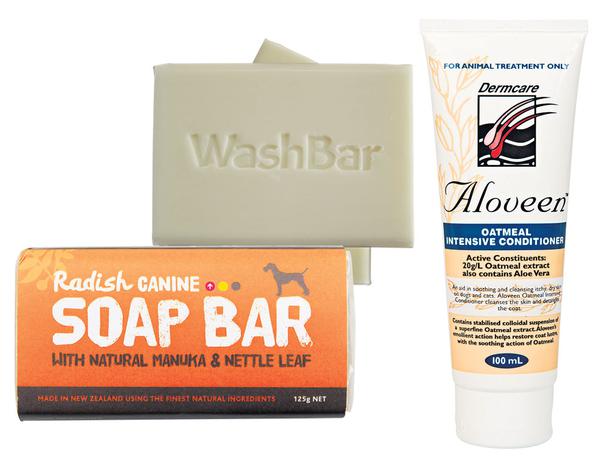 Wednesday June 17, 2015
If my cairn terrier Ruby is anything to go by, it's a good thing bath-time for dogs isn't meant to be a daily occurrence, what with water shaken everywhere and the manic running about afterwards. It's like having a puppy again: endearing but exhausting.
Choosing the right products to wash your dog with is getting more like working out what shampoo to buy for yourself, thanks to an ever-increasing range, but there are a few pet-specific issues to factor in.
Meagan Markotter, senior vet at Pet Doctors in Glenfield, says a dog's skin requires a different pH than the human scalp so they should be washed with a special dog shampoo. If you must resort to washing your dog with human shampoo then make it a hypoallergenic, gentle kind as human shampoos are generally too acidic.
Over-washing strips dogs of their natural oils, leaving their coats dry and dull, so avoid washing more than once a week, with fortnightly or less often best.
Indoor animals tend to be washed more than larger outdoor ones, and long-haired ones do tend to get mucky, but consider brushing or trying a detangler instead of over-immersing.
"Naturals tend to be a human preference," says Markotter of the growing trend for dog skincare products to parallel those for their two-legged caregivers. Viva recommends looking for products from companies that specialise in animal care or those with a lot of expertise in natural ingredients to avoid paying to be green-washed.
Another point to watch is that for dogs the term conditioner is as likely to refer to a dry-skin cream, meant to moisturise between shampoos, as to a hair softener and smoother. The conditioner label is also sometimes applied to detanglers, so check purpose carefully before purchase.
"Spritzes and detanglers generally have no real benefits, but humans like the smell," says Markotter. They can also prove handy as an aid to brushing on certain breeds. Some breeds are prone to smelly skin and others, such as westies, to skin conditions. Conditions such as a yeast build-up might require a medicated shampoo prescribed by a vet.
If your dog has skin irritations or itchiness, avoid shampoos with sulphates and artificial fragrances. As with humans tolerance for these common shampoo ingredients varies. Paw balms may be a soothing option for foot lickers or chewers, ahead of medicated cortisone, although persistent foot problems should be checked out, as should troublesome rashes and itches.
Shampooing of dogs should be more thorough than is usually the case, says Markotter. Work in product with plenty of warm water after applying in several places rather than in one dollop and leave it on long enough so it can penetrate, before rinsing off carefully. To avoid getting water in your dog's ears, you can wash and rinse the head using a sponge or cloth.
Tick and flea shampoos (and powders), which may not suit dogs with skin sensitivities, are often rendered ineffective because they are not left on long enough or are not applied as often as recommended, Markotter says. For these reasons, treatments delivered in absorbable doses are more reliable.
Pet-specific sunscreens are useful for certain dogs (and cats) and are thicker than the human version. If applying to the trouble-zone of the bridge of a dog's nose, the trick is to distract the dog by feeding to stop it licking off the protection.
In preparing this story, Viva found a good choice of dog care products in pet stores and a few speciality grooming items in homeware boutiques, beauty stores and online. Here is a sampling, leaving aside the definitely not recommended nail polish. Anthropomorphising your pet with a bandanna or bow is one thing, if you must, but potentially poisoning it with lickable solvents is quite another.

1. Radish Canine Soap Bar with Natural Manuka and Nettle Leaf $12 
Lather up old-school style with a New Zealand-made natural ingredient soap containing olive, coconut and organic palm oil, honey, plant extracts and essential oil fragrances.
From Collected, see collected.co.nz

2. WashBar Horse & Hound Shampoo $18.56
This easy-to-handle ribbed soap bar is designed to leave larger dogs, horse, cattle and goats smelling lemon fresh and looking show ready. Made locally from soothing natural ingredients, it is also said to deter ticks and lice. The bumper-sized bar is the equivalent to a litre bottle of liquid shampoo.
Stockists ph (09) 974 8131 or see pet.co.nz

3. Aloveen Intensive Conditioner $37 
This companion product to the shampoo is suitable for cats as well as dogs. These products come from Dermcare Vet, a company set up by Australia's first specialist veterinary dermatologist. They are soap-free, pH-balanced and contain colloidal oatmeal and aloe vera. The conditioner is designed to be massaged on and left in after the pet is shampooed and towel-dried. It can also be used between baths as a soothing moisturiser before the coat is gently dried and brushed. From Pet Doctors clinics, nzpetdoctors.co.nz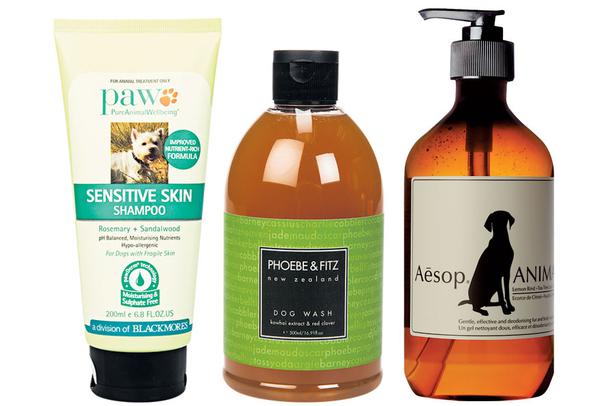 4. Paw Sensitive Skin 200ml Shampoo $21.99
This pH-balanced, sulphate-free shampoo smells fresh thanks to rosemary and sandalwood essential oils. It was developed by the pet division of Australian natural health brand Blackmores in conjunction with vets as part of a range of moisturising shampoos under the Paw label.
From Animates stores, see animates.co.nz

5. Phoebe & Fitz dog shampoo $28 for 500ml
Named after two former family dogs, this shampoo from the founders of Nellie Tier natural skincare has been a reliable favourite in my household, with the big 500ml bottle lasting for ages. Its soothing contents leave Ruby silky and sweet smelling. There's a leave-in detangler, containing kowhai extract and red clover, but I'm too lazy for that and I must say I don't like the smell as much.
See nellietier.co.nz

6. Aesop animal shampoo $51 for 500ml 
This shampoo, with its pleasing mint and citrus essential oil aroma, is from the Australian apothecary skincare brand Aesop. I've used it in the past without issue, but sulphates as foaming agents may put off the owners of dogs with sensitive skins.
From World beauty stores or see aesop.com
7. Murchison-Hume Best in Show grooming shampoo $44 for 500ml as part of a set with conditioner
Another Australian brand, but this is sulphate-free and all natural with a strongly peppermint fragrance laced with a little lavender. The shampoo is oily which, while it conditions, is rather difficult to rinse out, so use warm and take your time.
From Father Rabbit stores, fatherrabbit.com

8. Chubbs Bar $15
Named for the cat they were first tested on, these American bars are good for degreasing dogs as well. They are all natural and available in a variety of scents and fragrance-free. Soap bars are a low package, low-waste option.
Sold at selected pet shows and chubbsbars.com

9. Pampered Pooch Paw Balm $16.50 
Help repair and protect paws with this mix of lanolin, beeswax, vitamin E and plant butters and oils. It apparently went down a treat at a dog agility show where sore feet were par for the course and an overnight aid needed.
From pamperwithcare.co.nz
Share this:
More Beauty & Wellbeing / The Latest