SPONSORED
Introducing The Age of Beauty With Clarins Nutri-Lumiere
An innovative new skincare range has been created specifically for mature skin
Monday Aug. 3, 2020
For years, mature women were defined by their age, as brands and advertisers pedalled the idea that to be beautiful, one had to be young. But as ideals have shifted, the industry has recognised that natural radiance is what truly defines beauty and confidence.
One such brand at the forefront of this beauty revolution is Clarins, who have long celebrated and accompanied women in all stages of life. They know that this beautiful generation of women are experienced, strong and have a holistic approach to beauty. These women are seeking products that invigorate and deeply nourish their skin so they are free to feel naturally radiant.
Introducing Clarins Nutri-Lumière, the new range that has been specifically designed for women to help restore vitality to their mature, nutrient-depleted skin . Developed in Clarins Laboratories, the range has been built on over 60 years of expertise in plant science, anti-ageing skincare and understanding the beauty needs of women. Its four key products include a day cream, night cream, emulsion and treatment essence designed to target the most advanced signs of ageing.
Anti-ageing skincare is not new to the market, but a lack of products are available that target concerns beyond just wrinkles and lines. Ageing concerns can include thinner skin that can appear devitalised, pale and fragile, blood vessels that may become visible and pores that may increase in size. Beneath the surface there can be changes too. The collagen and elastic fibres that allow our skin to stretch start to degrade, and one of the key chemicals in our skin, hyaluronic acid, reduces over time, leaving skin dryer and rougher.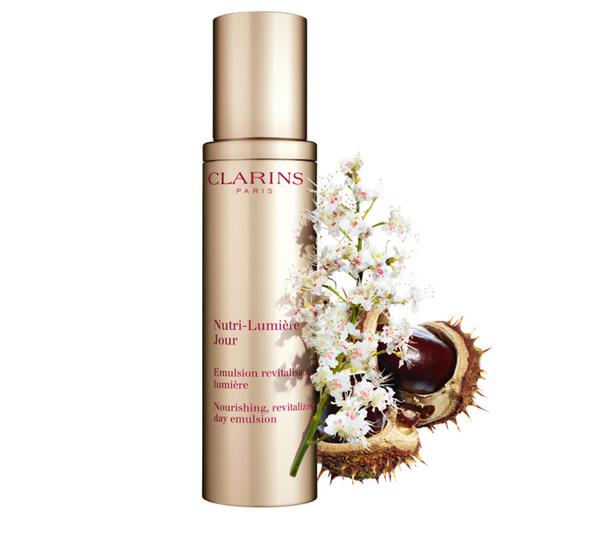 Nutri-Lumière is the ultimate support package and skin innovation for this generation, specifically developed to nourish, revitalise and illuminate. The first line of defence is Nutri-Lumière Renewing Treatment Essence, an essential daily skincare step for ultra-vitality. This smooth, gentle lotion is perfectly absorbed by the skin, preparing it to fully benefit from the products applied afterwards. This can be used in the morning and evening after cleansing and removing make-up.
Next there's Nutri-Lumière Revitalising Day Emulsion, a lightweight, non-greasy oil-infused day emulsion for nutrient-depleted skin. This is complemented by Nutri-Lumiere Nourishing Day cream, an oil-infused cream that intensely invigorates to restore radiance. Pair either of these day creams with the Nutri-Lumière Rejuvenating Night Cream to deeply nourish, comfort and illuminate the skin by morning.
What powers this Nutri-Lumiere range? Clarins is known for their plant science and the new Nutri-Lumiere range is no exception. The range utilises 17 exceptional plant extracts including two particularly powerful key ingredients to help restore skin to its full luminosity. These two key ingredients come from the same tree – the horse chestnut. By combining powerful extracts from its flower and fruit, Clarins Research have developed a unique formula to help skin regain its youthful radiance.
Also present in the Nutri-Lumière range formula are extracts of organic wakame, organic harungana, leaf of life, organic desert date, huang qi, hibiscus sabdariff, flower acids, organic oat sugars and Clarins' anti-pollution complex, which helps to protect skin from the harmful effects of atmospheric irritants and toxins. Nutri-Lumière is part of a wider collection of skincare that addresses the concerns of women in every stage of their life.
Multi-Active targets the early signs of ageing, Extra-Firming helps with loss of firmness and Super Restorative helps with loss of skin density. By adopting a healthy skincare regimen from the get-go, women are realising the benefits of beauty products specifically tailored the concerns of each age and stage. This exciting new addition to the Clarins stable is no exception.
Shop this collection at Farmers now!
Share this:
More Beauty & Wellbeing / The Latest