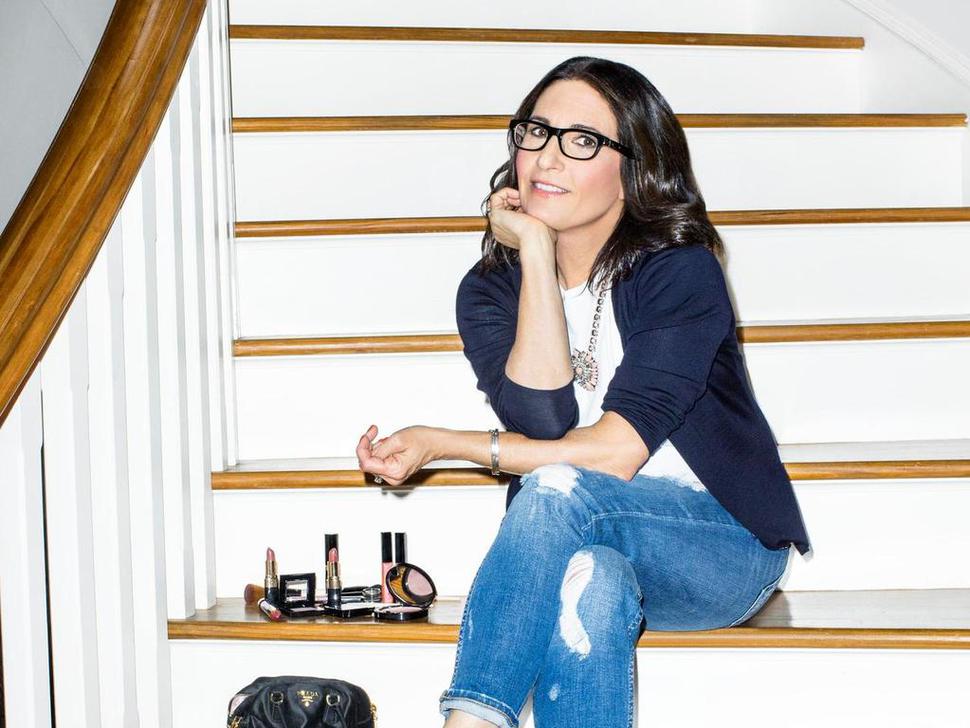 The Business of being Bobbi
Make-up entrepreneur Bobbi Brown is very much in control of her brand — and a remarkably well-balanced life
Thursday Feb. 26, 2015
"My life's not regular, I am," says Bobbi Brown. "I've been travelling so much, I need to go home ... when I walk in, my dogs will look at me with 'You're not getting my love, you left us too long'."
It's Sydney today, another stop on the American pocket dynamo's week-long five-city first trip Downunder via Hong Kong.
The working day starts early with a breakfast television appearance and ends late with a cocktail party hosted by retailer David Jones, before another early start to address the only-in-Australia women's networking organisation called Business Chicks.
Four hundred women (and that many again for a repeat lunchtime session) hang off her success story delivered with a slide show of family snaps, magazine covers and self-deprecating anecdotes.
The one about being politely thanked by Jerry Hall for her makeup application before the supermodel proceeded to rework her look, or when the self-professed rap fan got down on stage with Flo Rida to the mortification of her teenaged son watching "a short Jewish woman dance".
Bobbi Brown's message is "do it your way". The Aussie chicks go away inspired by her forthrightness and down-to-earth personal style, wishing they could have it all, her way.
Start with a simple but standout idea done well: brown-based lipsticks in the early 1990s when cosmetics were anything but natural looking, attract the big company buy-out yet secure the role of chief creative officer which, 20 years after you sell your name, allows you still to steer your billion-dollar global brand. Then there's the relatable quest for work-life balance, fitting in a balanced diet and exercise and finding self-acceptance.
"I'm a suburban working mum with a 27-year marriage and three kids. I don't have much to write about, not that much in the closet," she says when I ask how she feels about being this branded personality.
"What did Vanity Fair say? Someone pitched a profile and they said, 'Not until she kills her husband'."
The couple spent Valentine's Day evening boating on Sydney Harbour - drinking tequila on their way to dinner.
Brown, who isn't fussed on flying, likes to have husband Steven Plofker, a real estate developer and attorney whom she met through a friend, along as much as possible when she leaves home base in leafy Montclair, New Jersey. For a trip to China she laughs that "her entourage" stretched to around 15 people, with her sons, nephews, exchange students and key company offsiders in tow. They keep her grounded.
"When I entered this industry that is 'beyond fabulous' and could mess you up, really, totally, if you let it, I was lucky that I found the man of my dreams in a very similar type of personality. When I come home from work, he asks me how my day is, but mostly he just wants dinner.
"We cook together, or I cook, or we get takeout. We've never had cooks and chefs ... we just never wanted that life."
In the early days, with a reputation for scoring magazine jobs as a natural-but-better makeup artist in New York, the recently wed Brown turned down a major travelling shoot with star photographer Bruce Weber. It was during this time spent close to home that she founded her company, which, like her eldest son, will be 25 this year.
Her practical cosmetics chimed with modern women's needs, to the noticeable extent that, within five years, the Estee Lauder Group bought out the newcomer. The deal was sealed with the promise she could stay on and work family-friendly hours.
"I forget that I don't own my company. I go to work every day like I'm in charge - and I think that's why it does so well," says the chief staff member, who says she does not own shares in the company. Being on a salary that she is "very comfortable with" is, she says, "a benefit because it gives me a reason for being".
The inevitable juggle over the years between office and school committees has been worth it, she says, and she has learned to condense her hours and use technology to talk to her teams. At 57, Brown isn't contemplating an exit strategy.
"I am so incredibly passionate about everything that has to do with my company from the message, to the products, to the packaging, to the advertising, to the artistry. As a visual creative person, I've been part of the evolution of everything from the counters to the stores."
Initially, she tripped off to head office in Manhattan in heels carrying a briefcase, but soon realised corporate culture wasn't for her and convinced Fifth Ave HQ that her team would be creatively better off moving to a Soho loft where healthy snacks are provided and her favourite fashion of jeans and sneakers encouraged.
"If anyone is dressed up we think they're going for a job."
The media savvy Brown spins it more enticingly to her Business Chicks audience: "We're in the same building as Prada, so it's very expensive down there ... "
Glamour is something she has an indifferent relationship with, despite being surrounded by it for much of her career.
At the David Jones cocktail party a staffer puts a sparkly necklace over her black shirt for photo opportunities, but Brown's only other concession to dress-ups, besides impeccably subtle makeup, is replacing flats with a pair of nude platform wedges. These push her above the 5ft (152cm) that she claims.
She reckons her parents were glamorous, with her mother channelling Jackie O, but she was more the girl-in-glasses who was asked if she wanted a nose job and looked to hippie-chic actor Ali McGraw. She is vague about appearance medicine. "I'm not someone who believes in letting yourself go," and has made wearing bold frames a signature. Last year she launched her own eyewear range.
Brown puts her entrepreneurial side down to a solid family background and curiosity about exploring the opportunities that present themselves, rather than being especially strategic.
Her grandfather emigrated from Russia, young and with nothing, and ended up with car dealerships in Chicago, where she grew up.
"My uncle had his own business, my father was an attorney and just watching them talk about their customers and talk about their overheads, you learned a lot. And I've learned on the job."
Her audience has grown exponentially from television appearances and by her embrace of digital and social media, including being invited by Yahoo to be its online beauty editor, where some days her posts are read by eight million people.
Brown's early use of ethnically diverse models and a wide range of skin tone-correct foundations are surely factors that have helped expand the brand's reach, as have her positive messages about empowerment through appearance, delivered through eight books.
Asked what she thinks resonates about her brand globally, Brown says it is because she is a real woman making products for real women. "I'm not really a makeup artists' brand, I'm a makeup artist who made a brand for women. Makeup artists use my products but, really, the mainstay is so women can do their own makeup ... and look their own best selves."
A third of the company's business is now in Asia and there are Bobbi Brown counters in more than 60 countries. Auckland beat Sydney by two years in getting a stand-alone store, but Britomart missed out on the shop-opening visit that Mosman got. Brown says next time she will round up her crew for sight-seeing in New Zealand. Right now home calls.

BOBBI'S TIP
My current obsession is that skin should look like skin and you should figure out a way to make your skin look hydrated, luminous and glowing. A lot of the new products you see, whether it is the serum foundation or the illuminating blushers, are [aiming for that look].
I want women to look like they've been eating kale and broccoli all day - the healthiness that makes a woman look the most beautiful.

BOBBI'S LIFE RULES
1. Work hard, but smart
2. Be nice
3. Be fearless
4. Never stop learning
5. Stay positive
6. Keep on reading
7. Surround yourself with great people
8. Be grateful
9. Be open
10. Have fun

• Read Janetta's column on Bobbi Brown here
Share this:
More Beauty & Wellbeing / The Latest