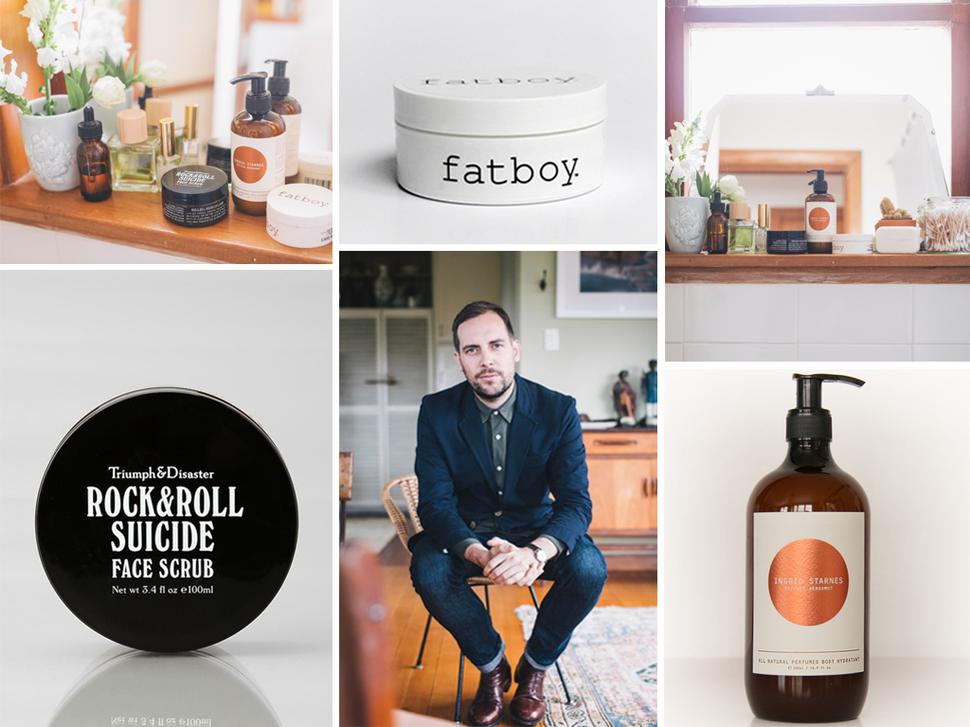 The Grooming Cabinet: Simon Pound
His daily grooming routine and favourite products
Thursday May 28, 2015
Every month we put the spotlight on some of our favourite stylish men and discuss their daily grooming routine and favourite grooming products. This week we chat to Simon Pound, partner in Ingrid Starnes Fragrances and all round gentleman.
Triumph and Disaster Rock and Roll Face Scrub
I love the fragrance of this, and the volcanic ash feel and effect. Dion Nash was a real inspiration and mentor getting started, and his products and fragrances are winning the world over.

Project X- eye dropper
This is a new oil serum we are developing. Our perfume is made of essential oils that are revered in skincare, so we're experimenting with serums with great effect.
Ingrid Starnes Vetyver Bergamot EDT and new EDP
These bottles have actual 23 carat gold on the front. However, gold is soft and unless the kiln fires at exactly the right temperature the gold can be too soft. They are meant to wear with handling, but not to be worn before you get them, so we and our friends get the seconds. The EDP is 20 per cent concentration and currently in maceration. I've got the sample bottle and it's darker and deeper than the EDT.
Fatboy
My friend Tyson made this brilliant hair product and I love the fact you can get products that were once faceless commodities that are now potions made by your friends.
Ingrid Starnes Vetyver Bergamot Body Hydratant and soap bar
This is our all natural body moisturiser. I use it on my face as well and get comments all the time about my skin -which is new for me! People are usually pretty surprised when I tell them it is from a moisturiser I made.
The soap bar is my favourite of all. The soap factory reckoned it was over the top to put organic goat's milk, organic manuka honey and shea butter in, but every day I'm glad we did.
Share this:
More Beauty & Wellbeing / Features & Profiles