The new makeup collection from Brooke Shields and M.A.C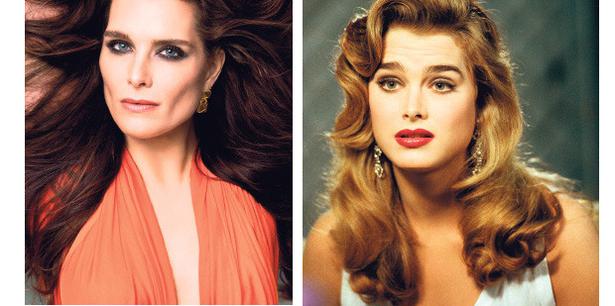 Thursday Oct. 2, 2014
WHO: Brooke Shields - she who put the boyishly big into women's brows, setting a trend that continues to this day - is back in front of the camera, looking better than ever at 49.
WHAT: Putting the class into celebrity. Shields has lived her life in the public eye, but avoided turning it into a soap opera.
The former child actor got her first taste of life before the camera at 11 months old in a soap commercial, controversially played a prostitute at age 12 in the film Pretty Baby then splashed about in teen romance The Blue Lagoon. At 14, she became the youngest model to score a cover of American Vogue and went on to become a serial dater of fellow stars.
So far, so Hollywood, including her friendship with Michael Jackson and scraps with photographers about rights to revealing pictures but, unusually, she took time out to study for a degree in French literature at Princeton University and held on to her virginity until age 22. She fronted for anti-smoking causes, is a vegan and has spoken out about battling depression.
Although her modelling career was at its height in the early to mid-80s, Shields is still cited as an appearance icon of all-American natural beauty. Her high-profile relationship with tennis star Andre Agassi during the 90s was in tandem with building credibility in a series of television roles, including a four-year run starring in sitcom Suddenly Susan.
A second marriage and two daughters later, she was back in the public eye after being dissed by anti-psychiatry Scientologist Tom Cruise for writing about taking anti-depressants. He later apologised and she is credited with helping raise awareness of post-natal depression in America.
WEAR! Her new makeup collaboration with M.A.C. We like the grey and orange packaging, which ties in with the slightly offbeat colour choices, modern makeup neutrals for a confident woman who doesn't need to shriek to be heard.
"This was such a different project for me because I was not just the model; M.A.C. really wanted my input and wanted this to be my collection."
Shields said she started by compiling an inspiration book filled with tear sheets, smudges, drawings and palettes. This led to the creation of two opposite makeup moods, one fresh and sheer, the other more sultry and dramatic. "The duality is in the sexier and stronger version of themselves."

• The collection includes eye, lip, nail, cheek and, of course, brow products. On counter now for a limited time, exclusive in Auckland to Smith & Caughey's stores.
Share this:
More Beauty & Wellbeing / The Latest