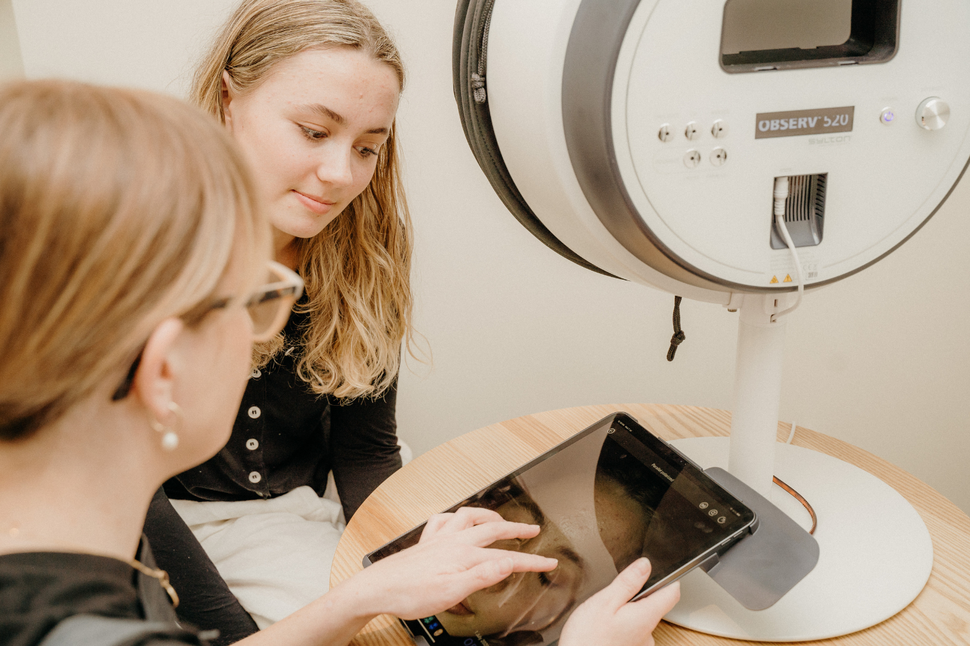 The Test Drive: Observ Skin Diagnostic & ProSkin60+ At Skintopia
Deputy editor Johanna Thornton trials this illuminating active facial treatment
Wednesday Oct. 14, 2020
The promise: A 30-minute Observ Skin Diagnostic consultation to delve into the skin's layers and assess potential treatments and products, followed by the ProSkin60 (60 minutes) facial using Dermalogica products to target the results of the Diagnostic. This is ideal for anyone with specific issues they'd like to target, or those seeking guidance on a treatment plan for their skin.
The practice: The Observ Skin Diagnostic uses six forms of light for an in-depth look at the skin's vascularity, texture, oil balance, UV exposure and complexion. It's enlightening to say the least. 
Therapist Chelsea talks me through each light, and is hugely knowledgeable, explaining what collagen breakdown looks like, how congestion in certain areas can be linked to the small intestine, explained how excess oil and dehydrated skin are linked and even critiqued my sunscreen application technique.
Next it's on to the facial in one of Skintopia's private rooms to address some of these concerns. It begins with a three-step facial cleanse and a high-dose hyaluronic acid masque. Chelsea hands me goggles before setting the Medilux LED light therapy machine to green to target my skin's redness and inflammation; it's also used to improve skin elasticity and pigmentation. The light is an extremely intense bright green and the machine blows a cooling air onto the face as it get warmer. I'm told to picture myself on a tropical beach, which helps a bit.  
After 10 minutes she tops up the masque — this time with Clinical Oatmeal — before setting the LED to near-infrared - which is a purplish colour through my goggles - to target fine lines and wrinkles and accelerate cellular repair.
While that's happening my hands and arms get a nice massage and my temples are rolled with a cooling metal ball. A third top-up of calming serum is penetrated further into the skin using a BT Micro — an ultrasonic exfoliating blade that makes a space-age metallic beeping sound as it travels across the face.
To finish, a multivitamin-infused moisturiser and SPF.
The place: Skintopia, Shop 8, Level 2, 7 Queen St, Commercial Bay. Visit Skintopia.co.nz. 
The price: Observ Skin Diagnostic, $50, ProSkin60, $150. Add a Power-Up enhancement (microcurrent, hydrodermabrasion, LED light or contour masque) for $40, or two enhancements for $60.
The verdict: This is an active facial, rather than a relaxing one. The masks tingled, the lights were intense and the microcurrent and fan slightly uncomfortable. But I was in very good hands and left feeling amazing, and equipped with some skin goals (to calm and clear) and a suggested regime to stick to. My skin has been thanking me for it since.
Share this: