The Test Drive: Pro Eye Flash At Skintopia
Deputy editor Johanna Thornton eyes up glowing, hydrated skin in Commercial Bay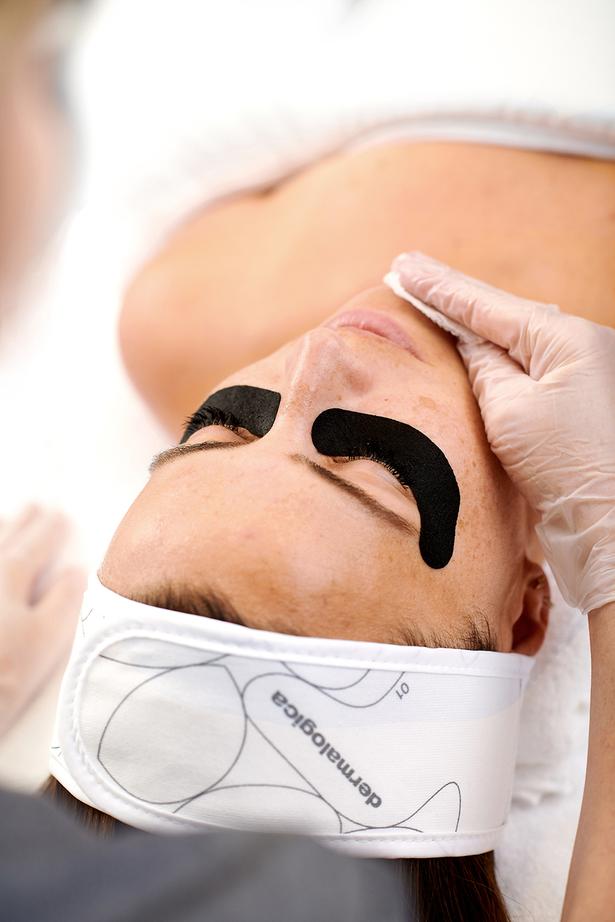 Monday June 21, 2021
The promise: A targeted eye treatment to brighten, even and minimise the appearance of fine lines in the eye area, promising visibly brighter skin.
The practice: A 20-minute treatment, the Pro Eye Flash can either be applied on its own if you're in need of a quick eye fix, or as part of Skintopia's 30- or 60-minute facials (the Dermalogica Proskin 30 or Proskin 60).
First up, a Skintopia therapist will carefully remove any makeup around the eye area. Next is the application of bamboo eye pads soaked in a botanical formula which I'm told is an AHA solution extracted from Italian grapes.
These pads are trimmed to fit the under-eye area and placed directly under the lower lash line. Expect to feel a tingling sensation as the concentrated formula does its work (anything stronger than a tingle, do let your therapist know).
The pads are removed and ultra-hydrating hyaluronic acid is applied to the eye area and encouraged deeper into the skin via a conductive mask serum and a hand-held BT Micro tool, which makes a beeping noise as it vibrates its way around the eye, encouraging the product into the bottom layer of the epidermis.
Last in the process is a layer of Biolumin-C Serum which works to brighten and firm the skin with vitamin C, peptide and AHA, again infused into the skin with the BT Micro Tool.
The place: Skintopia Commercial Bay, Shop 8, Level 2, 7 Queen St, Central City. Visit Skintopia.co.nz
The price: $50
The verdict: My skin was a little sensitive on treatment day and I found the product-soaked bamboo pads created more than a light tingle and had them removed early. Overall, it was a lovely treat adding the Pro Eye Flash to a ProSkin60 facial, undertaken in one of Skintopia's relaxing treatment rooms, and I left with glowing, hydrated skin.
Share this: