The Test Drive: The Innovative Piiq Salon Smart Mirror, Reviewed
Viva beauty writer Ashleigh Cometti tests out the latest in hair innovation, a smart mirror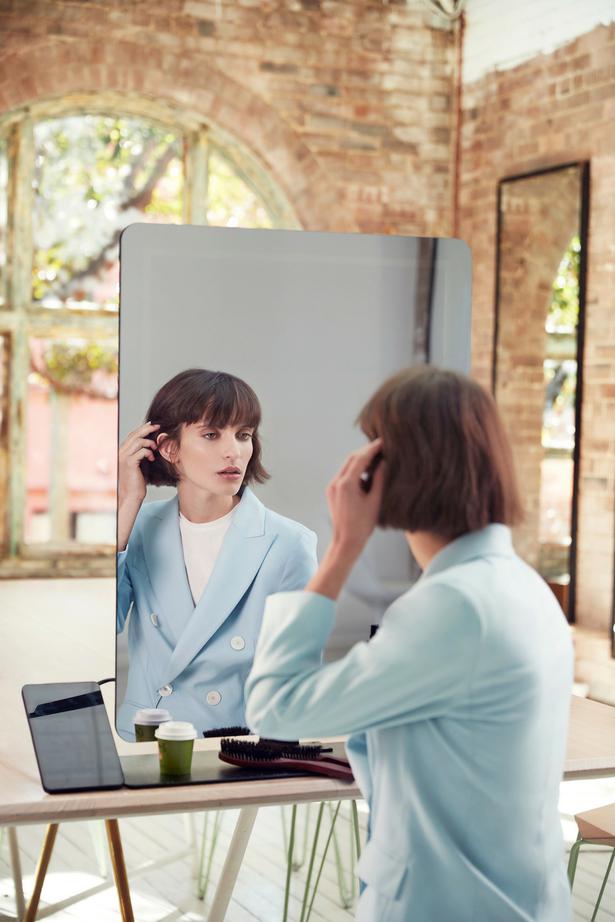 Tuesday Oct. 30, 2018
Mirror mirror, on the wall…
The product:
Piiq (pronounced 'peek'), an interactive smart mirror designed for in-salon use, to enhance the consultation experience for the consumer while empowering hairstylists. Two years in the making, this world-first device is the brainchild of renowned New Zealand hairstylist Richard Kavanagh and his business partner Richard Matthewman.
The promise:
Set to transform salon visits for good, Piiq replaces standard hairdressing mirrors with a reflective, digital interface that creates a customer profile based on lifestyle, face shape, eye colour, and celebrity likeness. For stylists, the business tool enables them to assess hair type and condition, and make recommendations on products to suit.
"Piiq gives women in the salon a really unique, interactive experience," Richard says of the service.
"Basically it's a lifestyle consultation, a face shape analysis, and a targeted hairstyle search so it means they can discuss with their hairstylist what will suit them best and it helps the hairdresser know the client on a level almost instantly that would normal take seven or eight visits," he says.
READ: Blonde Ambition: How To Keep Your Colour Light & Bright
The practice:
As a regular salon-goer (I am blonde after all), I was curious to understand how this clever new tech would enhance my experience in the chair.
Upon arriving at Rodney Wayne Fort St, I was met by Richard who was over on a trip from his Sydney base, to set up the device in Auckland. He led me to a salon chair parked in front of an innocuous-looking mirror with a tablet tethered to it. If I hadn't been pre-briefed by our beauty editor about what I was in for, I would have assumed this mirror was like any other you'd see in the salon.
That's where I was wrong.
Richard had already signed me into the Piiq app via the tablet and promptly introduced me to the interactive lifestyle quiz. I made my selections without hesitation — lifestyle questions asked included my idea of a perfect holiday, car preference (which was a bit out of left field if I'm honest), and dream home among other things. Interspersed throughout were questions around my hair history and styling habits — was I a wash and wear girl or an expert styler? I choose expert styler, although the former may be true of my habits on a weekend day.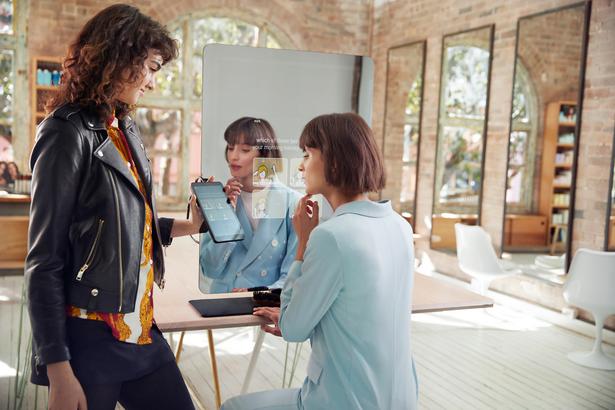 I was given the option to share my lifestyle profile to my social media feed, but opted out — surely my Facebook friends would already have a pretty good idea of the kind of person I am. I can imagine a social media-obsessed tween or serial Facebook mum being interested in this option, however.
Next, Richard snapped a pic of my face, which was analysed by Piiq using a 120-point facial recognition technology to offer up an instant face shape and eye colour analysis. This still needs work, Richard adds, as hairstylists work from five key face shapes — round, oval, square, heart and diamond — rendering the technology almost too advanced to filter back down into one of these five categories.
I was categorised as having an oval-shaped face, and was matched with five celebrities from a database of more than 1,000 - my favourite being Julianne Hough, who was sporting a tousled blonde bob. That's the whole point, Richard explains. By matching a client with a celebrity with the same features the consultation encourages them to see styles they wouldn't typically choose in a whole new light. I browse through other styles sported by Hough, ranging from cute pixie cuts to choppy bangs, and decide that maybe I am brave enough to make the cut.
READ: 9 Products To Help You Achieve Super Shiny Glass Hair
"Normally people bring photos of their favourite celebrities into the salon for their hairstylist to try and replicate that hairstyle," Richard says. "We have this running joke that we'd put our thumb over the celebrity's face and say 'now do you like the hair?', because often people respond emotionally to the women or the girl that they love and they don't really look at her hair."
If I'd wanted to prove my likeness to Hough, I could have shared this to my social media feed.
In the interest of time, I didn't get the chance to lop all my hair off a la Miss Hough, so the next steps were all pretend. Richard explains now would be the time the hairstylist would get started on my new look.
While they're working, the stylist would be prompted by Piiq to ask me about my haircare regimen. The tethered tablet offers sliders the stylist can use to determine different factors about hair condition and type. This ranges from texture and elasticity to porosity and scalp condition. After the stylist had established where my hair sat on this scale, the Piiq tablet would offer the stylist a range of products to choose from that may suit my needs. The stylist could then make their selection, and I'd have the option to browse the products on offer and decide whether to purchase at the front counter or have products shipped home.
This mitigates any awkwardness in the salon chair when a stylist recommends a product, Richard says. Their main priority is to ensure you leave the salon armed with the right products to maintain your new style, but sometimes it can be difficult to make recommendations without feeling like a 'sell', he notes. "Piiq eliminates that awkwardness."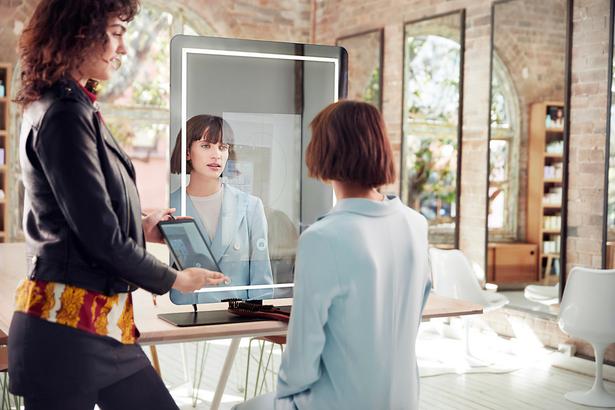 An in-built camera uses 120-point facial recognition technology to analyse face shape. Photo / Supplied

When my new style had been completed, the stylist could take a 360-degree capture of my finished look, which could be stored with my customer profile ready for my next visit. Richard gives an example of how this is helpful — say a customer comes in to have their fringe cut, but asks for it to be a little longer this time. Except between now and their previous visit, the stylist has seen 350 clients and can't remember how short it was last time. If a photo of the client's fringe is stored on Piiq, the stylist can see exactly how they'd like it done this time.

Plus, social media stars will love the addition of the built-in selfie lighting (akin to a ring light), to snap a pic and share a selfie of their new 'do before leaving the salon.

The verdict:
As a self-professed creature of habit, Piiq is an innovative way of encouraging others like me to widen their hair horizons — by being introduced to hairstyles that suit someone who shares a similar face shape (oh — to look exactly like Julianne Hough!). To be honest, I would never in a million years consider a lob if I hadn't been matched with a celebrity sporting one, and was informed my face shape and colouring would suit this style.

While I personally wouldn't share my lifestyle profile or celebrity match on social media, I would definitely share a selfie of my new 'do when the time came. Piiq caters to the social media savvy in this way — I often end up windswept and dishevelled by the time I reach my car post-salon, so being able to take a picture while I'm still feeling glamorous is a great idea.

READ: Pump Up The Volume With Fashion's Hottest Hair Trends

Similarly, I agree the hair assessment and product match does mitigate any pressure to purchase, and being able to browse products at my leisure means I don't have to make a decision on the spot.

The functionality to virtually 'try on' styles or different hair hues is yet to be developed, and I do think this technology will enhance the experience even further. Richard tells me this is on the cards, and to expect plenty of developments to Piiq over the next two years.

If it took Richard and his team a mere two years to develop and begin rolling out the concept, I have every confidence that what they have in store is sure to change the hairstyling game even more than Piiq already has.

Piiq is currently being installed in Australian salons and exports worldwide are in the pipeline. Back home in New Zealand, Piiq is available now at Rodney Wayne Fort St, Albany and Sylvia Park, with plans to roll out the service to all Rodney Wayne salons by early 2019, before becoming available to salons nationwide in the middle of next year.
Share this:
More Beauty & Wellbeing / Features & Profiles