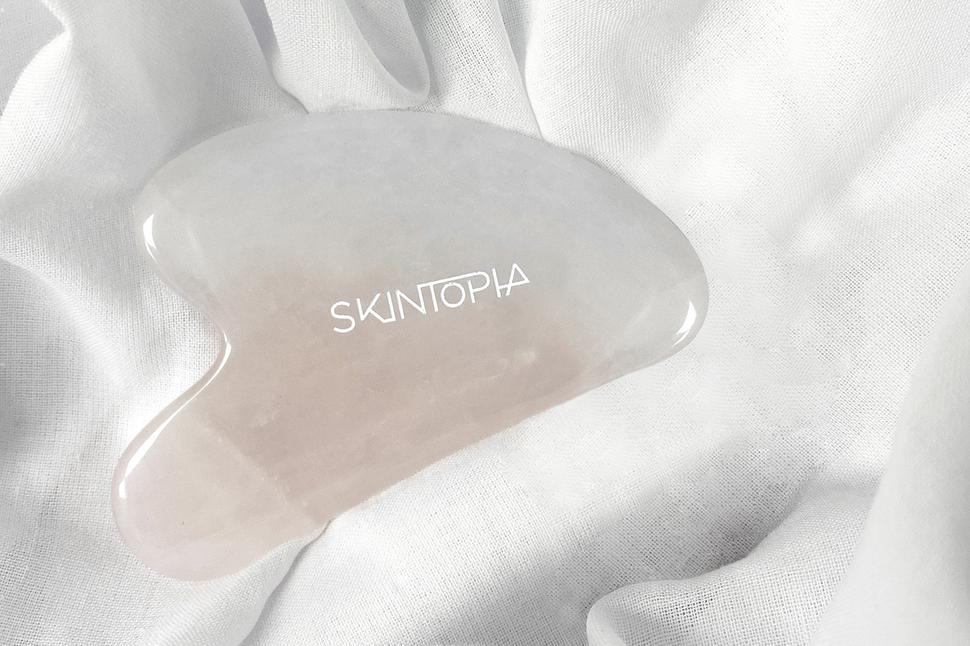 The Test Drive: Skintopia's Rose Quartz Gua Sha
We trial the pink, polished facial stone purported to depuff and contour
Tuesday Oct. 19, 2021
The promise: This popular facial stone, billed as a pink, polished version of a Chinese massage tool, is designed to aid lymphatic drainage and circulation, reducing puffiness and fluid build-up, toning facial muscles and relieving jaw tension.
This particular quartz is said to have "soothing energy and healing properties, as well as promoting self-acceptance, gentleness and self-love".
The practice: I applied roughly six drops of Dermalogica's Phyto Replenish Oil to cleansed skin (a facial oil is a non-negotiable), then glided the stone in outward strokes along a series of pressure points: up my neck to my jaw, from my mouth along my jaw, upwards across my brow line to my temple, between my eyes, from my brow to the top of my forehead, and circular motions where one's jaw clenches. 
I went through each motion gently, repeating them three to six times, the cold stone causing my skin to blush when applied.
I then applied my nighttime moisturiser, though you can simply finish without anything additional on skin if preferred.
The price: $35 from Skintopia at Commercial Bay, Level 2/7 Queen St, or online at Skintopia.co.nz.
The verdict: I decided to try Skintopia's gua sha after a Pilates-based workout with ample stretching, as it made sense to me for my face to also experience a similar kind of sculpting, relaxing experience. The facial stone was effortless to use (there's a how-to video on Skintopia's website if you're unsure where to start, like I was), and my face was left feeling awake and unwound.
Though I can't attest to whether the properties of the rose quartz had any effect on my wellbeing, the experience was certainly a calming one, and a great, luxurious way to release some persistent muscle tension. My face feels notably different: soothed, and less heavy.
Share this: