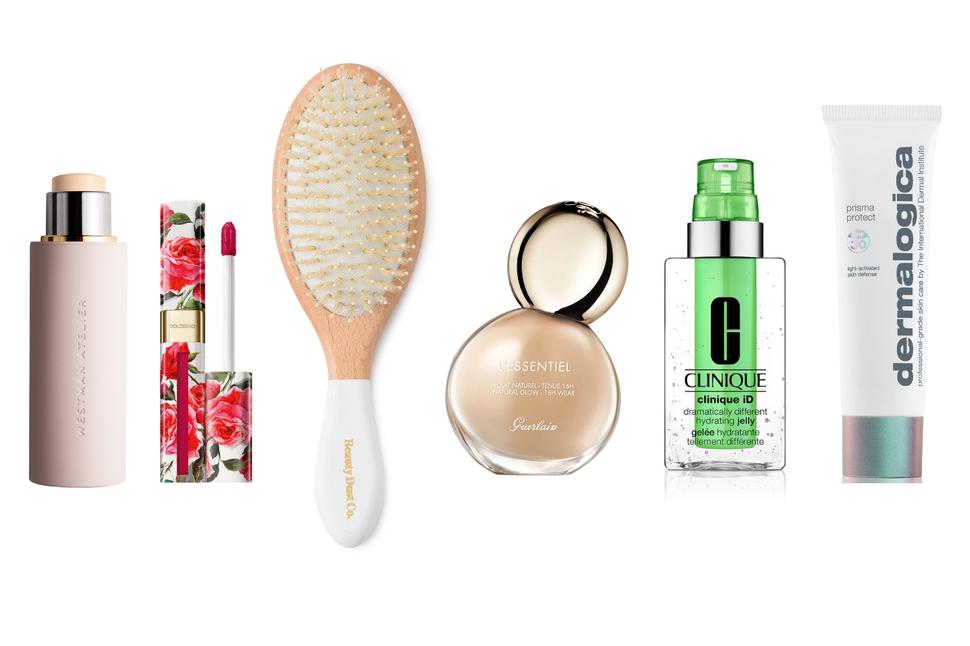 The Viva Team's New Season Beauty Crushes
Indulge like our editors as we run you through our definitive list of covetable beauty buys
Wednesday March 27, 2019
We're spoiled for choice in sampling beauty products and much as though we have our old favourites, sometimes new arrivals catch our magpie eyes. Here's what our beauty writers and the wider Viva team have in their sights. Next month, who knows, could be a whole new story.

Janetta Mackay, Viva beauty editor
Westman Atelier range, priced from $83
It seems that no sooner than I write about something, another example pops up. Hot on the heels of the good cream-based local makeup range Aleph, comes renowned American makeup artist Gucci Westman's take on the same category. In luxurious yet simple packaging her versatile blush contour, highlighter and foundation come in matte metal sticks, rather than the more usual jars. A "butter powder" bronzer and highlighter in weighty compacts round out the initial offering, but we bet this is one cool, "clean" beauty line that will grow. The only downside is the high-end price. Luckily the item I like the best is the cheapest. It's the Lit Up Highlight Stick, $83, one of the few that doesn't over-illuminate if like me you're wanting a subtle lift rather than a shiny streak. From selected Mecca Cosmetica stores or on Meccabeauty.co.nz.
Dolcissimo Liquid Lipcolour $65
I'm not the girly girly floral type, but the full-blown roses encasing this wand of lasting matte colour are too gorgeous not to want to pick. This lipstick would make a terrific gift. It leaves a finish a tad heavier than I like, so it might better suit those with younger, smoother lips than mine, but no complaints about its staying power and intense range of colours, including the Deep Bloody Red shade No.9 (pictured). Along with a handful of other products, it gives a small sample locally of Dolce & Gabanna's more extensive makeup range available overseas. Dolcissimo is stocked exclusively at Smith & Caughey's Queen St store and on Smithandcaugheys.co.nz.
Beauty Dust Co Eco Hair brush $50
So many quality hair brushes are black, so it's nice to see one that has lightened up. This is an addition to a New Zealand-designed range that offers both paddle and round brushes for everyday styling, available from selected salons and boutiques. It's the first eco effort, using beechwood for the handle rather than plastic. The boar bristles cut through my mop of fine curly hair with ease. If the brand name sounds familiar, it's because Beauty Dust is that handy touch-up powder to use when your roots need salon attention but you haven't had time to make a booking.
Guerlain L'Essentiel Foundation $102
Foundations are something I like to mix up, both with skincare and for variety of texture. This new one from Guerlain is set to be a winter favourite, offering a little more buildable coverage than many while still maintaining a fairly natural look that lasts. It's also built in the skincare benefits, using marine and plant actives. For luminosity there's mineral pigments in a formula that 97 per cent natural origin ingredients. Plus the bottle is something of a work of art, with noted designer Mathieu Lehanneur having crafted its slanting spheres. From Smith & Caughey's, David Jones and Ballantynes.
Clinique ID Dramatically Different Hydrating Jelly $75
This ticks two boxes for me, being a chance to experiment with a new style formula in a product that saves time by doing double duty. Clinique has combined its Dramatically Different moisturiser — available in one of three formulas, with the long-time option of a lotion joined by a jelly and an oil-free gel – with a concentrate added in the same bottle. There's actually five concentrates you can select from in store, where the capsule is inserted into the larger bottle for one-push dispensing to save on layering later. I wanted a fatigue fighter mixed with a light formula hydrator, suitable for wear in lingering warmer weather when the jelly texture feels suitably fresh. You can buy any a standalone moisturiser, but for the price trading up to serum-style benefits adds up. From Clinique counters in selected department stores and pharmacies.  
Dermalogica SPF30 Prisma Protect $119
This is another multi-tasker, being a moisturiser that deals to both UV and screens against tiny pollution particles that can accelerate skin ageing. I'm always checking out new SPF products for their suitability for daily wear, because a thick sunscreen we might consider fine at the beach doesn't always translate to the office. Sure you still want a decent SPF, but in a formula that is light enough to wear under makeup. This does the trick nicely. It hydrates as well, so all the better, though those with drier skins may want additional moisturiser underneath. There's a travel size, $36, if you want to put it to the test before buying the full-size tube. 
Ashleigh Cometti, Viva commercial editor and beauty writer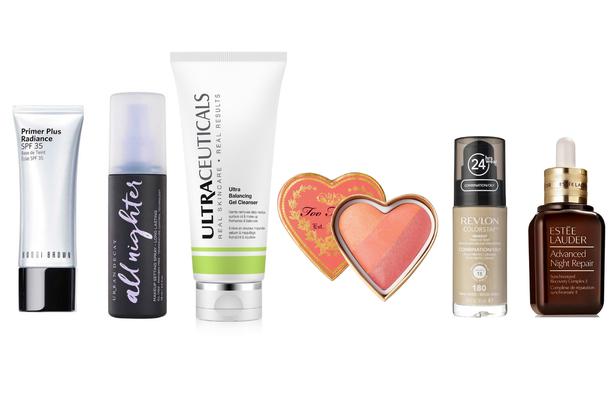 (From left) Bobbi Brown Primer SPF35; Urban Decay All Nighter Long Lasting Makeup Setting Spray; Ultraceuticals Ultra Balancing Gel Cleanser; Too Faced Sweethearts Perfect Flush Blush; Revlon ColorStay Liquid Makeup Combination/Oily; Estee Lauder Advanced Night Repair Synchronizing Complex. Photos / Supplied
Bobbi Brown Primer SPF35 $62
I'll preface this by saying I've tried a lot of primers. Illuminating, pore-minimising, blurring, hydrating… you name it, I've slathered it on. But my search for the perfect primer ended when I was introduced to Bobbi Brown's latest iteration, which takes a three-pronged approach to prepping skin for makeup application. It illuminates skin and blurs imperfection, while recruiting SPF properties to combat UVA and UVB damage. Put a fork in me — I'm done.
Urban Decay All Nighter Long Lasting Makeup Setting Spray $54
I recently took stock of my beauty cupboard and can now confess I've been hoarding setting sprays. They live on my dressing table, in the mirror cabinet, in my vanity drawer and in my handbag. While they all have their proper place in my beauty regimen (or so I tell myself), there's only one kind that crops up twice in my multiple hiding places — and that this one from Urban Decay. It does exactly what it says on the tin; sets makeup all day and prevents any melting, fading or settling into fine lines. I spritz in on twice in the morning, once after foundation and again after I've finished my makeup look. I'll top this up again mid-afternoon to refresh my makeup after returning from the gym. Set and forget.
Ultraceuticals Ultra Balancing Gel Cleanser $65
If you prefer full coverage foundation like me, then this cleanser is an absolute must. It lathers with water and melts away foundation with ease, minus harsh scrubbing or stripping skin of its natural oils. I use this cleanser twice daily, and love that its lightweight formula recruits aloe vera, cucumber and oat kernel extracts to help nourish my skin while washing away any surface oil or residue.
Too Faced Sweethearts Perfect Flush Blush in Sparkling Bellini $52
I've always had a girl crush on blush — but this one has stolen my heart. I sped through my first pan and was quick to get my hands on another; it's just that good. The shade Sparkling Bellini contains baked blush in varying shades of peach; offering strong colour payoff and instantly brightening up skin. The formula is slightly luminous but not shimmery, which I tend to shy away from during daylight hours. I mix all three swatches together with a fluffy blush brush and swirl across the apples of my cheeks and up towards my temples.
Revlon ColorStay Liquid Makeup Combination/Oily Skin $42
I have a few foundations on high rotation in my beauty cupboard, which I cycle between depending on how tanned my skin is or how much coverage I'm after (usually all of it). But no matter how many times I deviate, I always come back to my old faithful. Without sounding like a gloat, I've been asked what foundation I use too many times to count. It offers buildable coverage without looking caking, and is designed specifically with oilier skins in mind. I usually apply this with my fingers, as the warmth of my fingertips helps melt the formula into my skin, giving an airbrushed finish. It claims to offer 24-hour wear, though I'm never tempted to put that to the test…
Estee Lauder Advanced Night Repair Synchronizing Complex $136
I'm nearly at the bottom of my ANR, and quite frankly I'm devastated. This product is the cornerstone my night-time regimen and I'm already scrambling to think of ways to eke out the last precious drop. I'm convinced it's a combination of this and sheer luck that I've managed to keep wrinkles at bay for the last 28 years. The exclusive formula housed within the iconic amber bottle has been patented until 2033, and for good reason. ANR works its magic while you slumber; reducing the appearance of fine lines and wrinkles, combatting dark spots and boosting hydration, meaning you'll wake up to a more radiant you come morning.
THE VIVA TEAM LOVES…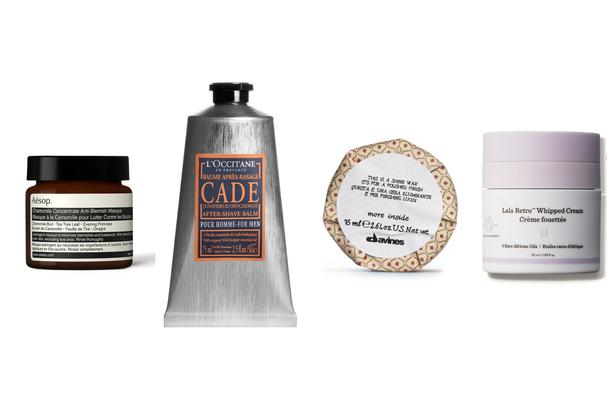 Aesop Chamomile Concentrate Anti-Blemish Masque, $57
"I love a clay mask, and this one from Aesop contains both Kaolin and Bentonite clay with chamomile concentrate, tea tree leaf and evening primrose, aiming to calm and soothe blemished skin. It's especially effective after exfoliating, and dries satisfyingly into the skin but isn't too tough to wash off." — Rosie Herdman, fashion assistant and writer
L'Occitane Cade After Shave Balm, $49
"Our beauty editor Janetta gave me this for Christmas and it's the best post shave balm for my skin. It's light and refreshing and keeps redness and razor burn at bay." — Dan Ahwa, fashion and creative director 
Davines This Is A Shine Wax, $44
"My beauty favourites are for great for the woman who take a 'low maintenance' (aka lazy) approach to her hair regime. The amazing Benjamin James at Ryder suggested Davines Shine Wax to me a couple of years ago and it's a real miracle worker for fly away or frizzy hair, adding shine as well as hold. I love it." — Rebecca Zephyr Thomas, photographer
Drunk Elephant Lala Retro Whipped Cream, $103 
"I'm pretty gutted to be getting to the bottom of my jar of Drunk Elephant's Lala Retro Whipped Cream. Super lush and thick, this face cream is inspired by the stuff your grandma would use. Slap some on at night and you'll wake up with plump, soft skin." — Saru Krishnasamy, digital editor
Share this:
More Beauty & Wellbeing / The Latest