This Hip New Trilogy Release Fights Oil With Oil
New from New Zealand's leading clean beauty authority, Hemphip™ Balancing Oil helps restore balance and reduce shine in combination and oily skin types
SPONSORED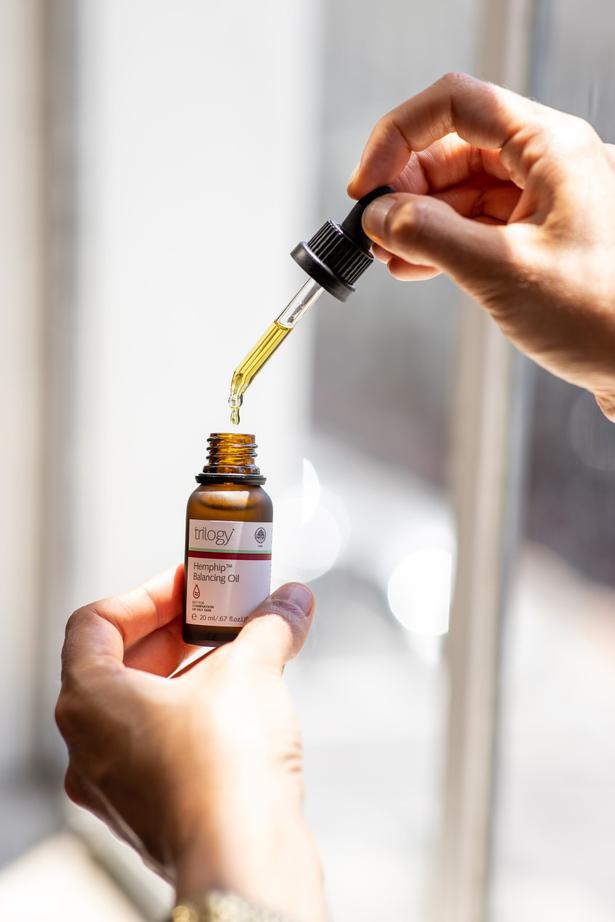 Tuesday Feb. 16, 2021
All too often we're told to let our natural beauty shine. But what if that shine is unwanted? Those with combination/oily skin will understand the struggle that comes with keeping a shiny T-zone at bay — especially during the balmy summer months.
One of the most common misnomers in the beauty world is that using a facial oil on oily skin is counterproductive. Oil layered on oily skin makes it... oilier? Wrong. It's a sentiment shared by local clean beauty innovator Trilogy, with the launch of its new Hemphip™ Balancing Oil set to give the combination/oily skin market a much-needed shake-up.
Ignoring outdated advice to strip skin of its excess oil (which can then lead to an overproduction in oil), Trilogy's newest offering takes a three-pronged approach to balancing sebum production, by "fighting oil with oil".
Surprisingly, unrefined pure plant oils are similar in molecular structure to sebum produced by our skin. When applied topically, these plant oils are easily absorbed and help balance the production of sebum, resulting in skin becoming less oily and shiny.
As the newest specialist beauty oil to be added to Trilogy's range of smooth operators, Hemphip™ Balancing Oil works to bring balance to combination/oily skin, which in turn reduces the likelihood of breakouts across the T-zone. It also helps to rehydrate, nourish and smooth dry patches that commonly present on cheeks.
The lightweight formulation harnesses a trademarked Hemphip™ proprietary blend, which includes a combination of certified organic hemp and rosehip seed oils, along with clarifying salicylic acid which tag-team together to balance excess oil and dry patches in combination to oily complexions.
READ: The Face-Focused Must Have You Need, Trilogy's Global Award-Winning Rosehip Antioxidant+
Hemp seed oil is attracting plenty of attention in beauty circles right now, revered for its ability to help skin replenish itself. This super seed oil is also high in antioxidants and boasts humectant properties, meaning it attracts water to the skin and locks in moisture — leaving it looking plump and dewy.
Next comes Trilogy's signature certified organic rosehip oil, which is rich in skin-loving Omega's 3, 6 and 9 to boost overall skin health, combat surface dryness, redness, fine lines and wrinkles.
The final heavy-hitting combination skin ingredient is salicylic acid, a mild exfoliant which works to smooth skin, help regulate oil production and halt blemishes in their tracks.
The result is skin that appears less shiny, while still dewy and hydrated, and a complexion that's clearer over time. Hemphip™ Balancing Oil absorbs quickly to hydrate the skin's surface, without leaving an oily residue. It acts as an excellent final step in your morning and/or evening skincare regime before moisturising or applying primer and makeup.
If that weren't enough, Hemphip™ Balancing Oil has been certified organic by BioGro (the country's largest third-party organic accreditation body), is non-comedogenic, vegan friendly
and fragrance-free. Win!
Trilogy Hemphip Balancing Oil, $29.99, is available from Farmers, Life Pharmacy, Unichem, Chemist Warehouse, selected health stores or online at Trilogyproducts.com
Share this: