SPONSORED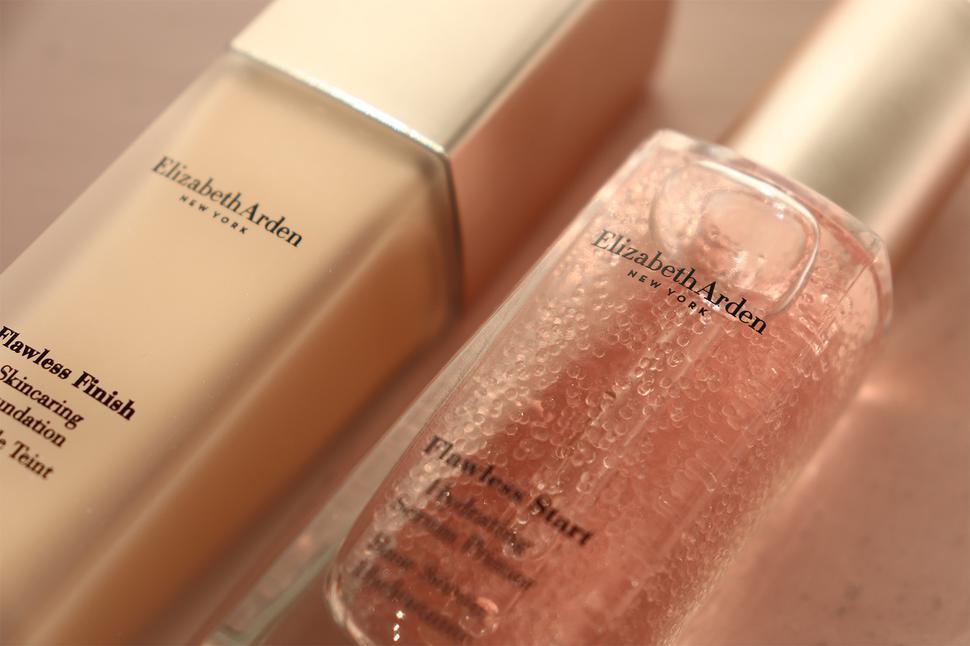 This New Foundation Primer Duo Bridges The Gap Between Makeup And Skincare
Elizabeth Arden's latest launches in multi-hyphenate makeup redefine the meaning of flawless
Wednesday Feb. 3, 2021
The phrase "makeup and mend" is set to be one you're likely to see everywhere in 2021.
It lends itself to the rise of multi-hyphenate beauty, a term coined to describe how makeup burgeons on skincare, largely thanks to the skin-loving ingredients contained within the newest wave of foundations, concealers, mascaras and more.
Brands are quickly cottoning on to the trend – although the word "trend" sounds like an outdated descriptor when it's unlikely that makeup will be anything but kind to skin moving forward.
One such brand is Elizabeth Arden, with its new game-changing foundation and primer launch set to give the art of makeup application a skin-loving update.
PRIME TIME
Meet the new Elizabeth Arden Flawless Start Hydrating Serum Primer, which does exactly what the name suggests: hydrates skin like a serum while prepping it for makeup application like a primer. It's hybridised makeup at its finest; the highly spreadable formula smooths over skin seamlessly, drenching it in moisture and plumping the skin's surface for the steps to follow.
The secret lies in the addition of hyaluronic acid, one of skincare's most esteemed superheroes for its ability to draw water to the skin and keep it there. It's complemented by droplets of oil suspended in the gel formulation using microfluidic technology.
Primers come in many forms, and this gel take offers skin a burst of refreshment, before absorbing quickly into its deeper layers, leaving skin feeling soft and supple with a more youthful appearance. The aesthetes amongst us will appreciate it's appearance, with a blush pink gel and rose gold applicator which makes it a pretty addition to any bathroom cupboard or Instagram-worthy shelfie.
Couple this with the advent of Elizabeth Arden's Flawless Finish Skincaring Foundation, and Elizabeth Arden has the multi-hyphenate makeup market covered.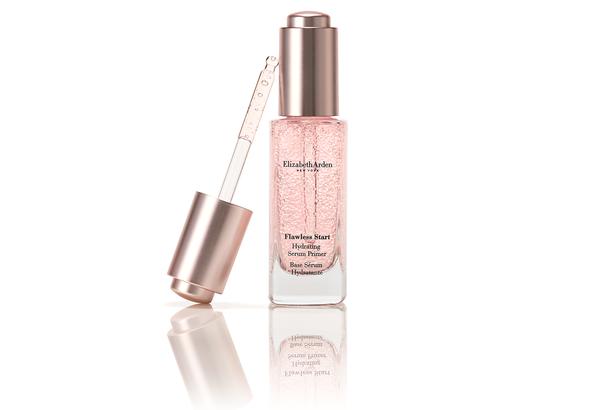 FIND YOUR FLAWLESS
We've all been there, lovingly applied our makeup in the morning only to discover by lunchtime it's settled into fine lines and wrinkles, highlighting imperfections and – dare I say it – making us appear older.
But now, Elizabeth Arden's Flawless Finish Skincaring Foundation is here to change all that – nourishing skin while delivering buildable, customisable coverage that wears comfortably for up to 24 hours, with nary a laugh line in sight. Although we'd never recommend you sleep in your makeup...
Like it's skin-prepping sibling, Flawless Finish Skincaring Foundation heralds hyaluronic acid to plump and hydrate skin, but this time is also combined with vitamin C to brighten skin tone and defend against free radical damage, vitamin E to decrease inflammation and protect against environmental aggressors, along with a patented botanical blend for added conditioning and comfort. The name truly does say it all – it's a long-wearing foundation that actually cares for skin while perfecting skin's appearance.
Beauty aficionados have been crying out for greater shade diversity for years now, and in response the industry standard is changing from offering a handful of hues to full shade ranges to suit every skin tone. Elizabeth Arden is following suit, with Flawless Finish Skincaring Foundation available in 40 skin-flattering shades in warm, cool or neutral undertones.
While we're still experiencing the heat of summer, makeup meltdowns are also a key concern. Thankfully, this clever offering provides oil control and is heat and humidity-resistant, meaning your base makeup will stay exactly where you put it.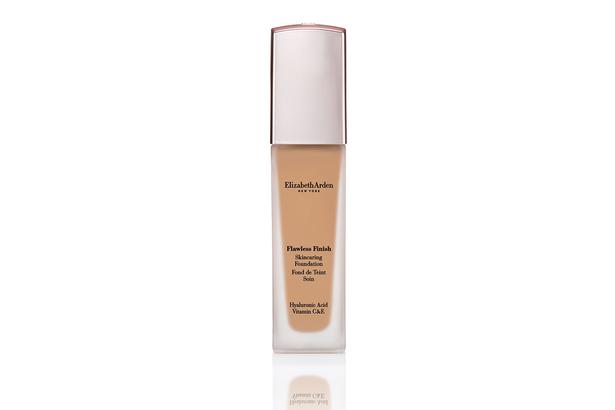 The cherry on top? Both products have also been tested by leading dermatologists, and are non-comedogenic (meaning they won't clog your pores) and are free from nasty parabens and artificial fragrances. Are you ready for your most flawless finish yet? Follow these two simple steps to ace your base and find your version of flawless.
First, prep skin using one dropper of Flawless Start Hydrating Serum Primer to drench skin in hydration, blur imperfections, and help create a smooth blank canvas on which to apply your foundation.
Next, apply Flawless Finish Skincaring Foundation with your fingers, a beauty blender or flat foundation brush, starting at the centre of your face and blending outwards. Depending on the amount of coverage desired, build on your base working in light layers of product.
Voila! Smile at the mirror with confidence knowing your makeup will look as radiant as you feel all day long.
Discover Elizabeth Arden Flawless Finish Skincaring Foundation, $69, and Flawless Start Hydrating Serum Primer, $64, from Elizabeth Arden counters nationwide, including Farmers and Life Pharmacy, or visit Elizabetharden.co.nz.
Share this: