Tips for a fresh-faced take on beauty
The no-makeup look is the trend natural beauties have been waiting for, says Janetta Mackay.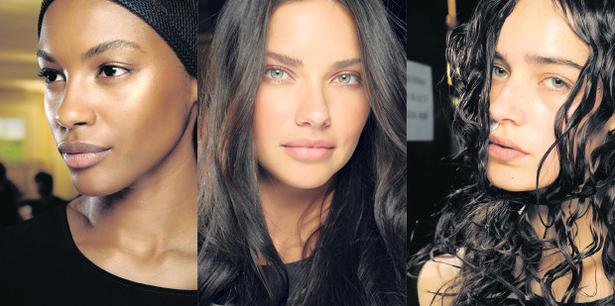 Friday Feb. 6, 2015
Getting it right from the inside out is a message that has spread from health and wellbeing to the beauty world. Obvious artifice is out and accepting yourself and maximising your natural potential appearance-wise is in.
That's good news for a New Year and sits well within this week's Vitality theme. For some women, letting their light shine has never been an issue; for others the new stripped-bare makeup may be a challenge.
For several seasons now, a fresh-faced take on beauty - with skin the star attraction - has been emerging as the dominant runway look. Makeup and skincare are merging to support the presentation of a flawless face.
The idea of less as more has now well and truly crossed from fashion into the sort of beauty looks celebrities are adopting and cosmetic companies are promoting. Note the use of the word less, rather than none.
After I first wrote online about this shift in focus a reader emailed: "How about we all go around actually not wearing any makeup for an authentic no makeup look".
Another replied: "Makeup is fun! And it can help hide imperfections. What's not to love?"
Fair comments both, but this is a beauty column, so we're all about the tricks of the trade. As a display at a recent M.A.C trends presentation I attended in Sydney said: Nothingness is not Laziness. So by all means embrace truly no makeup if that's your bag, but for most of us the message of the "no-makeup look" isn't about going entirely au naturel, it's about putting effort into incremental improvements. That way you can confidently think of cosmetics as an accessory rather than camouflage.
Bright lips and lots of liner and lashes will always have a place, but for everyday wear women worldwide are embracing the idea that they will look more vital and youthful by tending to their skin first and foremost. Masking skin in thick foundation and overdoing the powder is well past its use by date for women of all ages.
"It's about what do I need to cover and what can I let be," says M.A.C's senior artist in Australia, Nicole Thompson.
She advises reassessing how you approach your makeup with professional advice on what would work best with your skin type and to ensure that what you use aids your efforts with skincare. "People are spending money on facials, treatment, microdermabrasion ... and then just throwing stuff on their face," says Thompson. "They should apply that [skincare] mentality to their makeup."

HERE'S HOW:
• Hydration is key to skin that looks good and doesn't soak up too much surface coating.
• Prep skin with appropriate moisturiser and priming products to sort out any dry or oily areas. 
• Gently massage into your skin, it helps absorption and stimulates natural glow.
• Use concealers to correct any flaws or disguise redness. Brush on, then pat in.
• Only apply foundation where needed, if at all. Using a brush gives a lighter touch.
• Apply powder sparingly to the T-zone, only if needed. 
• Lip conditioner may be all you need or want, otherwise keep lip tones flush natural. 
• Eye and cheek colours are less obvious in peach, pink, rose, yellow gold or soft orange hues.
• The "no makeup look" for skin carries over well, even when eyes and lips are vamped up. 

CHEAT YOUR AGE
Showing skin through your face base is all very well if you're talking a few youthful freckles, but how does the no-makeup look work on more mature skin?
"It brings the skin alive," says makeup artist Carol Mackie, who is old enough to know that women old enough for age spots may be sceptical. Cosmetics can't correct a lifetime of damage, but she says reversing the tendency in this part of the world to spend more time with product and less on skincare is a good place to start. "It's a flip on what we're used to doing."
A cared-for skin will look cleaner and smoother, says Mackie. "Cheat youth that way."
Don't be afraid to be hands-on with your skincare and makeup, says the M.A.C co-senior artist for Australia, citing a favourite trick of finishing an application of moisturiser or foundation so it isn't just sitting on the surface. "On a mature skin I tap it in."
For 40-plus skin, Mackie says ensure the cheeks are well hydrated as this area tends to be the driest. "Don't put powder there, use creamy blush, and just spot powder in the T to set." Beware too much shimmery highlighter; a more natural glow is what you are after.
For those with particularly dry skin, try pressing oils into your skin before and then after makeup to impart a natural glow. "Get a tiny little bit of oil or moisturiser on the bottom of the palm of your hands and push in." (Mackie recommends trying M.A.C Care Blend Oils or Strobe Cream under or over any makeup, Prep n Prime Skin Smoother as a primer and Casual Colour on the cheeks).
Skin-matched foundation and concealer are key to making a little makeup go a long way. Colour can be built up to conceal redness or pigmentation, but shouldn't automatically be taken from nose to hairline."When you do a full face you can look like another person's face."
A plus of pulling back on foundation is that any colour applied to lips, cheeks or eyes will look more inviting, but also less obvious. "When there's less product on the face, the colour doesn't look so visual," says Mackie. But a mistake older women sometimes make is to shy away from its enlivening effect.
"Don't be afraid of colour. Think about highlighting one feature: the lip, the waterline, the cheek."
Share this:
More Beauty & Wellbeing / Trends