Tips for topping up your tan - the sun-safe way
Maintain your summer glow with simple skin-loving steps, says beauty editor Janetta Mackay.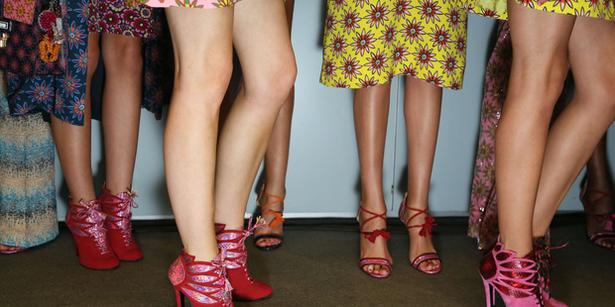 Friday Jan. 30, 2015
Right about now, skin that was looking gloriously golden can start to seem muddy and mottled. Whether the problem is too much sun or the fading feeling from being back indoors working, this seasonal malaise needs tackling.
Skin needs lots of love in the form of moisture, protection and perhaps a little helping hand in evening out the colour. In late summer these needs become more pronounced, with dryness and rough bits more to the fore from extra time outdoors. Feet are often the worse for wear and legs can be looking a bit scaly.
Now is a good time to consider booking body treatments and pedicures so your bare legs and sandal toes can carry you through another few months of warm weather with confidence. There is also much you can do at home with regular self-maintenance. Start by exfoliating in the shower, followed by plenty of body lotion or oil all over and more intense applications on problem areas.
Using body bronzers, fake tan or slower-acting gradual tan moisturiser makes more sense to me at this time of year, when you're no longer lily white. Rather than emerging looking obviously artificial, as can happen in spring, applying these sun cheats now will top up the touch of tan you have inevitably acquired naturally.
Here a few ideas on the types of products that will help you maintain the summer look and feeling while also ensuring your skin stays smooth and hydrated.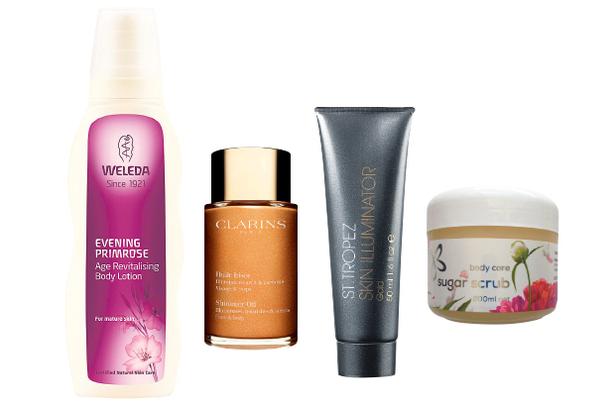 Weleda Evening Primrose Age Revitalizing Body Lotion $36.90 
Evening Primrose is new to the Weleda line-up, giving fans of natural skincare the additional choice of a moisturising lotion or oil especially designed to nourish mature skin. From health stores and pharmacies, see weleda.co.nz.
Clarins Shimmer Oil $61
This does triple duty: illuminating, nourishing and scenting skin with a veil of golden pearls, a mix of non-greasy hazelnut oil and a sunny citrus fragrance. Slather it on. From selected salons, pharmacies and department stores.
St Tropez Skin Illuminator in Gold $34.95
Break this one out for your next pool party, especially if you're swanning around rather than taking the plunge, because the iridescent sheen will wash off. (For something more lasting try the St Tropez tanning range.) For a luminous sculpted look, apply illuminator to shins and to the front of thighs, to collarbones and shoulders to better define your decolletage, and lightly to highlight the planes of your face. Blend with moisturiser for a more subtle daytime effect. Particularly good on skins with yellow or gold undertones. From selected salons and pharmacies, for your nearest stockist ph 0800 604 604.
Joyce Blok Sugar Scrub $45
This rose-scented limited edition scrub contains sugar as its exfoliating agent and natural alpha hydroxy acids. Apply to dry skin for a firmer massage or to wet for gentler exfoliation before rinsing thoroughly to reveal fresher, firmer-looking flesh. From selected day spas and online, see joyceblok.co.nz.
Share this:
More Beauty & Wellbeing / Trends