Joan Collins' beauty secrets
Joan is still dancing 'til dawn — so what, exactly, is her secret, ask Hannah Betts.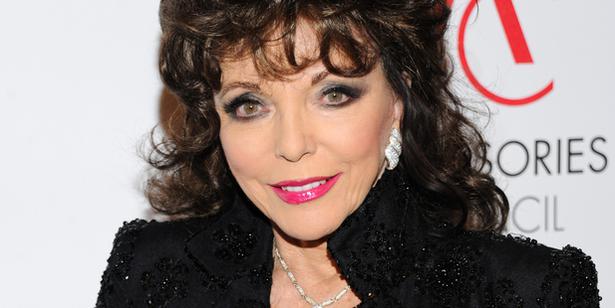 Saturday Aug. 16, 2014
The images of Joan Collins OBE - actress, personality, national and international icon - dancing the night away in St Tropez this week bring joy to the heart. At 82, La Collins makes fifth husband Percy Gibson, 32 years her junior, look rather less limber. Singing along, with bare arms waving in the air, tossing her raven hair, Joan remains the glorious embodiment of glamour.
Last week she was partying with, and bestowing beauty advice upon, her god-daughter, model-of-the-moment Cara Delevingne, adorning those famous eyebrows with a pencil from her very own makeup range.
This week, we see her tripping the light fantastic at the pre-Venice Ambi Pictures bash in gleaming white sequins, hot pink lipstick and a glowing Riviera tan.
Collins is justly bored by references to her age, but - ye gods - what a gal.
I had the pleasure of interviewing and (girlish swoon!) receiving a makeover from this icon back in the spring, and let me tell you, her looks have nothing to do with clever photography.
In the flesh, she is still more radiant.
Good genes play a considerable part. As a baby, her parents were forced to attach a sign to her pram bearing the legend: "Please do not kiss me". Her mother and nine aunts were the epitome of elegance.
However, Collins is no less an advocate of solid graft. She works hard at her looks - eschewing the sun on her face, exercising and living off salmon, avocados and the odd glass of champagne. She rolls her eyes when women in their 30s patronise her by declaring that they hope they look as good at her age, scoffing: "Many don't look as good now!" Damn right.
Though she was naturally beautiful, Hollywood taught Collins the power of glamour. She tells the story that, back in 1955, when she had just been cast to take Marilyn Monroe's place in The Girl in the Red Velvet Swing, aged 21, she ran across its director, Richard Fleischer.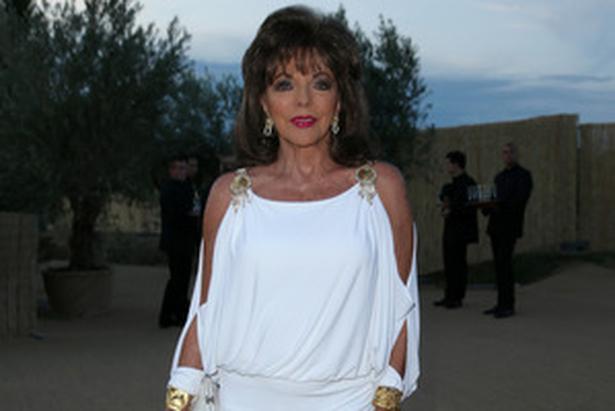 "After a day of rehearsing I walked into the cafeteria on the Fox studio lot for lunch one day, wearing blue jeans, a T-shirt and - believe it or not - not a scrap of makeup."
"Fleischer, appalled, threw up his hands. Oh my God,' he said. 'You look hideous. You should always appear in public with full makeup, a nice dress and white gloves, otherwise you'll never get anywhere in this business."'
Other starlets proffered advice, as did Monroe's maekup artist, Whitey Snyder, who taught our heroine how to blend foundation shades, apply it thinly, then powder down so that it would survive a 12-hour shoot. She continues to do her own face, faring rather better than the so-called experts.
Her goal is that women should look like their most polished selves, and nothing more: "If I catch a glimpse of reality television, my mouth falls open at the amount of filler, huge lips, fake cheekbones, and those giant teeth making them look like skulls."
She dons wigs (again boasting her own range), to avoid scorching her locks via styling, but her own hair is silkily lustrous. Clothing-wise, she gets things made, or at least tailored, admiring the work of Mark Zunino, a protege of Nolan Miller, who worked with her on Dynasty.
She exercises several times a week on her bedroom floor, declaring: "Doing 100 or more sit-ups each day can be a crashing bore, but I have to do them." She recommends supplements in the form of vitamin E, fish oil, antioxidants, calcium and vitamin A, and considers HRT a "miracle drug".
Collins has no truck with dieting, but weighs herself every morning and cuts back a little if she has gained a couple of pounds. Her approach is pure common sense: "Eat three meals a day. Try not to graze. You're not a cow!" She makes it a goal to finish two-thirds of what is on her plate, and, refreshingly, is of the Gallic persuasion that: "A day without wine is a day without sunshine."
Most beauty enhancing of all, there is the Collins attitude - breezy and relentlessly positive. She is a thoughtful woman, but refuses to indulge in navel-gazing, favouring action over introspection. And, of course, more than the occasional bout of dancing 'til dawn.
Share this:
More Beauty & Wellbeing / Trends