Tom Ford's Lasting Influence
Tom Ford is the defining designer of his generation and now New Zealand is in store for a taste of his inimitable style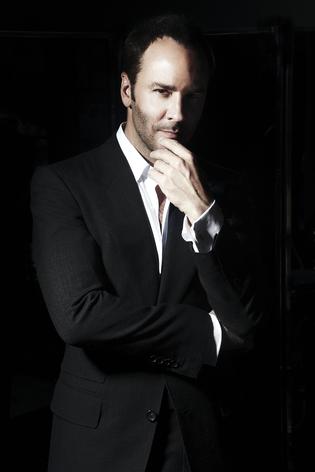 When Tom Ford launched his own label after stellar success as the "it" designer of the 1990s, it was with the lofty aim of creating the 21st century's first luxury brand. No one doubted he could do it, given his high-profile revitalising of Gucci and Yves Saint Laurent, but it is the quiet way he has gone about building his own fashion, accessories, and beauty empire that speaks volumes about the man.
Where once Ford was seen on the red carpet with the celebrities he dresses — looking every bit as much the star with his smouldering gaze and louche dress — these days his more studied side is to the fore.
When Viva asked Ford what to him constituted modern luxury, he replied: "It means crafting product that is not hollow. Logos or a hefty price tag no longer automatically confer luxury status on an object. It has to be steeped in integrity and authenticity — especially in an age when disposable culture is literally killing us, we want to build a portfolio of beautifully made things that are crafted to last, and not trendy or time-stamped."
For a man who boldly stamped the initials of Gucci and YSL back on the fashion world, this may sound a turnaround. But the American designer has always played a long game. He understood earlier than most the need to propel established brands into "lust have" territory. Only by creating covetable consumer items, could creativity be funded. Ford took Gucci from a $US230 million brand to one worth $US3 billion. Bags that! He made his own personal fortune and became his own creative director, putting the initials TF out there in 2005.
Gone were the blinged-up signatures of the 90s, instead he choose to speak the language of stealth wealth to a new generation. Or as he puts it now: "Luxury will increasingly be synonymous with old-world quality expressed in innovative new ways, extreme attention to detail, and personal service that goes above and beyond."
READ: Why Logos Are Cool Again
Translated to retail that means selling a portfolio of products that are about perfected style rather than flashy showmanship. New Zealand is the latest of 40 countries to be introduced to Ford's seductive appeal, with the arrival here of his glamorous beauty range. Think black and gold flacons of fragrance and tortoiseshell canisters for lipsticks, each embossed with a discreet TF logo.
For the man who made sexed-up dressing socially acceptable, ushering in an era where figure-hugging jeans and a sparkly top became the evening attire of choice, interestingly fashion was down his list of priorities in starting his own house. First came eyewear, then fragrance, next menswear. This draws on his own casual but considered style of occasion dressing, making Ford, a gay man with unisex appeal, a key influence on a generation who aren't afraid to embrace their masculinity and their sexuality. Images of Ford, shirt buttons undone and beard clipped, have surely done their bit to reintroduce male facial and body hair to fashionable society.
His debut fragrance, the ground-breaking Black Orchid, sells 40 per cent to men, senior staff from his New York headquarters told me on a trip to Auckland to ensure all was in order for his local launch. The man they unfailingly refer to as Mr Ford is, they indicate, both a very private person and a driven perfectionist.
Getting answers out of his global team isn't easy, for he likes to vet all communications, but isn't one for granting extended interviews. With a looming New York Fashion Week show to stage, Ford is a busy man. He and long-term partner Richard Buckley also have a young son. Maybe then, my question of how, amid all this activity, he rested and recharged, struck a chord.
"I wish that I could learn to just be a little bit more lazy and to relax and enjoy just being alive,"he replied. "I am always working and building and creating; all of which I love, but I am sometimes envious of people who can just sit in a cafe and seemingly do nothing for hours. Perhaps they actually have discovered something that I have not."
It is hard to imagine that Ford, just turned 55, would ever fully switch off and blob out. Even as a young child he stood out, teased for carrying a man's briefcase as his school bag. From growing up in the suburbs of Austin, Texas and Sante Fe, New Mexico, he moved to New York for university studies in art history, soon switching courses and being lured in to the vibrant club scene, centred around Studio 54.
He graduated with a degree in architecture from The New School for Design at Parsons, but first spent time in Paris, working as an intern at Chloe, before returning for his final year, in which he largely focused on fashion courses. Persistence won him a job with sportswear designer Cathy Hardwick and next he moved to Perry Ellis, where a young Marc Jacobs was at the helm. After a couple of years, in 1990, Ford took up a gig at the then-struggling Gucci, doing women's ready-to-wear design. Buckley, fashion editor at Women's Wear Daily, whom he had met on the job in New York, accompanied him to Milan and has been at his side since. They now have homes in London, Los Angeles and Sante Fe.
Ford's rise was meteoric. Soon he was designing menswear and shoes then all 11 lines and brand imagery. As creative director he called in future French Vogue editor Carine Roitfeld to style his campaigns, with photographer Mario Testino adding to the glamour factor. His womenswear, including tight-fit velvet pants and plunge-neck satin shirts worn with patent leather boots, saw sales and knock-offs flourish. Cannily, Ford built his shareholding over the years. Gucci went on to acquire Yves Saint Laurent, which he also revved up with provocative fragrance campaigns. The Council of Fashion Designers of America recognised his work with a series of awards.
In 2004, a messy power struggle between Gucci group's new corporate owners and Ford and CEO Domenico De Sole saw the two depart. Ford has referred to the business break-up as "devastating", but he and De Sole soon bounced back in creating Tom Ford International. The flagship store is on Madison Avenue, New York, with nearly 100 worldwide.
All this industry-making news and dressing the likes of Jennifer Lopez, Gywneth Paltrow, Beyonce, Ryan Gosling, Will Smith and Daniel Craig in his James Bond suits, means that for a self-described shy person, Ford has long been in the public eye.
Jay Z and Justin Timberlake have song-checked him and Michelle Obama chose a white Tom Ford dress to wear to Buckingham Palace. Behind the smooth public persona, Ford has always held something in reserve. He surprised many in making the movie A Single Man in 2009 and surprised critics in making it to Academy Award nomination standard. His second film, a thriller called Nocturnal Animals, starring Amy Adams, Jake Gyllenhaal and Isla Fisher, will open late this year.

One of the memorable scenes he directed in A Single Man shows Julianne Moore applying lipstick while regarding herself in the mirror. "Beauty is something that I have loved for years," explains Ford. In just five years, his luminous skin products and high-impact colour have achieved cult status, with more to be launched on the runway in New York next week. The creative director sees beauty as more than just a revenue-earning brand extension.
"When I was designing at Gucci and Yves Saint Laurent I would often spend not as much time working on the look for that season as I did on the clothes, but I would spend a good deal of time, because the look of each season, the hair, the makeup is really the character for that season," he told Viva. "It tells you whether we're in a relaxed mode, a casual mode, a very dressy, chic moment."
Soon the eyes of the fashion world will again be on his latest visual expression of intent.
"When words fail, beauty fills the void," he says.
The full Tom Ford Beauty and Fragrance range will be available at Smith & Caughey's Queen St store from September 12, with a capsule collection now at David Jones Wellington.
Share this:
More Beauty & Wellbeing / Features & Profiles