Snowboarder Torah Bright's Top 8 Wellbeing Tips
Pro snowboarder and Olympic gold medallist Torah Bright dishes up her top tips for staying happy, healthy and fit all year round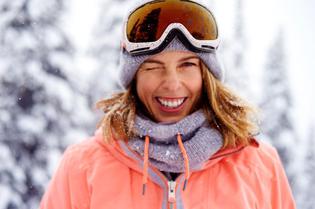 Australian pro snowboarder Torah Bright, who has won both a gold and silver medal at the Winter Olympics, gives us an insider's look into what she does to stay happy and healthy each day. She began snowboarding at the age of 2, and now splits her time between her home in Salt Lake City, Utah, her training ground of New Zealand, and her homeland of Australia. At the end of last year she travelled to Queenstown to take part in a Roxy Fitness global event which saw hundreds of women join her for a day of fitness fun. Watch the video below.  
Add movement to your life
A lot of people feel they need to be going to the gym or doing hard exercise to be healthy, but for me I have recently found that I need less vigorous activity and to just be moving. Sometimes it's a walk, rollerblading, yin yoga or tai chi - something that counteracts all the big energy/adrenaline-seeking things I do. Whatever makes you feel good is usually right for you. If you hate lifting weights or running, find something else to get your blood pumping.
Laugh
Laughter is one of my favourite things. Thankfully my husband makes it his duty to make me laugh and laugh often. When he's not around and I need a little extra something I will go to YouTube and find funny videos of falls, animals etc. Laughing lowers stress and blood pressure.
Wake up and meditate
Some days I do a guided meditation (mostly at night), but most days I start with a five-minute journal session before I get out of bed. I write down what I am grateful for and what would make today great.
READ: The Secrets of Successful Morning People
Drink water
Sometimes it is hard for me to drink water … yes, I'm like a child who does not want to stop what I am doing to get the necessities of life. Water is a necessity and being hydrated is a big one for me. When I realise I need to make it a habit, I wake up with a glass of water and lemon. During the day I will have a water bottle, and I know I need to get through two of them a day to make sure I am drinking enough water.
Torah Bright. Pictures / @torahbright

Food
Diet is huge. If you don't know what makes you tired or you are unsure if anything does, then I suggest you do an elimination diet/cleanse. You will learn quickly what agrees with you and what does not. It's life-changing when you realise that the food you eat has a direct relation to your mood and energy levels. Even if you think something is healthy, it may not be right for you.

New activities
Get out and experience new things and meet new people. I love finding new activities. One personal favourite is a ballet barre class… oh the burn! Qigong is next on the list.

Dear Diary
Keeping a journal is a beautiful thing. It's good for getting rid of mental clutter and it's also great for goal setting. Writing something down gives power to it. If your goals, needs, wants and wishes are not written down and just in your head, it's like writing a letter, putting it in an envelope and dropping it in the mail, but forgetting to address it. It's out there but won't turn up anywhere.

READ: New Year, New You! Tips for Starting the Year Right

Mary Poppins
She said it best: "In every job that must be done there is an element of fun, you find the fun ... and snap, the job's a game!" I work best when I am playful and having fun, in my snowboarding and in my life. If you're the same, find the fun!

Share this:
More Beauty & Wellbeing / Wellbeing