Val Garland of L'Oreal Paris Shares Her Expert Tips
L'Oreal Paris makeup director Val Garland has snared one of the beauty world's biggest jobs with a mandate to innovate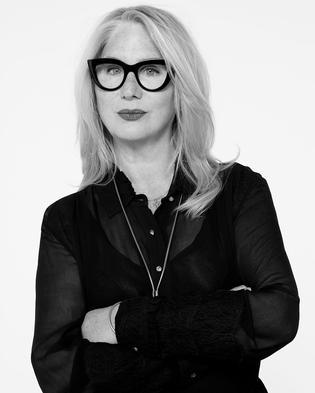 Val Garland is the makeup artist who coined terms for looks like the boy brow, insecta eyes and #snoggedlips.
In her new role as global makeup director for L'Oreal Paris, this backstage star will help formulate new products and looks, and share expert tips.
"I can't wait to get inside the science labs . . . and co-create the makeup I want to use — and that I think women the world over will want to use too," she says. "I've always said we don't need to spend a lot of money to get brilliant, innovative, superior-quality makeup products."
The English creative began her career as a hairdresser and worked on music videos before transitioning to makeup. From three decades of experience, she has the confidence to work fast and wing it as frequent creative director for fashion week shows in Paris, London, Milan and New York. She is equally happy creating gorgeous glowing skin or avant-garde looks.
Val's stellar resume includes fashion collaborations, more than 50 Vogue covers and hundreds of editorials and advertising campaigns. And now what she describes as her "dream gig" working for the world's biggest beauty company.
She is looking forward to spending more time in Paris and admits: "With or without makeup, Parisian women appear more effortless and chic in contrast to their English counterparts."
The makeup maverick going mainstream talks more about her approach to all things bright and beautiful.
When did you realise makeup was your calling?
I've always loved makeup, right from watching my sister getting ready to go out in the early 70s when it was all lashes, liner, lots of hot pink blush, she used to practise her ideas on me.
How much did you experiment with makeup growing up?
A lot of experimenting as a teenager, some good ideas and some ghastly.
READ: Meet Chanel Muse Caroline de Maigret
What have been your greatest makeup mistakes on the job?
I don't use the work "mistake." I like to think of things being a "happy accident". There was one time when I applied eye makeup to one eye and not the other and the photographer said, "There's no time, I am going to shoot it anyway". That became the look, asymmetric makeup!
Where did the line, 'I don't want to be beautiful, I just want to be noticed' originate?
For me, I didn't want to glorify my femininity. I just wanted to be interesting, you know, the quirky girl in the corner.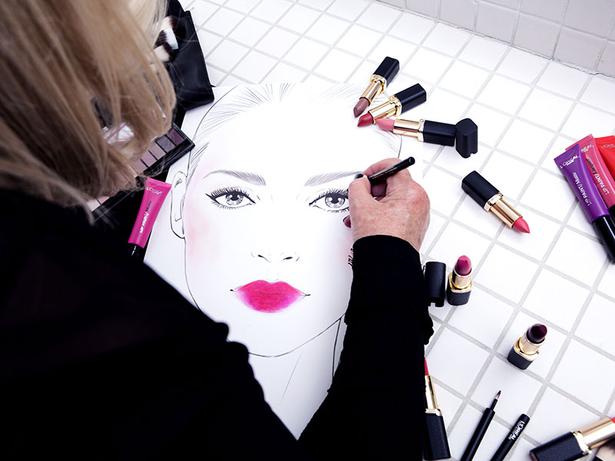 What's your process, from brief to creation?
It's different for every situation. Sometimes you have to follow a brief from start to finish. Other times you are given carte blanche to just "create". My "process" changes all the time. Mostly I'd say I am very spontaneous.
Tell us some of inventive names you've created for looks?
Snogged, Boy Brow, High Brow, Booty Boosh, Freshly Flushed, Insecta Eyes, Lolly Lips, Lash Icing, Lashgasm, Lash Lining, Punk Purity, Iced Fancies, Slide Shine . . .
What do you consider your greatest makeup designs?
They usually involve a liner of some sort, perhaps a lot of colour and definitely a lip.
What's the biggest compliment one of your makeup looks has ever received?
The March 2012 cover of W magazine "Good Kate Bad Kate" shot by Steven Klein. It won an award for the best magazine cover.
Who or what are your greatest influences on makeup?
Everything and anything around me, whether its art, music, textiles, films, past, present, futurism.
What are your current obsessions?
Advanced science in makeup and skincare.
Shoot or show? What do you love about each?
Each has its own challenges, chaos and creativity.
READ: The Latest Korean Beauty Craze
What are the most fashion shows you've done in one day?
Five.
What's your most nail-biting backstage makeup experience?
First looks are called and we are still waiting for five models, that means the makeup will have to be done at the line-up.
If you were starting out today unknown, how would you get noticed?
It's paramount to build up your social media. That's how you get noticed.
What is Instagram to makeup?
A platform to promote and share your ideas and experiences.
How do you apply your own makeup?
Brows, eyes, complexion, lips. Done.
How do you keep things from getting boring?
Change it up, move it about, mix it up.
VAL'S FIVE BEAUTY TIPS
Val Garland shares her five fail-safe beauty tricks to underpin a terrific "no makeup" makeup look.
1. Put mascara on the lower lashes before the upper ones to prevent wet mascara from touching the eyelids.
2. Brush your eyebrow down before filling it in to avoid it looking overdrawn.
3. Good skin is key to achieving a no-makeup makeup. Use baking soda with honey as a face wash to exfoliate and clear spots.
4. Use exfoliating wipes as lip scrub.
5. Melt eye kohl pencil with a lighter colour for a more intense gel texture.
Share this:
More Beauty & Wellbeing / Features & Profiles