The Power of Posh
Victoria Beckham talks lipstick empowerment and how she loves designing makeup she wants to wear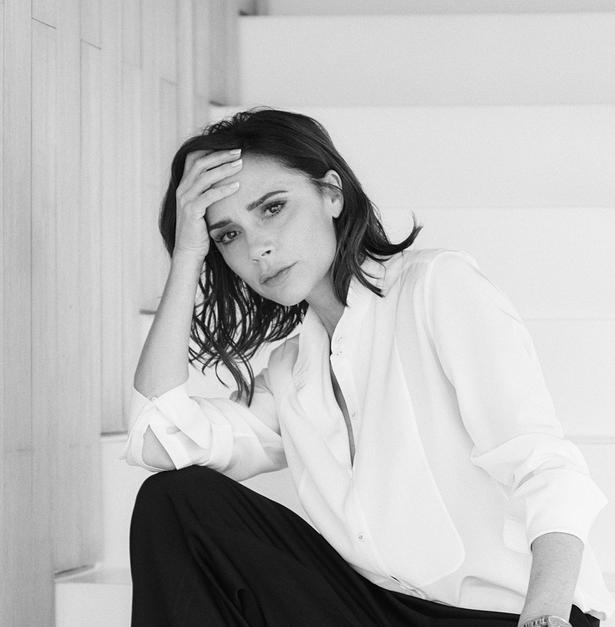 Wednesday Sept. 27, 2017
It's hard to imagine the self-possessed, bronzed businesswoman in the room as a pasty-faced teenager heading off to school hiding behind too much slap. Then again, it's hard to imagine this stylishly turned-out 43-year-old as a Spice Girl either. But Victoria Beckham was both. And is much more.
In her slouchy, ivory silk tuxedo shirt and even slouchier black pants, worn with black flatform leather sandals, she is all elegant ease in sweltering Beijing. A petite picture of functional chic — minimalist and modern — like the high-end clothes she designs and wears.
READ: Why We Continue to Love the Tuxedo
She's also a major international celebrity, of course, with a famous former footballer husband and four Instagrammable children.
The Beckhams are an endless source of media fascination and speculation. She's said to be worth more than he is these days, but Brand Beckham is a family affair, not a competition.
They're loaded, they're good-looking and they're still together. Victoria and David have long since left their matching outfits behind them, but they're still Britain's reigning celebrity couple.
Over the 25 or so years they've been in the public eye, it's hard not to have formed opinions about them.
She famously doesn't smile in photographs, which makes for an impression more tense than in real life. It's a little disconcerting then, when an affable Victoria sits down beside me, rather than using the hotel suite's L-shaped sofa to keep her distance, as I'd expected.
Posh Spice isn't precious, she's polite. She extends her hand; the slim wrist of the other is weighed down with a chunky man-style watch. It's her only obvious accessory.
READ: Victoria Beckham;s Most Fashionable Quotes
In our short interview, she happily goes off makeup message to talk a little about her past, her future ambitions and how her family factors into the fame game. It sounds like she sees it all as part of one big picture.
"I feel content, you know, I have a great family and my career is going well. I work hard and I'm okay with getting older, it doesn't really bother me. I think I've achieved a lot for my age and I feel proud of myself and my team, and proud of myself and David and how great the children are, and how they are growing up to be kind, thoughtful, happy little people."
Her very dark brown eyes hold a steady gaze. This is a woman who combines natural curiosity with a sure sense of self-control. Her retrousse nose doesn't turn up further at me, the fifth journalist in a row, asking doubtless similar questions about her makeup collaboration with Estee Lauder. Instead she enthuses: "Makeup is everything."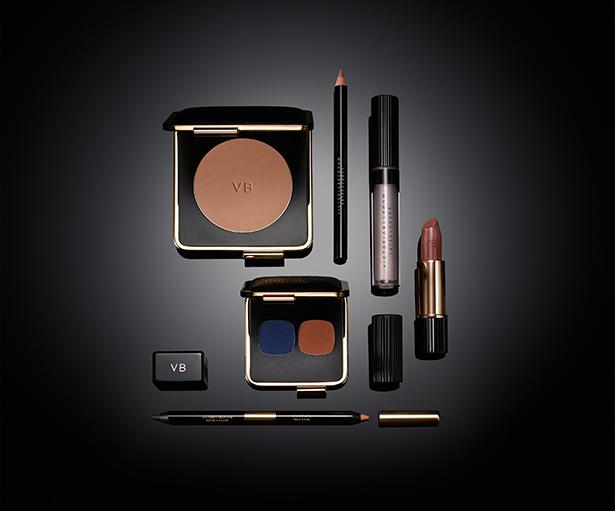 "I've been wearing makeup since I was too young to be wearing it," she laughs. Turns out her mother was complicit, using her lipstick to tap colour on to young Victoria's pale cheeks before she headed off to class. How old, I ask? "I'd be ashamed to say."
Lauder says Victoria has been an unusually hands-on and creative collaborator. "I'm loving every minute of this. I'm so beauty obsessed," is her take.
"Having done so many photo shoots and red carpet and things like that, I thought I had a point of view and there were always certain things I'd searched around and couldn't find. We had our first meeting in LA and I had a dining room table full of makeup and that was where the development process started."
Victoria's input ranged from initial very specific ideas (for starters: a particular shade of nude liner, a mascara to paint rather than coat lashes, colours inspired by her favourite cities), through testing and packaging design.
Black rubberised compacts, edged in gold, have a weighty stealth-wealth quality. These echo both classic designs from the Lauder archive and her own accessories line, for which gold hardware is a signature.
"I want it to be the ultimate in luxury, I want the formulas to feel special," she says.
READ: Victoria Beckham's Clothes for Reality at New York Fashion Week
This is her second collaboration with the American cosmetics giant, after the launch last year of a much smaller limited edition range. With key items in the Victoria Beckham Estee Lauder makeup collection selling out overseas already, it looks unlikely to be her last.
"There's no end in sight, let's put it that way," says Lauder bigwig Sarah Creal when I ask if a permanent range may be in the offing. "There's loads we want to do," says Victoria. "We're really just scratching the surface."
She mentions skincare and fragrance as other areas of interest and admits to being a driven perfectionist. "Yes. In every sense. I'm very tough on myself and I work hard and I want things to be just right because I want my customer to feel empowered and special.
"For me it's not about copying what anyone else is doing. It has to have a point of difference, and I just love to keep raising the bar and to better myself."
She's clearly no dabbler, as those who initially dismissed her as just another celebrity fashion wannabe soon found out. The Victoria Beckham range debuted in 2008, quickly won critical acclaim, and is now one of the drawcards of New York Fashion Week.
With flagship stores in London and Hong Kong, and a presence in leading department stores and online, the brand continues to build. Handbags and sunglasses were added, then the makeup collaboration.
"I like to celebrate being a woman and I think women should feel proud and have fun with makeup and use it as a way to express themselves, as they would fashion," she explains.
What next? As well as the aforementioned desire to do skincare and fragrance, and to expand her fashion range, she is keen to further harness the power of online shopping. Travel for creative and family time out and strong work teams to support her vision help with finding a balance.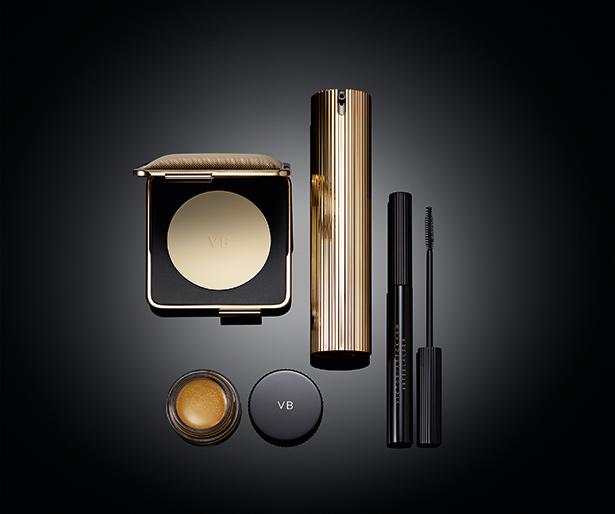 "Fashion moves incredibly quickly, I mean it's like a hamster wheel, it keeps going and going and going . . . I just have to be very focused and not take on too much because I don't want to have to compromise with regards to design or quality."
On public duty, Victoria dresses the glamorous part, knowing cameras are never far away. Off duty, she insists she kicks back and sometimes wears virtually no makeup. Were she not so down-to-earth, I might doubt this.
Up close, I see today she is wearing her favoured soft smoky eye and nude lip and a definite layer of face base enhanced with subtle contouring. For an evening appearance it would be amped up. A darker lip perhaps, or her cool metallic foil eye shadows.
She looks a little tired. Luckily for her, she has Victoria Beckham Estee Lauder Morning Aura Illuminating Creme, which gets her plug as a weekend essential. "It just makes me feel glossy and little more finished."
We talk about dealing with the scrutiny of appearance at a young age, especially one spent in the public eye. "Women should just feel more comfortable in their skin, which is something I've learned the older I get," says Victoria, "but when you're younger you're more insecure and it's so hard, it's so hard."
READ: New Zealand's Most Expensive Face Cream
Makeup used sparingly and cleverly — focusing on eyes and lips — could help distract from skin issues, she has found.
"Women, in general, are very hard on themselves and that's why I love what I do, because I want to make women feel like the best version of themselves. I'm no different from any other woman, I look in the mirror and I'm sure everything I see that I don't like, maybe other people might not even necessarily notice."
With her own children inevitably exposed to the celebrity spotlight, I ask how she feels about this. (Eldest son Brooklyn has just made a well-documented move to New York City to study photography, while his younger brothers, Romeo and Cruz, and baby sister Harper attend school in London). I'm half-expecting this conversation to be closed down, but instead Victoria opens up.
"Our children are in the public eye because David and I are, and that's not something you should complain about. I think it is what it is and our kids work very, very hard at school. I think the work ethic is there. They're incredibly polite, every time anyone meets our children they say how nice and polite they are.
"Being in the position we are in does give them opportunities, but they have to prove themselves and work harder than maybe other people do as well, and that's a good thing."
Why then did she reportedly trademark Harper's name? I ask if this was done for some future inter-generational expansion of Brand Beckham.
READ: Six Skincare Trends to Try
"No. Not at all. This was something David and I decided was the right thing to do to simply protect the children rather than have the possibility of people taking advantage of them at some point."
Years of celebrity have clearly made her canny, but it's this ability to look ahead rather than rest on her laurels that means her star is still in the ascendant.
Victoria Beckham sure is one busy woman. Over the past three days she has had multiple appointments in Hong Kong, Shanghai and Beijing, including several sunglass launch events, crowded in-store appearances for the Lauder collaboration, and a dinner with Chinese Vogue.
This grounded, but dynamic high-flyer, is well on her way to building a truly global powerhouse designer brand.
They really should have called her Power Spice.
• The Victoria Beckham Estee Lauder collection will be on sale from October 2, only at Smith & Caughey's Auckland; David Jones, Wellington; Ballantynes, Christchurch; and H&J Smith, Dunedin.
Share this:
More Beauty & Wellbeing / Features & Profiles