Victoria Beckham's Clothes for Reality at NYFW
Natasha Silva-Jelly lines up with fashion's cognoscenti at New York Fashion Week to see how Victoria Beckham combines her new collection with her latest collaboration with Estee Lauder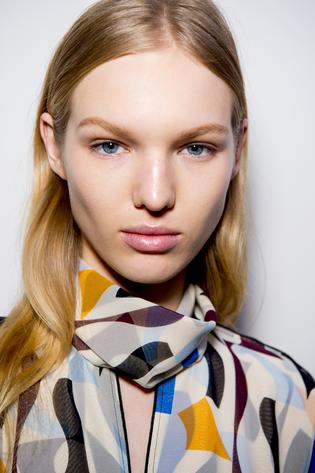 A rainy Sunday morning didn't deter the heavyweight fashion pack from taking up their front row seats at New York's famed Wall Street hotspot Cipriani to witness the unveiling of the Victoria Beckham Fall 2017 collection.
A posh venue for the woman once known as Posh Spice, who — far from falling victim to the celebrity turned designer flash in the pan — has proved a force on the global fashion scene. The Victoria Beckham brand — for yes it is a brand that includes highly coveted fashion, diffusion and accessory lines, along with a sell-out makeup collection in collaboration with Estee Lauder — is now stocked in more than 400 stores in 50 countries.
The success is undoubtedly down to the label's continuing evolution each season, along with the designer's personal sense of style, clearly evident in her creations. That her fans can identify the clothes so much with the woman herself only further fuels the allure.
As fashion's elite — scoring an invitation to a Victoria Beckham show is strictly the preserve of the upper echelons — poured into the historic venue pausing to take a cup of tea as they went (how terribly British), the mood was one of excitement and anticipation, even in these politically charged times. For as respected fashion critic and New Zealand native Tim Blanks, editor-at-large of The Business of Fashion put it, one can't be certain what to expect from a Victoria Beckham show from one season to the next.
"That's the mark of an interesting and surprising designer. Victoria is looking for an identity as a designer and doing things you wouldn't expect. Her clothing is a little more difficult now that the incredible dresses that launched her label and, I hesitate to say it, but maybe there is more of an avant-garde edge to them. She is definitely in a weird transition at the moment."
READ: Victoria Beckham Announces a Second Makeup Collection
There, ready for the latest surprise, were style aficionados Anna Wintour, Suzy Menkes, Grace Coddington and Blanks et al. But if that stellar front row wasn't enough to work up the fash pack the frisson spilled over when husband David Beckham took his seat alongside Wintour, 5-year-old daughter Harper snuggled on his knee, and Burberry clad sons Cruz, 11, Romeo 14, and Brooklyn, 17 to his left. Security guards and PR handlers had to pry the mobs of bloggers and influencers away as they desperately rushed to snap the Beckham brood for their hungry Instagram feeds.
Order restored, the lights dimmed, the clothes hit the runway and it was clear from the very first look — a tailored navy blazer paired with navy chiffon skirt, yes, pairing man-style pieces with feminine skirts and dresses signalling a new approach — that Beckham was out to reinforce her reputation as the creator of thoroughly modern wardrobe staples. On show were oversized trench coats and blazers (in gentleman shades of navy, grey and brightly coloured checks), slouchy wide leg pants, ruffled chiffon skirts and dresses (again in core colours but magnificent in bright pops of raspberry) and geometric jersey knit dresses and separates, all of which could easily slot into every professional woman's arsenal. Assuming of course she has the coin to make the investment.
"It was a fantastic collection of modern, effortless day wear and separates. Victoria has created a highly desirable wardrobe that is covetable but also so wearable from the knitwear, to the beautiful silk skirts and tailoring. I think the accessories are really strong this season, especially the little box bag and the wedge boots," said global fashion director of Net-A-Porter and Porter Magazine Gabriele Hackworthy after the show.
Blanks meanwhile declared it "all very Katharine Hepburn". If the fashion evoked a sense of power, so did the makeup, which was barely there, yet also utterly polished and professional.
Flawless illuminated skin, a hint of rose-beige on the cheeks, pale lips and subtle muted blue and grey winged eyes proved a look that is perfectly attainable.
Because, in the words of the designer herself, when it comes to her fashion and beauty ideal, "The attitude is of freedom, of confidence, of power. These are clothes for reality, and a real woman's life."
Share this:
More Beauty & Wellbeing / Features & Profiles