Viktor and Rolf on their latest fragrance
Designers Viktor & Rolf are big on bows and other sweet sensations, they tell beauty editor Janetta Mackay.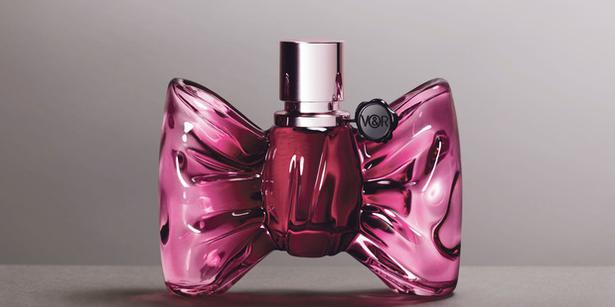 Thursday Nov. 13, 2014
When it came to dreaming up the concept for their latest fragrance, Viktor Horsting and Rolf Snoeren started with the bow motif that figures large in their designs.
Pushing the boundaries is as satisfying as their love of dark chocolate to the Dutch designers. The richly caramel Bonbon is as much eye-candy as their hit first fragrance Flowerbomb, which was housed in a hand grenade of a bottle, filled with potent petals.
With ribbons and metal bows now showing up on a shelf full of fragrances, we ask the leaders of the bow brigade about their inspirations.

What is the design appeal of the bow to you?
A bow is an iconic fashion symbol deeply grounded in our fashion heritage. A bow made us think of candy-wrappers, which for us is connected to the very nature of sweet and delicious bonbons.

I understand the bottle creation was quite a design accomplishment. Do you enjoy embarking on technical challenges in your fashion design as well?
For us, experimenting and having creative freedom is of utmost importance. We relish a challenge and with Bonbon's bottle we embarked on a technically difficult endeavour - which we didn't realise when we designed the bottle: the sketch took just a couple of minutes.
But apparently it was not so easy to execute it.

Form or function, what comes first? And how does fashion express itself in this equation?
Fashion is a means of self-expression, and provides a way to make you feel good about yourself, to feel strong and empowered. These psychological and aesthetic aspects are its first and foremost function.

Where did the idea for the Bonbon fragrance come from? Was it a conscious decision to create something quite different from Flowerbomb, or do you see it as an evolution?
From the beginning, we knew we wanted to create a delicious fragrance, one that you could deem as edible. Grounded in the traditional gourmandise ingredients of butter and sugar, its caramel scent is at the same time delicious and sexy. Flowerbomb is quite different next to Bonbon. As a matter of fact, we started out with the desire to go even further than Flowerbomb in terms of sweetness. Next to Bonbon, Flowerbomb is almost green.

Perfume to you is ...?
A creative means of expression and an important part of our fashion universe.

To launch Bonbon, and for its campaign imagery, you hand-painted a model in bows. What was the thinking behind this?
Bonbon's image is seductive, provoking yet serene. Edita's body is meticulously hand-painted with Bonbon's bow, suggesting she wears the perfume like a garment, a second skin. That is why we first introduced the fragrance [earlier in the year] with a couture show.

Who makes the best bonbons?
Viktor & Rolf. Bonbon is a treat, first and foremost for yourself.

Take your pick from our line-up of fine perfumes, all tied with a decorative flourish.
Share this:
More Beauty & Wellbeing / Features & Profiles