Capturing the Ocean
Photography and surfing make Richard Hodder a happy man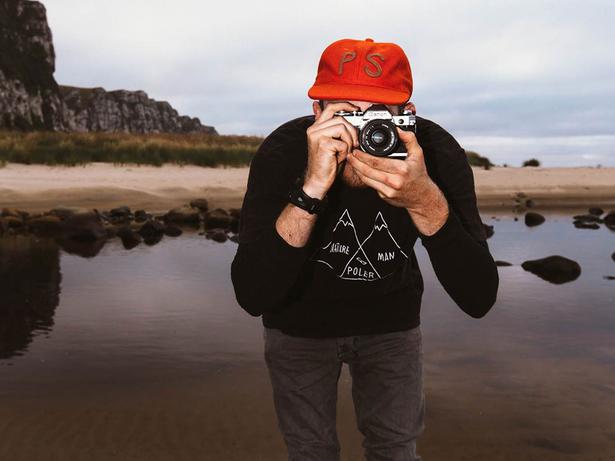 Friday April 10, 2015
Richard Hodder is on a three-month trip throughout New Zealand, indulging his passions: surfing, adventure photography and getting out on the road. At the end of the trip, he plans to exhibit a selection of the photos.
"It's all about trying to inspire people to travel in our backyard," he explains. "It's my first real project to get my teeth stuck into and I'm absolutely loving it."
Working in corporate jobs — first for a large food ingredients company, and later for an apparel distribution business — has never stopped Richard from following his heart. In 2010 he headed overseas for a surfing adventure and a year of travel, taking a small camera which he used to keep friends and family constantly updated via his blog. "I guess that was what sparked my enjoyment for sharing moments with people," he says.
Eventually he decided to upgrade his camera, buying a special unit to keep it dry in the water. For two years he's been taking it for ocean swims and since November, he's pursued photography as a business. He's just as enthusiastic about the peripheral aspects of his job, using social media in particular.
"I love sharing photos and immediately seeing if it's triggered someone's emotions."
Driving and camping around the country means there's no set routine, but if there is one thing Hodder tries to stick to, it's looking after himself. Without a fridge or his beloved vege juicer, "it's harder than ever", he says. But the constant change and lack of routine suits his flexible nature.
"I really enjoy the unpredictability of my job, being creative. Learning something new every day is the best feeling."

• To see Richard's work, check out his Instagram account @inthedrink #fourcornersofnz.

RICHARD HODDER'S ESSENTIALS
The main thing I try to do when I wake up is smile. I think it makes getting out of bed easier to kick-start some positive energy.
Often the best thing for me to do to de-stress is to get in the ocean. It clears my head and I lose any stress-generating thoughts as soon as I hit the water. If I'm not near the ocean I usually take a few deep breaths and refer back to my to-do list.
If I'm not in the water I would probably be hiking up a mountain or hill somewhere.
Recently I've been making a conscious effort to cut back on foods high in added sugar. I love cooking with as many natural ingredients as possible and there's nothing better than growing your own vegetables.
I take books slowly but it's really good to have something to take your mind off to another place. Even if it's just a daily 10-minute distraction. I'm reading Treasure Island, the hardback version.
I have fair skin and the most important thing I've found for me is avoiding too much direct sunlight. I've even started wearing a broad brim hat in the surf. It wasn't until last year when I got advice from a Skin Centre specialist that I really woke up to the fact that I needed to change my approach to the sun.
Connecting with people and spending time with like-minded, motivated people really gets me inspired. When someone is passionate and you can just tell they are putting everything into what they do it really gets me excited to continue to push myself creatively and keep striving for a better day than the one before.
My family has owned a bach in Whangamata for 15 years. There's a little shed out the back that has formed itself into a perfect little summer base for me. It's simple, but that's what I like about it.
Share this:
More Beauty & Wellbeing / Wellbeing