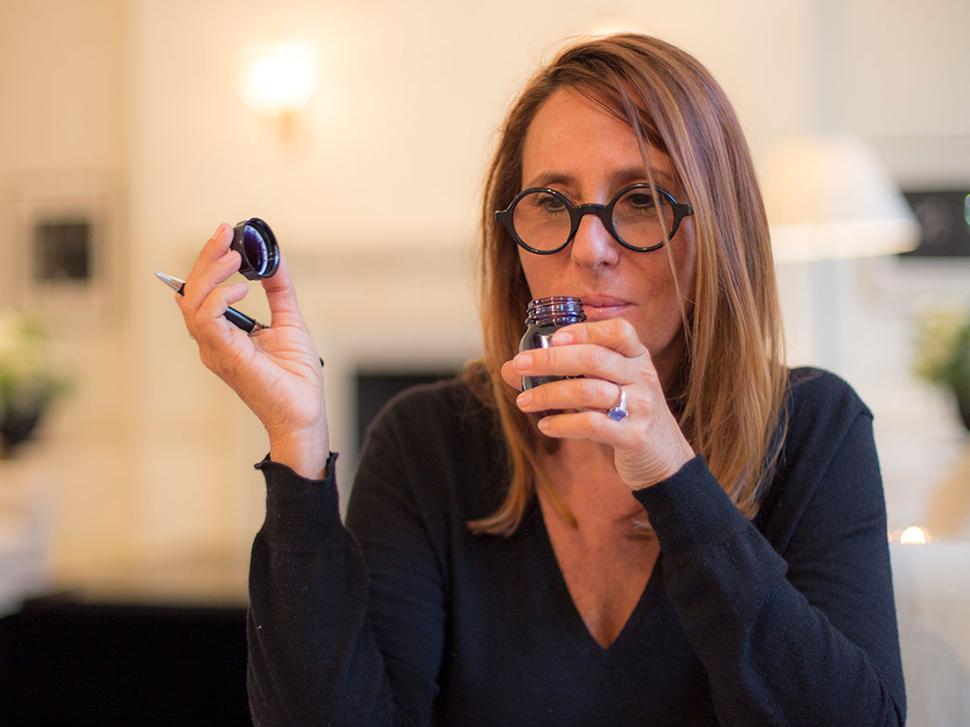 Christine Nagel, Master Perfumer
Meet the creator of some of the world's most beautiful modern fragrances
Friday March 6, 2015
Christine Nagel is that rare thing, a female master perfumer. She holds an even rarer job, as an in-house perfumer to a luxury brand.
Known for making more than 20 fragrances for Jo Malone London, she is now at Hermes, after having created a host of name fragrances in a nearly 20-year career.
Among them are Miss Dior Cherie, The One for Women for Dolce & Gabbana, Giorgio Armani Si, Lagerfeld Femme and Man and (in collaboration with Francis Kurkdjian) Narciso Rodriguez for Her.
Swiss-born Nagel's innovative work for Jo Malone included interpretations in scent of the likes of suede, rain, tea, milk and bitter chocolate.
Among her cologne creations were Wood Sage & Sea Salt, Amber & Patchouli, Peony & Blush Suede, Wild Bluebell and Sakura Cherry Blossom as well as several limited-edition collections. The latest, entitled Rock the Ages, is a typically inventive collection interpreting English historical periods through fragrance. The award-winning Nagel talks about how she approached this task.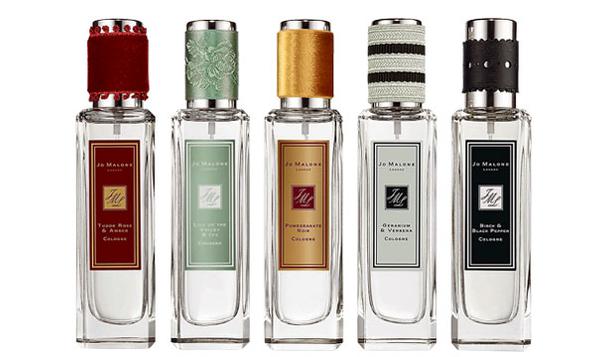 Jo Malone Rock the Ages cologne lineup. Picture / Supplied.

What was the concept?

The idea was to capture the atmosphere of some of Britain's most defining eras; periods of British history so unique that each one has its own globally recognised ambience of drama and character. We wanted to encapsulate these ages in scent, creating a collection that would playfully appeal to the imagination.

Which era captivated you the most? 

The Edwardian era really caught my imagination. In the history of perfumery, it was during this time that the fougere fragrance family was created. The creative studio asked me to revisit this and give it a new modernity. I remember being in a taxi in Tokyo when I had a very clear idea of what I wanted to do. The fragrance came very naturally to me and there were very few modifications. I think I was particularly inspired by the idea of garden parties, Edwardian dandies and their crisp suits, it just resonated with me.

Please tell us about each scent — its story and its composition and highlight any unexpected notes.

Tudor Rose & Amber was inspired by the dark grandeur of the Tudor age, its dramatic battles and feuding. We centred the fragrance on the dark side of the rose, using a damask rose and a Tudor rose with a metallic edge evoking the Tudor sword. These roses were then reinforced with the sensual woody warmth of amber and the insolence of the spicy clove.

Lily of the Valley & Ivy captures the grace of the Georgian age. Lily of the Valley on its own would have been a simple and traditional pretty floral. To give it a distinct Jo Malone London twist, we added the scent of green ivy and fruity cassis. These contrasted with the delicacy of the Lily of the Valley for something more interesting and modern.

Pomegranate Noir is one of Jo Malone London's most-loved scents. We felt it perfectly embodied the Victorian age with a combination of fruity and rich pomegranate and central woody notes of guaiac wood and patchouli. These recalled the wooden panelling of Victorian interiors.

Geranium & Verbena is clean and herbaceous; it makes me think of perfectly dressed figures in an abundant summer garden. A typical fougere is made with several ingredients, including lavender. In this scent we replaced the lavender with verbena for a more modern interpretation.

Birch & Black Pepper was inspired by punk; bands like The Clash, the rebellious side of Britain. In each collection we have one particularly unusual fragrance and in Rock the Ages this was definitely it. From smoky silver birch to spicy black pepper, from cool, fresh cardamom to resinous gurjum, it is a scent of dramatic contrasts.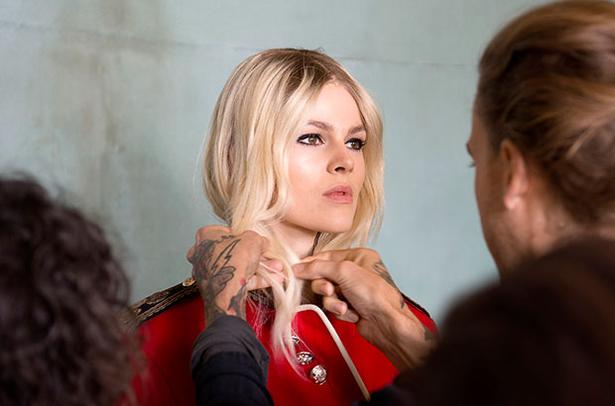 Behind the scenes of the Jo Malone campaign, evoking the best of British. Picture / Supplied.

Is there one ingredient from the collection that was most interesting to work with?

In Birch & Black Pepper we used an ink accord, inspired by the ink of a tattoo. Ink is quite a complex note and we wanted to have both the perfect scent and something to conjure the image of Britain today. It is clean and distinct with an accent of amber, giving the fragrance a magnetic presence.

How did you capture the mood of each era through scent?

For each scent we took inspiration from everything from architecture, to fashion, music, literature and even social change during that time. Each scent has an overall feel of the age as well as specific ingredients that tell a story. For example, Lily of the Valley & Ivy is captivating and ethereal, qualities that we immediately associated with that era. In a more literal sense, the powdered wigs of the Georgian age made us want to create a soft and delicate scent with Lily of the Valley. And the inspiration behind green ivy was the facade of a Georgian house.

Is there one that was more challenging than another?

Tudor Rose & Amber was particularly challenging. In perfumery, the rose has so many different characters from fresh and green to light and romantic or spicy and honeyed. I had to try many different rose combinations to bring out the dark side. I settled on the damask rose and a Tudor rose accord in the end. The Tudor rose has a metallic note to represent the bloody Tudor sword.

Which would you wear?

Definitely Geranium & Verbena as it is the scent that combines the best with the rest of the collection. For me it would be the core choice and then I would layer it with the others according to my mood or the occasion.

What research did you do and were there any characters or tales you found particularly interesting?

The creative studio sent me books and films as well as a presentation on each era. Everything from Christopher Marlowe's writing to Downton Abbey. They were also particularly interested in quirky anecdotes from each age. For instance in Tudor times they used pomanders with cloves to cover the stench of the street. Cloves became an ingredient we definitely wanted to incorporate in Tudor Rose & Amber.

Share this:
More Beauty & Wellbeing / The Latest