Full Immersion Experience
Forme Spa provides a special occasion indulgence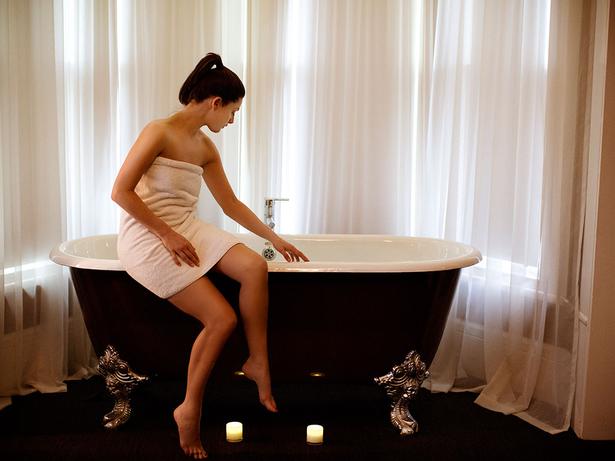 Wednesday June 24, 2015
The promise: Forme Spa's Sublime package is a luxury winter treatment that will leave you feeling blissful from top to toe. A body polish will slough off dry winter skin, then de-stress with a warm milk aqua scrub and a soak followed by a nourishing body wrap and a bamboo massage to ease away aches. A facial follows to leave skin glowing.
The practice: Upon booking, I decide to skip the facial for time reasons and focus on unwinding with just the body treatment. This gets off to a good start with easy on-site parking at the elegant villa that houses Forme's Parnell spa.
There are original features in the treatment room, including decorative plaster mouldings, and it makes a lovely change looking up at chandeliers rather than ceiling tiles and downlights, with a claw-foot bath fitting the decor perfectly. Forme seeks to house all its spas in updated character buildings, but Parnell is surely the flagship.
My skin is buffed and polished and then from a choice of herbal teas I choose a brew to steep beside me in the bath while steeping myself. I have to resist the urge to check my phone and instead lie back with a magazine. This reminds me how much I enjoy a nice soak and how infrequently I take time out to have one. Must try more often.
Massage is trickier to arrange at home, requiring a skilled helper, so I am happy to submit to expert hands, or rather sticks. My therapist rolls bamboo across my body. Men are apparently particularly partial to this method because it allows for a firmer massage than from fingers alone. I prefer the manual methods but, as with all massage, experiencing is understanding and my therapist mixes it up nicely and checks the intensity as we go.
The place: Forme Spa, 4 St Stephens Ave, Parnell, ph (09) 377 9274 or see formespa.co.nz for other Auckland, Hamilton and Wellington locations.
The price: $239 for the body treatment, which takes 90 minutes, or with the Bioelements Rejuvenation facial the full three-hour Sublime package costs $369. A light spa lunch is available as an add-on.
The verdict: A special occasion indulgence to enjoy when time isn't an issue.
Share this:
More Beauty & Wellbeing / The Latest