Grooming Tips and Tricks
The latest grooming news for men is all about smart ways to stay looking sharp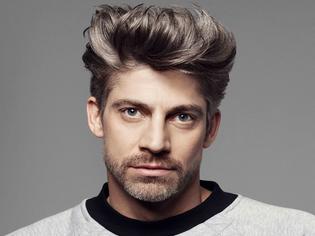 THE GREY WAY
He's a silver fox, she's a grey granny. It's just not fair when it comes to fading hair. That sort of terminology is why women in the early stages of greying generally disguise the fact, whereas men often wear the first signs of ageing as a badge of honour. Few of either sex choose the full immersion of voluntarily going grey before their time but, as our image shows, maybe it's not such a bad idea.
A youngish face with grey hair can be striking. To highlight this contrast, hair company Goldwell has used this and a series of other images of men and women who wear grey well to launch its new Grey Service.
The Australian specialist colour salon brand was a key sponsor of the industry hair trade event held in Auckland at the weekend, bringing out avante garde hairdressing maestro and proud greybeard Benni Tognini.
If you're not ready to let grey hold sway,  try a blending service such as Goldwell's Men Reshade as an easy add-on to your cut. In just  five minutes this and similar services from other hair brands will knock back the extent of your greys and blend them into your existing colour.
These so-called camouflage services can be discreetly done at the basin and won't cause obvious regrowth.
Ask at your salon about cheating or embracing grey. For Goldwell locations see goldwell.co.nz.
For hair that is already well on the way to being grey, a sharp look is enhanced by maintenance to keep brassy or yellowish tones in check. A special silver shampoo will help maintain colour clarity. Good options include Goldwell Silver Shampoo, $26.50, Wella SP Silver, $34, and L'Oreal Professionnel serie expert Silver Shampoo $29.50, all from selected salons.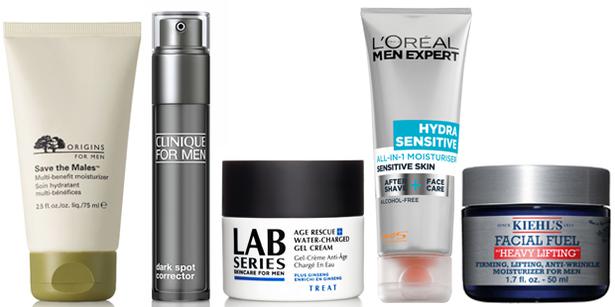 GENTLEMEN PREFER...
Salon clubs offering a men's retreat and grooming services as part of the membership deal are becoming quite the thing, says New York-based Australian Justin Sherwood, who steers sales for the Ecru hair brand and other salon and spa specialty products.
On an Auckland visit last week, he said closed-door clubs were extending their services in line with the growth of specialty beauty services generally, as seen with women's nail and blowdry bars.
Private men's clubs in New York City were now offering barbering and manicure services alongside whisky and WiFi.
Sherwood says more gentrified polish is being seen in hair styles such as undercuts and pompadours and, for those with facial hair, the maintenance of beards and moustaches is continuing to improve.
Men's etailer Mark Toner, of website Oneman, concurs, saying beard oils and  moustache waxes are among the most popular items he imports. Heritage shave brands such as Lucky Tiger, which had been around since the 1930s, appealed to male shoppers, including items such as the After Shave and Face Tonic, $30.
For hair styling look to waxes and pastes for control, says Sherwood, warning that gels can flatten hair, which does no favours if it is thinning.
To add volume, he recommends avoiding mousses and looking to the likes of Ecru's Marine Thickening Balm, $32, which adds body and direction when worked into hair. (For salon stockists call 0800 604 604).
Hair  volumising shampoos are another good item to look out for.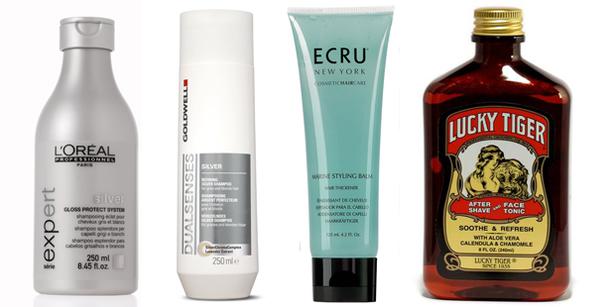 SKIN DEEP
Men's skincare is following trends for more targeted products and a variety of formulas already evident in the women's market.
Many men like to keep it simple with a wash, scrub, moisturiser and sun protection regime, for those who are keen to do more, beauty companies and dermatologist brands now offer ranges that address issues such as pigmentation, redness and sensitivity.
Cosmetic innovations, such as colourless or tinted primers, which help mattify oilier skin and improve uneven texture, are being seen more.
Multi-tasking BB creams, which moisturise and offer sun protection plus a little colour evening are popular unisex items.
Formula-wise, gels are making inroads, with a pleasing light texture  compared to thicker creams. A good new hydrating example is Lab Series Age Rescue & Water-Charged Gel Cream, $95. Clinique's Dark Spot Corrector, $99, is an oil-free way to address signs of sun damage (from selected department stores and pharmacies).
For maturing skin, try Kiehl's Facial Fuel Heavy Lifting  Moisturiser, $67, a firming cream to help stop the sag (from Kiehl's Britomart and Smith & Caughey's stores).
For those who want to treat roughed-up skin, Murad's Razor Burn Rescue, $84, helps to calm and clear out clogged skin (from Caci clinics and selected salons).
Soothe, while keeping it simple with L'Oreal Men Expert Hydra Sensitive All-in-1 Moisturiser for after-shave and face care, $11.99 (from selected pharmacies and supermarkets).
For a natural approach with active ingredients, the catchily named Origins Save the Males, $54, multi-benefit moisturiser appeals (from Mecca Cosmetica stores).
Share this:
More Beauty & Wellbeing / Trends