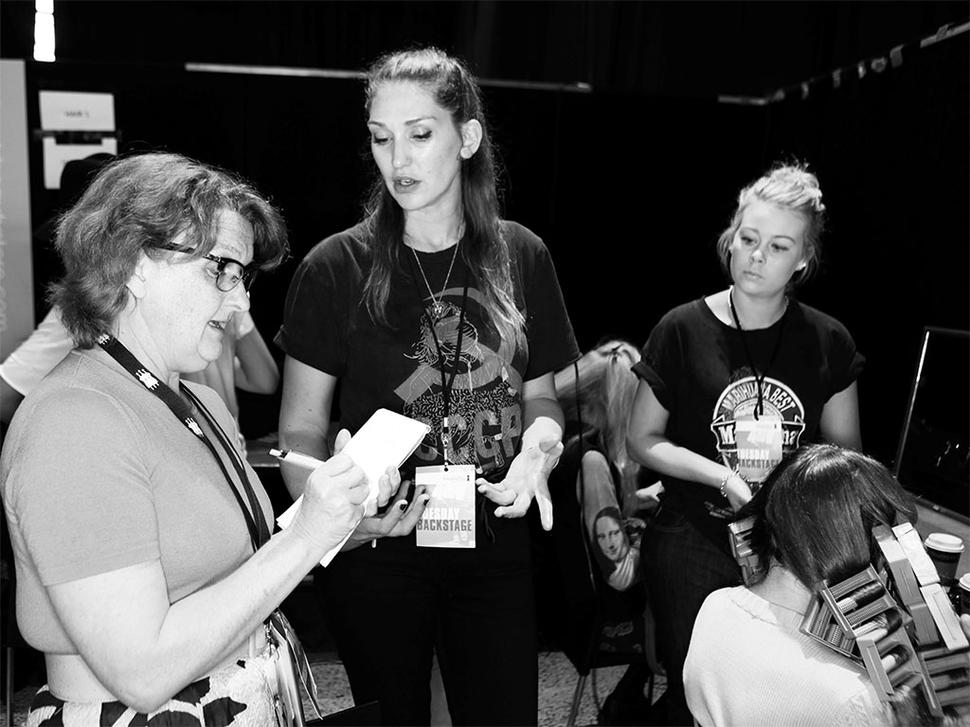 Hair How-To with Lauren Gunn
One of New Zealand's top hair stylists, Lauren Gunn, answers your beauty questions
Thursday March 26, 2015
My hair keeps breaking around my temples, leaving me with fluffy tufts that stick up when I tie my hair back, which I then have to slick down — causing more damage! What can I do? I try not to tie my hair back too often but sometimes you just need to.
You'll need to determine what is causing the breakage to best solve the fluffy tuft issue. Sometimes repeated ponytails rub your hair the wrong way and cause it to split or break. In this case, changing up the position of your ponytail can be really helpful. Try wearing your hair tied low down on the nape or tie two loose ponytails and pin them together into a knot.
Breakage on the hairline is most often caused by either chemical damage from overlapped colour application or fatigue from regular hot tool use, both of which break down the protein structure and sap precious moisture out of the hair shaft, making it brittle and dry. Keep your hair supple and elastic with a lipid- rich conditioner.
If you are caught in the vicious cycle of having to use a hot tool to smooth your hair each day, using a heat protectant styling spray will offer some relief. Look for a thermal protector that contains hydrolysed wheat proteins and/or copolymers for effective results. The higher up the ingredient list these guys appear, the better.
The average temperature of a flat iron is a scorching 250C; at this temperature without protection, the surface of fine, delicate hair will crack every which way, leaving you with dull frizzy fluffs. Your best bet is to use a tong or flat iron that allows you to alter the temperature to below 150C for the more sensitive hair around your face.
Recommend flat irons: The Original Cloud 9 Iron has seven heat settings ranging from 100C to 200C, ($350). The Silver Bullet Wicked HS has variable heat setting from 60C to 230C, ($138).
Heat protectors: Kevin Murphy Damage. Manager, weightless heat shield protects up to 220C degrees; KMS Free Shape Hot Flex spray for anti-breakage and humidity resistance; Redken Extreme Anti-Snap treatment provides heat protection and reduces friction.
Conditioners: Davines Naturaltech Nourishing Vegetarian Miracle Conditioner contains acai oil for strong conditioning and protective action (silicon-like); Kevin Murphy Hydrate-Me. Rinse is super smoothing and hydrating and makes split ends unrecognisable.

What is the best type of hairbrush to use on wet hair?
Water amplifies the hair's potential for damage so using a good brush is vital. Choose a brush with seven to eight rows of short flexible nylon bristles, preferably on a cushion base. This style of brush will glide through tangles and is ideal for fine, coloured hair. My favourites are The O&M Detangler and the iconic Tangle Teezer.

Is it okay to wash your hair every day?
It is absolutely okay to wash your hair every day. We're not all blessed with thick bouncy hair that can go for days without a wash. For hair that is fine in texture or thin in volume, natural sebum can weigh it down in a matter of hours. Only people with these hair types will understand this! If you exercise daily, I recommend daily washes. Be sure to choose a gentle shampoo that won't strip the acid mantle of your scalp; look for a pH of 4.5 to 5.5.

If you are trying to cut back on washing your hair every day — what's your best advice, especially for people with oily hair?
Have a plan and bag of tricks. Switch to a balancing shampoo that focuses on your scalp and if you're having an oily day, wear your hair up to get yourself over the hump. You can also use a dry shampoo that will absorb natural oils, volumise limp hair and deodorise your scalp. A shampoo that is high in AHAs will exfoliate your hair and scalp without disturbing the acid mantle.
Ideally, every wash should begin with a balancing shampoo, followed by a shampoo that treats the specific needs of your hair and finish with a conditioner to achieve your ideal texture. Recommended shampoos would be Evo Water Killer Dry Shampoo, Kevin Murphy Fresh.Hair Dry cleaning spray, Batiste Dry Shampoo Original, O&M Detox Shampoo, Davines Naturaltech Rebalancing Shampoo.

I am trying to grow my hair. Do I really need to get hair trims and if so, how often?
There is a strange myth out there that regular trims will make your hair grow faster — it's one of the most illogical ideas I've come across. Get a trim when you need it. If your hair is strong and healthy you can go a lot longer between trims than someone with fine, fragile hair. If you are growing your hair, one of the best things you can do is focus on your diet. Foods that are high in biotin and vitamin A are your hair heroes. My top five: almonds, kumara, salmon, eggs and brown rice.

• Have a hair question for Lauren, or a makeup question for Amber D? Send your questions to viva@nzherald.co.nz or use the hashtag #vivaexperteye
Share this: