Still in the Here and Now
How did a working-class kid from Wales become one of the top makeup artists in the world?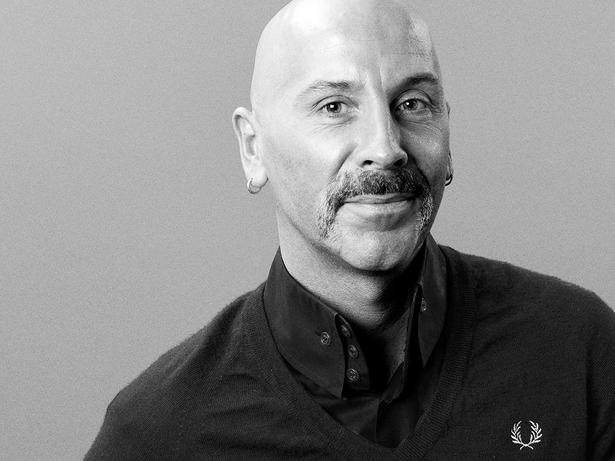 Friday May 15, 2015
British makeup artist Terry Barber turns 50 in November, a milestone it's tempting to imagine he'll share with the stars he's worked with over the years. Perhaps a glamorous Parisian soiree with Linda Evangelista and Grace Jones. Or a private jet to a red carpet event with Vivienne Westwood and Sienna Miller. Tellingly for this self-described working-class boy from Wales, however, he'd rather just go to the pub and "get wasted like I'm 16".
M.A.C's head of artistry is in Sydney, reclining on a white leather sofa in a sharp black suit and rimless glasses, cool and calm, not a lick of jetlag dampening his dry sense of humour. The previous night he was part of a panel of experts speaking at a forum on global beauty.
Before that, he'd not long finished the big fashion shows in London, Milan and Paris, where it's his role to devise the key makeup looks. Then he'd flown to New York with his M.A.C colleague Lyne Desnoyers, with whom he'd put the final touches on their trends for autumn/winter 2015/16. Next in the diary was a rare red carpet job, prepping long-term client Penny Dreadful star Helen McCrory for an event in his home city of London.
"I'm not really big on the whole celebrity circuit," he says. Barber has always gravitated more to fashion. You don't have to peer very far back to see some of his more avant garde looks.
For Marques Almeida at London Fashion Week's spring summer 2015 show, Barber threw out the rule book, using playful neons and pastels in different shades on each eye; for Jean-Pierre Braganza autumn/winter 2014 he used a tribally inspired winged black liner (both pictured on facing page). This season he's revisited one of his favourite editorial looks, incorporating "intensely subversive" elements of subculture, with super black on eyes.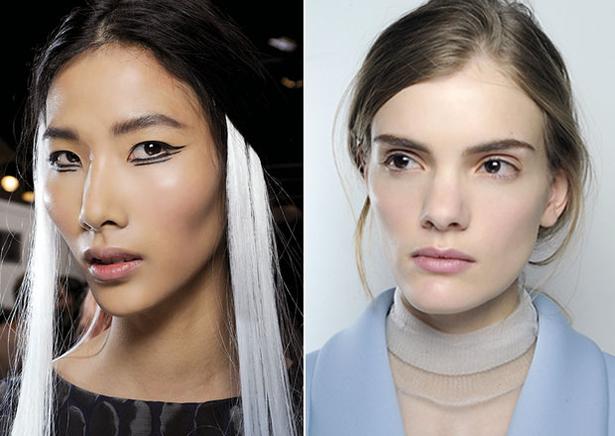 Winter also signals a return to glamour: contoured skin and a bold lip — a modern take on the minimalist trend he pioneered in the 90s.
Strangely, for a man who has worked with major fashion houses such as Alexander McQueen and Gucci, Barber says he didn't start out with big dreams, stumbling into the makeup world through his extra-curricular life. But he was no slouch. As a young art student, he had impossibly high standards.
"I'd realised I actually wasn't that good [at art] so unless I could be Modigliani, then I didn't really want to continue."
Barber found his fellow students more fascinating than school anyway. He lived for the night life, listening to Joy Division and hanging out with mods, punks, rockabillies, psychobillies, and New Romantics.
"We were incredibly hedonistic and all we cared about was how we looked," he says, pointing out that he couldn't afford drugs, so cider and aspirin was as far as it went. "I wasn't really interested in working or a future, I just wanted to get outfits, go to clubs, live at night, live in the underworld. We weren't that ambitious, we were very 'here and now'."
Barber's post-punk aesthetic was pale and interesting, a look he achieved by painting his face with Rimmel's pale biscuit foundation, the only shade, he says, that was ghostly enough for goths at the time. Then he'd set it with talcum or baby powder.
"It wasn't necessarily an androgyny thing. I didn't necessarily want to shock people. I just wanted to be slightly not attached to convention. And I thought it was really beautiful at the time. That's the interesting thing about a lot of those subcultures back then. We thought we were beautiful just as we thought convention was ugly. It's something people misconstrue about punk because punks actually believed they were pretty. It was almost quite Victorian."
The jobs he did get he was fired from because he was clubbing all night. It wasn't until he went to New York and entered a M.A.C store at Henri Bendel on Fifth Ave that the concept of a career in makeup dawned on him.
The Canadian brand was new, and doing something unheard of: hiring punks like Barber to work in fancy department stores. When he returned to London, he trained as a makeup artist and joined the M.A.C "tribe" at Harvey Nichols in Knightsbridge in 1994. It was an instant love affair.
"We absolutely hit the industry for six because we were this bunch of freaks turning up to work on the makeup counter. M.A.C was just killing everybody. They'd open the doors and hundreds of people would run towards the M.A.C counter. It was an absolute phenomenon."
Having whetted his artistic appetite, Barber started working backstage at the big fashion shows towards the end of the 90s. Highlights included the memorable McQueen show in 2006 when Kate Moss floated on to the Paris runway in hologram form, and earlier still, at the infamous 1999 show at which supermodel Shalom Harlow was spraypainted by robots.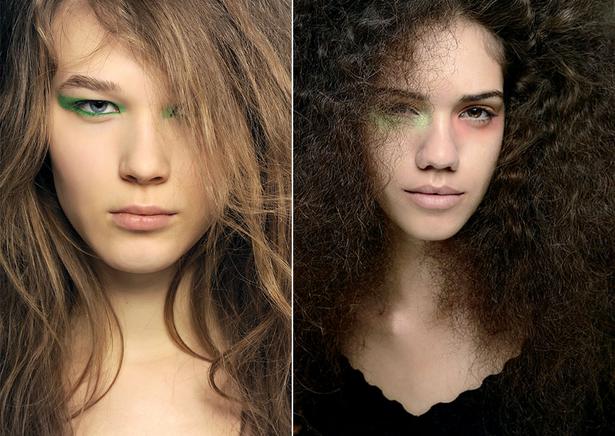 Until then, supermodels powered down the runways looking as sexy as possible. Whereas McQueen championed the theatrical: models with stretched faces, windburnt cheeks, resembling pirates or aliens, faces with a strangeness about them.
"I've worked on some supermodels in my time and they're absolute objects of perfection," says Barber. "Almost scaringly so. Whereas now I love it that you get all these redhead porcelain girls on the runway, girls with extreme freckles, lots of different races and types, androgyny. I've always liked beauty that has slightly divided opinion. I've never been drawn to things that are simply pretty."
No wonder then he had always wanted to work with Tilda Swinton, a star known for her androgynous red carpet style. When he finally got an opportunity to do her makeup for an event, he gave her a porcelain complexion similar to the one he'd sported in the 80s, before applying red blush on the heels of his palms and pushing it into her cheeks.
Another of his proudest moments was working with French art director Jean-Paul Goude to create the iconic 2009 V magazine image of Grace Jones in a Philip Treacy Swarovski bowler hat.
"I actually couldn't believe I'd ended up in the studio with both of them because I had all of those album covers on my wall as posters when I was a kid. We did a gold eyebrow, quite straight on the brow, put a cigarette in her mouth and Jean-Paul made her teeth longer so it looked like she was snarling."
He was also behind a series of eight i-D magazine covers, working with visionary Chinese fashion photographer Chen Man.
"I've been lucky because I think a lot of makeup artists go through their career and they may not do anything particularly defining," he says. "I've managed to have some quite defining moments. I don't want many. But it's nice to look back and know you've had a few."
Share this:
More Beauty & Wellbeing / Features & Profiles