This Waihi Retreat Teaches The Art Of Self-Compassion & Mindfulness
This weekend retreat is the perfect place to relax and soak up some wisdom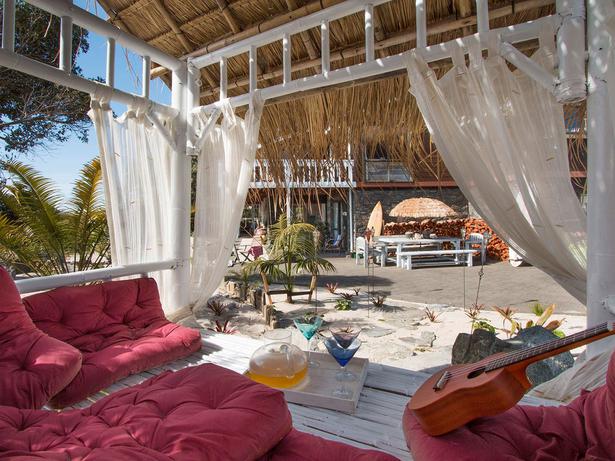 Saturday June 23, 2018
"When you still your mind, you will hear what your heart is whispering," Anna Friis repeats gently. It's a wild day in Waihi and the rain is heavy on the tin roof as waves crash on to the beach. Inside the surf club, where 16 women have gathered for a weekend retreat of mindfulness and self-compassion, it's cosy and inviting — candles have been lit and flowers are scattered.
It's the perfect setting to relax and soak up some wisdom from psychologist and mindfulness teacher Anna and to practice restorative and Hatha yoga with Megan Troup. Anna and Megan aim to foster compassion in their clients, enabling them to experience a greater sense of ease and happiness and, Megan explains, "learn to 'stay', stop the running and to hold ourselves gently in the midst of the storm".
READ: Lorraine Downes On The Art Of Self-Care
As a health psychologist with a life-long interest in mindfulness-based practises, Anna offers a range of courses from eight-week programmes, to "deep dive" two-day sessions and weekend retreats like this one, that aim to manage stress and optimise well-being.
The art of mindfulness requires consciously making the time to pause, says Anna, to notice and allow your feelings to wash over you, particularly the emotions that are difficult to face. It also requires that you offer yourself kindness in the same way you would offer kindness to a dear friend.
Anna asks us to think about a situation where a friend makes a silly mistake and feels bad. How would you comfort them? What would you say? What would your body language be like? "What if it was you that made that silly mistake," she asks. "What would you say to yourself?" The aim of this exercise is not to make the difficult feelings go away, but to acknowledge them. "What we can feel, we can start to heal. Equally, what we resist will persist."
In the surf club hall, yoga mats, bolsters, cushions, blankets, eye masks and oils have been set out. We make ourselves comfortable and start day one with meditation exercises.
READ: Model & Yoga Teacher Ashley Hart's Beauty Routine
I am pleasantly surprised that for a moment I am able to still my mind. This particular practice is called affectionate breathing; we have to imagine we are held by the hammock of our hearts and we are encouraged to rock and sway with the breath.
Anna is the first teacher of the mindfulness and compassion programme under the mentorship of its US-based international founders, Dr. Kristin Neff and Christopher Gerner.
The programme breaks down compassion into three components: mindfulness, common humanity and self-kindness. When we focus on what the meaning of self-compassion is, we begin to understand that it is the motivation to alleviate suffering.
READ: How To Create Your Own Essential Oil Roller Blends
In order to do this we must be mindful, advises Anna, have courage, the capacity to tolerate the situation and the wisdom and skills to deal with it. These are the tools we are learning to take away with us.
Neuroscience has shown negative experiences are ingrained in our memory in as little as three seconds. Positive experiences take longer. We discuss ways to focus on holding on to the positive, which includes savouring the good things, gratitude and self-appreciation.
Studies show that caregiving releases oxytocin, an antidote to cortisol, known as "the stress hormone". It makes sense that self-criticism can lead to anxiety and that, by using touch, we can tap into the autonomic nervous system and by using breath as our balm, we can generate relaxed and soothing feelings.
Anna invites us to think about the things we are grateful for. Some of the words that are thrown around include nail varnish, candles, warm water, sunshine, music and cuddles.
The mood in the room instantly changes, there are smiles, giggles and this results in a good, warm feeling, which creates a beautiful segue into the next exercise, my favourite so far: mindful eating. Sipping on a rose and French vanilla tea, I soak up the aroma and flavour of the luscious spread: bliss balls, cheeses, homemade quiches, salad and fruit.
In the evening we retreat to our accommodation, the Bali-inspired Two Bare Feet in Bowentown. Our hosts, Campbell Tafft and Julie Stock, are full of positive energy. Julie tells us she will be going for her annual ritual, which is a swim in her birthday suit because... it's her birthday! They serve us a nourishing breakfast platter, filled with fruit, gluten-free bread, fresh croissants from the local bakery and homemade turmeric lattes.
READ: Talking Yoga & Self Care with Juan Diaz
As the weekend comes to a close I take note of how I am feeling — inspired, enriched, detoxed and with the capacity to let go. I now know how important it is to seek out people with self-compassion, as these are the strong people we want by our side in life.
Ultimately, I realise that finding practices that help us stay present, grounded and happy is no one's responsibility but our own. I had no idea what to expect from this retreat, except what I wanted to get out of it — which was to be more thoughtful and kind to others. What I soon came to realise is that in order to treat others better, we need to start being kinder to ourselves.
• The next Mindfulness and Compassion Retreat is on July 13. Visit Annafriis.com
Share this:
More Beauty & Wellbeing / Wellbeing