Keeping Fit with Vodafone Warriors Fullback Roger Tuivasa-Sheck
The newly announced Canterbury New Zealand ambassador shares his fitness and training tips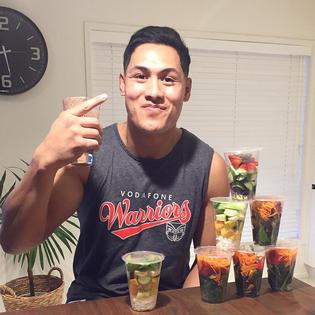 League sensation Roger Tuivasa-Sheck, 23, is on the mend, nursing a major knee injury from April that saw him sit out the remainder of the NRL season this year. What to do when your main focus is rehabilitation and keeping as fit as possible? With more than six months on the sideline, Roger says that his wellbeing was key.
"My knee is on the mend now and doing really well, but it's taken a lot of patience and hard work to get myself prepared both physically and mentally," says the Samoan-born player.
On training: "Lately with my knee injury I do a lot of warm-up rehab style exercises. So there is plenty of activation going on with my glutes and hamstrings. I then spend some time out on the field doing a little movement and conditioning. I'll then spend some time in the gym doing single leg presses, squats and leg weights."
On nutrition: "There's always time for some Samoan food! So on Sundays I get to have a little break, but every other day of the week I need to be disciplined. I have a mate named Gary who is my personal trainer and he puts me on a meal plan where I partner up with Go Paleo. It's a high-protein low-carb meal plan that helps give me plenty of energy."
READ: How to make Annabel Langbein's Paleo Power Bowl
On mental fitness: "My time off duty is so important to me, so I make the most of hanging out with friends and spending time with people outside of league, playing PlayStation or going on a road trip. It's good for me to have a balance of doing other things, because if I just played league 24/7, it can be really harmful to my overall wellbeing. I also love hitting the beaches every time I go back to Samoa, so that's always a priority off-season."
READ: Roger Tuivasa-Sheck aims to make comeback at Nines
On being a Canterbury Ambassador: "I got involved because I looked up to the brand when I was living in Auckland. Every kid wanted to be an All Black, but before that I wanted to play for Auckland. If you got an Auckland tracksuit made by Canterbury you were special, and that's what a lot of young guys looked up to as a sort of badge of honour. So when these guys called me up to be an ambassador it felt really awesome to come full circle and it's a brand that I support."
On training in the right gear: "Fit and quality is important. When I'm training it can get sweaty, so breathability is important and the training gear I wear needs to keep me cool. There's so much great technology involved in workout gear now that it helps improve the quality of what you're doing when you are working out."
Share this:
More Beauty & Wellbeing / Features & Profiles