SPONSORED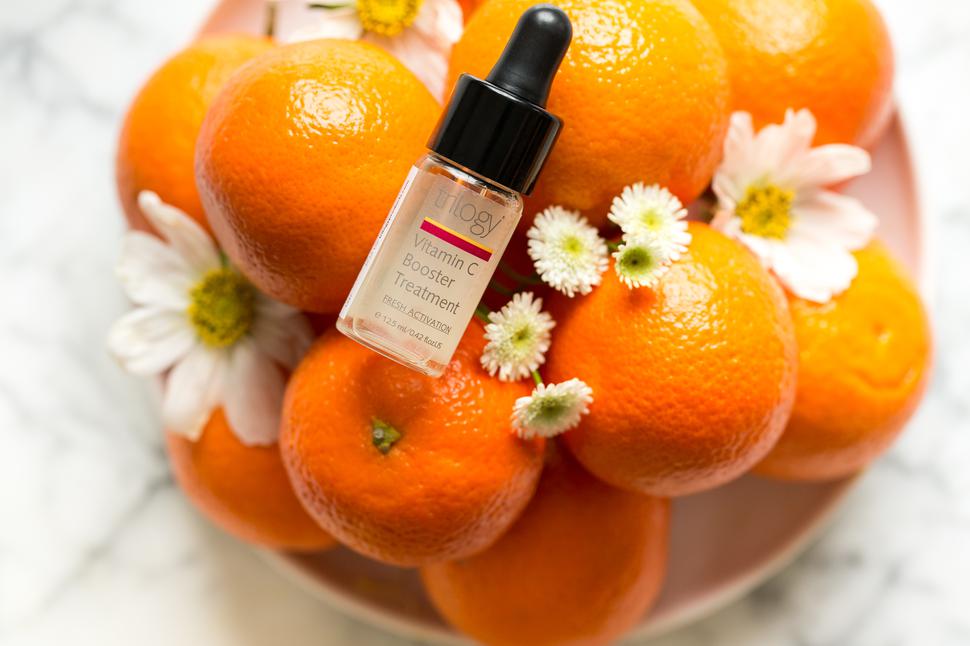 Watch: Viva Beauty Writer Ashleigh Cometti's Morning Skincare Routine
Forever in search of that glow, Ashleigh test drives Trilogy's new Vitamin C skincare range ahead of her next big event
Monday April 8, 2019
Nothing incites fear quite like having to prepare for a big event.
There's the conundrum of what to wear, how to style your hair and the hope that your skin will play ball on the day.
You ditch sugar, up the ante on your skincare regimen and pray to the skin gods that your face will behave itself come D-Day.
For me, that D-Day is my friend's wedding in two weeks' time, and my skin is playing up worse than an abhorrent teenager's.
I'll be using Trilogy's newest power couple – the Vitamin C 2-week Booster Treatment and Vitamin C Moisturising Lotion – over the next fortnight to give my skin extra glow factor. I have a lot of freckles and struggle with pigmentation, and it's no secret that Vitamin C can help even out skin tone and boost brightness.
But before I share my review of the products that go together like Sonny and Cher, let me walk you through my morning routine.
BEFORE: DAY 1
My day starts early, around 5am, so I can squeeze in a workout before work. I'd like to think I bounce out of bed with gusto, but the reality is I'll sleepily scroll the 'gram before rising. I throw on my gym gear and head out the door.
One of my goals for 2019 is to start meditation, so when I'm back from the gym at 6.30 I'll sit in the lounge and listen to a guided meditation while I set some intentions for the day.
Next, I jump in the shower and wash my hair with a clarifying shampoo. I have to wash my hair every second day when I'm working out so much, otherwise it turns into a greasy mess. Dry shampoo is my secret weapon in between washes. I also scrub myself with a coffee-based body scrub to promote circulation and slough away dead skin cells.
After my shower, I slather on a super hydrating body oil from top to toe. My current favourite is Trilogy's Pure Plant Body Oil to hydrate and nourish my skin.
Now for my morning skincare routine. I like to take good care of my skin, but pay extra special attention to my skincare regime when I'm preparing for a big event. I struggle with pigmentation and dullness, so to get my glow on for my girlfriend's wedding I'll be using Trilogy's new Vitamin C range.
First, I cleanse my skin with Trilogy's Rosehip Transformation Cleansing Oil, which gently cleanses my skin without interrupting my skin's moisture balance.
Facial mists are having a major moment. I love Trilogy's Hydrating Mist Toner, which is extra gentle and works to hydrate rather than strip skin.
I'm 28 now and am growing wary of fine lines around my eye area, so always apply a fast-absorbing eye cream like Trilogy's Eye Contour Cream, which helps to firm the super delicate skin.
Now for the fun bit! It's a bit of a challenge keeping Vitamin C stable, as its potency begins to naturally degrade after being exposed to oxygen. The team at Trilogy knows that when it comes to Vitamin C, fresh is best, so developed a unique ampoule system that contains 6% natural vitamin C powder which can be pushed down to freshly activate.
The powder mixes with a plant-based hyaluronic acid concentrate – to ensure it's as potent as possible.  This creates a powerful booster treatment to kick-start your skin's renewal process, as well as plump up and brighten skin. It also contains daisy extract to help illuminate and even out skin tone; plus Trilogy's famous rosehip oil and cold-pressed mandarin oil to nourish. Pop the cap and shake well, before removing the cap and replacing with the pipette dropper. Three drops is all you need, which I pat gently all over my face, neck and décolletage to help it absorb.
Two weeks isn't a whole lot of time to get my skin glowing, so I up the ante by applying Trilogy's new Vitamin C Moisturising Lotion over the top of the Vitamin C Booster Treatment. It's a super lightweight formula which is enriched with antioxidant Vitamin C, daisy extract and rosehip oil to promote a 'lit from within' glow, plus it wears beautifully under my makeup.
This hard-working duo is designed to work together for optimum results, so I use them twice daily until finished to boost radiance and get that glow.
The job I'm in means I see a lot of products come across my desk, but what I love about Trilogy's skincare range is that it has a NATRUE certification – meaning ingredients like daisy extract are certified natural and sourced responsibly. Natural skincare is such a grey area, so it's great when brands like Trilogy disclose their ingredient's origins.
The final step in my skincare routine is lip balm - I like to leave it on to soak into my lips while I apply my makeup.
For makeup, I like to prep my skin first with primer followed by SPF50. If I'm working hard to combat my pigmentation using active Vitamin C, then it's important to be sun smart. Next, I apply a full coverage foundation with my fingers – the warmth from my fingertips helps the foundation melt into my skin. Then it's on to bronzer, blush, highlighter, a bit of brow gel and mascara and I'm good to go.
I'm real a creature of habit, so my go-to breakfast is vegan protein powder mixed with oats and berries. I don't drink coffee – I gave it up two years ago (save for the odd espresso martini). Instead, I'll make myself a mushroom brew packed full of adaptogens served with almond milk or pour a herbal tea.
AFTER: DAY 15
I've used these two products as part of my morning and night time skincare routines for the past two weeks, and I feel like my skin has responded really well to the active Vitamin C. I've always loved Vitamin C for its skin brightening properties, but after using these two products I feel like my makeup goes on a lot smoother than it used to, and my post-summer pigmentation has faded considerably.
I can see myself using Trilogy's Vitamin C skin brightening duo in the lead up to a number of big events I have coming up this year, so will definitely be restocking this in my beauty cupboard.
Trilogy Vitamin C Booster Treatment, RRP $45, and Trilogy Vitamin C Moisturising Lotion, RRP $53. For more information, visit Trilogyproducts.com.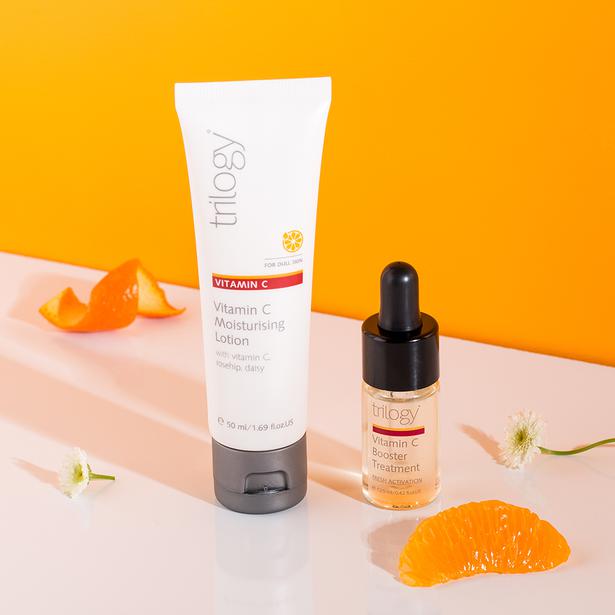 Share this:
More Beauty & Wellbeing / Trends