Global Win for NZ Hairdressers
Kiwis have scored a double victory at Wella's Trend Vision competition in London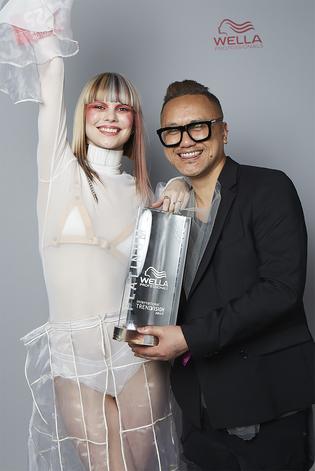 Mana Dave and Kylie Hayes, New Zealand's two representatives at Wella's Trend Vision hair showpiece in London, are both returning home with platinum awards.
It is the first time a hairdresser from Australasia has taken a top title at the international competition and the first time two hairdressers from the same country have won both main awards. Mana, from Newmarket salon Blaze, won the Colour Vision title and Kylie, from Moha Hairdressing in Dunedin, the Creative Vision title.
They were competing against more than 80 other country finalists, with colour work and styling creativity judged by a panel of industry names.
"This is an absolutely incredible result ... and we couldn't be prouder," said Wella's Education Director Australia & New Zealand, Gina Thomas.
The wins are likely to provide profile raising opportunities for both stylists to further show their skills on the big stage.
Mana is no stranger to competition success, as a three-time New Zealand Hairdresser of the Year winner.
The talented colour specialist has won previous gold Wella country awards and performed on the podium overseas. Kylie is a previous gold winner too, having represented New Zealand at Wella International Trend Vision in 2010 and 2015, an event she described as "the Olympics of hairdressing".
In May, Mana was announced as Redken's artistic director in New Zealand, steering creative programmes for salons and participating in international seminars. He also worked backstage for the brand at Fashion Week in September, directing the hair look for the Federation and French 83 shows.
After opening Blaze salon at a young age, he went on to start Pony Professional, picking up market demand for casual styling bars offering a menu of services.
Share this:
More Beauty & Wellbeing / Features & Profiles