Love Stories: What Fred & Maeve Have Learned From Love
Relationships help shape us as people, especially the romantic ones, and growing together is a constant evolution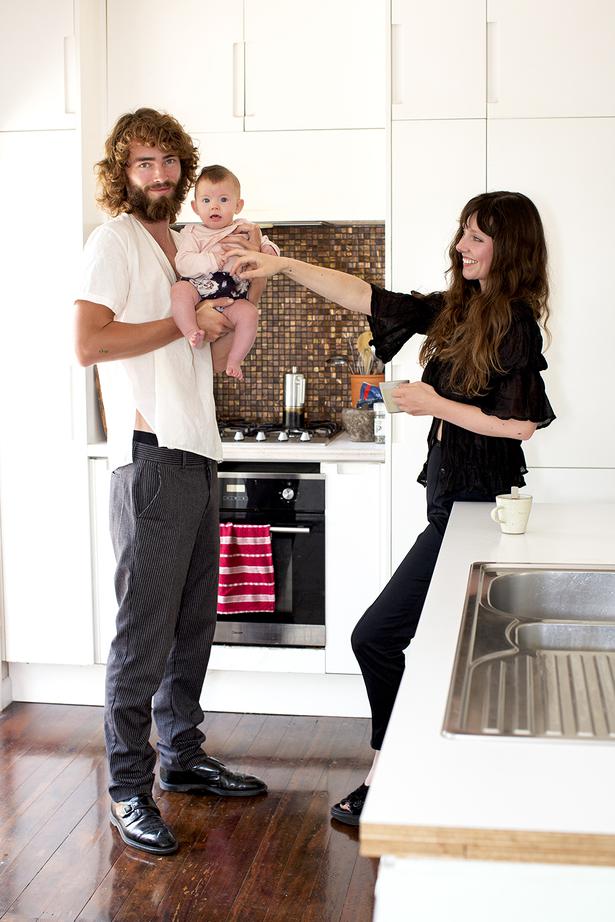 Wednesday Feb. 3, 2021
The romance between Maeve Woodhouse and Fred Scahill began a year and a half ago, the interest of each first piqued by a picture of the other, the rest went very well (they now have a daughter, Úna). Both are practical, passionate and creative; goldsmith Maeve is the director of jewellery brand Hera Saabi, while Fred splits his time between landscaping work and music (he plays drums in Cindy and King Ketchup).
How has your relationship evolved? 
Maeve: It only took three months for us to turn our honeymoon period into a family. It has been a very fast, profound and blossoming evolution.
Fred: We've been a family for longer than we dated so to speak.
How did you meet and/or what was your first date like?
Maeve: I saw a photo of Fred through a mutual friend's Instagram. He was sitting in a casual Chinese restaurant with a cheeky look in his eye, holding a Nokia 3315. I'm a total luddite and I loved that he hadn't succumbed to the smart phone pandemic. I inquired about him. A year later he saw a photo of me and did the same! Eventually we spoke.
Fred: Through a mutual friend, a blind date at Dead Shot and dinner at Blue Breeze Inn. Maeve ate chicken for the first time in 17 years. I was smitten.
READ: What John & Jamie Have Learned From Love
What do you find most attractive about your partner?
Maeve: Fred doesn't have a bad bone in his body. He is a very unique person, totally unaffected and doesn't conform to anything.
Fred: Her crooked teeth and meek facial expressions.
How do you spend your time together?
Maeve: Looking after Úna! Making yum food. Fred does a lot of vacuuming.
Do you have a "song"?
Maeve: 'Picture Me Better' by Weyes Blood. It was one of the first songs Fred sent me. We went to see her live when I was pregnant and Úna does this crazy singing when we play it to her
What personal growth have you experienced in your relationship?
Maeve: I never really cared much for cooking before Fred. I have learned to love preparing meals for him. It's quite an intimate transaction, satiating someone's appetite, making a meal they (hopefully) enjoy and one you feel good about serving.
Fred: Having the drive to be better and inspire each other in our professions, and to talk peacefully when we regress.
What has been the biggest compromise?
Fred: Realising I can't be crashing golf carts and that I'm about to bring something intrinsically innocent into this world.
Maeve: I feel like compromise is another word for motherhood!
What do you admire about each other?
Maeve: I admire Fred's character. He has a magical way of seeing the world and he is passionate about what he thinks is right and what he wants to do with music.
Fred: How much of an amazing mother she is while running a business on her own, not letting go of any hopes or dreams.
How do you keep your relationship healthy?
Maeve: We are still learning about each other, which is romantic and has of course been challenging at times, but we respect each other greatly. We also independently have strong friendships so we don't expect everything from one another.
Fred: We respect one another's passions and that it's important for us to have them, for we would be shells without them.
What is something romantic your partner does?
Maeve: Fred gives me a kiss on the forehead every morning before he heads off to work. Even when he thinks I'm asleep.
Fred: Without even being in the same room, listening to Maeve sing our favourite song to Úna in the shower.
READ: Seven Couples Share Their Secret To Love & Happiness
What is the hardest thing about being in love, and the best?
Fred: The hardest thing is even being able to put it into words how much you love someone or what it even is, the best is knowing you are in a manifestation of a psychic dissonance.
Maeve: The hardest thing about being in love is the fear you aren't good enough. The best is the way your lives weave together to create a stronger, safer platform to grow on.
What is your most significant achievement or moment as a couple? 
Fred: Becoming parents to our beautiful daughter Úna.
What do you do to support your partner?
Maeve: We both support our little family as a whole I think; it's the small things. I cook for him, make sure he has epsom salts in the bathroom for when his muscles are sore and I ask how his day was when he gets home from work.
Fred: Look after Úna so Maeve can work on her jewellery, and cook dinner when she's tired
What does love mean to you? 
Fred: Big energy that is beyond our understanding.
Maeve: I love the Louis De Bernieres quote "love is a temporary madness" but in this case, I hope it's a permanent one.
Share this: