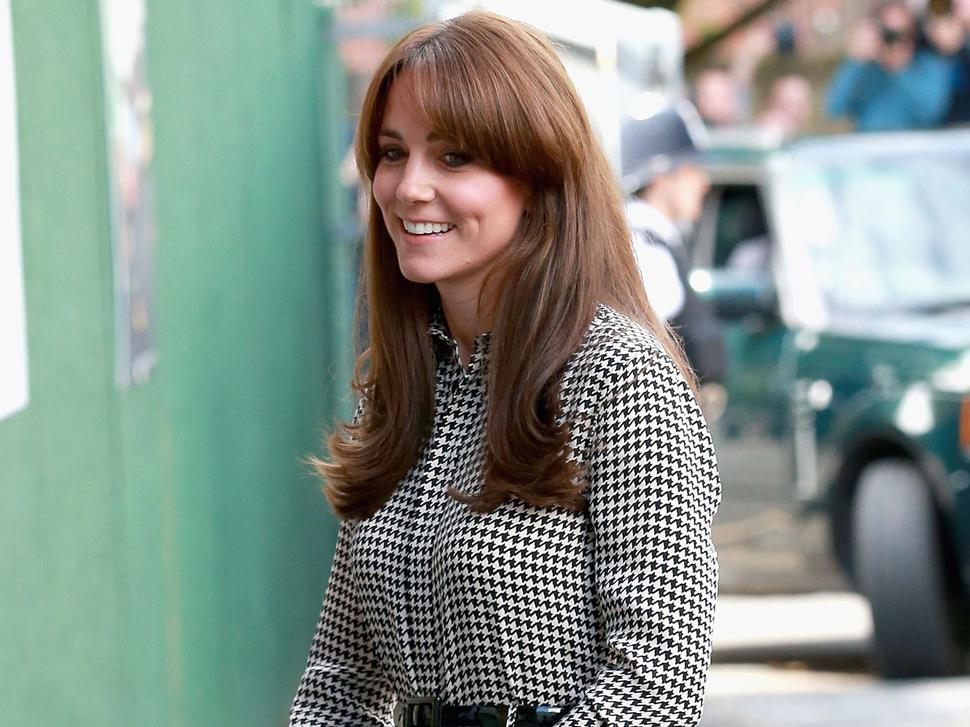 Why Kate Middleton Got a Fringe
Like many mums returning from maternity leave, Kate has gone for a confidence booster
Friday Sept. 18, 2015
Coco Chanel once remarked that a woman who cuts her hair is about to change her life. So what should we make of the pictures this week showing that Catherine, Duchess of Cambridge has made one of the most dramatic hair statements a woman can make: she has opted for a fringe?
Kate's hair has long been both a fascination and a source of teeth-gnashing for many women. Not even in fairy-tales do princesses commonly appear with unfeasibly long and lustrous tresses only hours after giving birth as the Duchess has managed - twice. And like many women, when she's found a flattering style, she's stuck to it.
True, she did sport ribbons and tight ringlets at the St Andrew's fashion show when she first caught William's eye (although the see-through dress may have helped as well). On a few occasions, she has rung the changes with the occasional up-do, such as her sleek chignon at Princess Charlotte's christening this summer, or the more dramatic finger curls on Remembrance Sunday 2013.
But usually the biggest talking point has been whether a few glimpses of silver have been spotted amongst the Duchess's brown locks because in general her hair apparent - below shoulder length, glossy with a slight curl - has remained as constant as the hereditary principle.
Richard Ward, the Duchess's stylist never comments directly on her hair but did talk in general terms yesterday: "A fringe makes an instant style statement; it can add structure, soften the face and highlight or define features, and is a very youthful look. A longer, sweeping fringe is a great way to experiment without the risk factor of a complete restyle - these kind of fringes suit most people as they're extremely soft and feminine."
READ: Pippa Middleton Wears NZ Designer to Royal Christening
Yet cutting your hair can be a hugely telling. Jennifer Aniston has never returned to the fringed Rachel haircut from Friends which defined her as a sitcom actress, saying she'd rather shave her head than wear it again. And First Lady Michelle Obama described her decision to have "bangs" cut in a couple of years ago as her "midlife crisis". ("I couldn't get a sports car. They won't let me bungee-jump," she told one interviewer.)
Kate's too young for a crisis, but that doesn't mean that she's not trying to send out a message as she returns from four months' maternity leave. "I think this is really signalling her return to public service this week," says style and brand expert Nick Ede. "It signals that she's got a new agenda - the ultimate yummy mummy who means business."
But there may also be very practical reasons for a busy mum of two to choose a fringe. "It's the thirty-something Botox," one friend confessed to me when I first toyed with the idea of getting the chop. And it's true: the benefits can be amazing. I remember the day I got one cut for the first time since I'd left school - with the result that two ex-boyfriends failed to recognise me. It gave me cheekbones that I hadn't had, and disguised a forehead I feared increasingly resembled a packet of Auntie Bessie Crinkle Cut Chips.
Interestingly for those recent rumours about whether Kate wants a third child, the last time she was seen with a soft fringe was in late November 2012, a couple of weeks before it was announced that she was expecting Prince George.
Will this spark a big rush for other women to go for the chop? It wouldn't be the first time a princess started such a trend. A short, frizzy fringe became the must-have hairstyle in the 1880s thanks to Alexandra, Princess of Wales (wife of Edward VII). So ubiquitous was it, that it became known as the "Alexandra fringe".For those thinking of investing in a Kate fringe, however, experts warn it is high maintenance, which requires constant care.
"I think Kate has made a great choice," says Jerome Hillion, former Avant Garde Hairdresser of the Year. "Her fringe has been tailored for her face so my advice is to take inspiration from it but not copy it as it won't suit everyone."
- The Daily Telegraph·
Share this:
More Beauty & Wellbeing / Features & Profiles