Why Turmeric Is Making Its Way Into Beauty Products
Janetta Mackay checks out the healthy food ingredients that are making a crossover from breakfast to beauty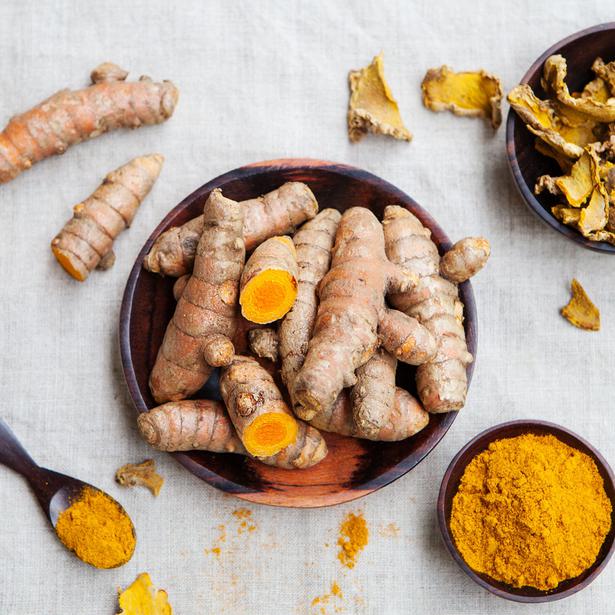 Thursday July 5, 2018
Next time you're eating your smoothie bowl and sipping on a chai latte, take careful note of the ingredients you're ingesting to see how well they align with your beauty routine.
If not, then expect soon to be exhorted to apply them to your face. Extracts and oils from berries, nuts, seeds and grains have already made the transition, now spices and herbs are a focus in skincare. Raw beauty, where fruit and vegetable pulps, purees and juices are applied directly to skin, is experiencing a niche revival.
READ: Eco-Friendly Beauty Products To Buy Right Now
More and more people are chasing after health-enhancing antioxidants, from dietary sources and supplements. Topically that translates to use of vitamin-based skincare. All of which makes for quite an expanded menu to chew through, so today we've selected just one of the rising stars of the merging worlds of nutrition and skin health.
ALL ABOUT TURMERIC 
Turmeric is primarily known as the golden spice central to curry making, but it has long had a place in Ayurvedic medicine and skincare. It is used in the haldi, the traditional Indian bridal ceremony, where it is applied as a paste to the face and arms to leave skin glowing. The founder of Ponsonby's Spa Ayurda, Rippan Sandhu, is a big fan and isn't surprised that people are choosing to sip on turmeric drinks or apply it in cream or paste form.
Turmeric is an age-old solution to acne, scarring, cuts and burns, she says. It can also help with skin tone and pigmentation. Western science has recognised its anti-inflammatory properties and now skincare companies are getting in on the act.
READ: Why Turmeric Is Ingredient Of The Year
At the spa, where turmeric is used in face masks and to treat inflamed skin, clients often ask if it will stain. No, says Rippan, if applied carefully and rinsed off well, but for those experimenting at home by dabbing organic turmeric powder on trouble spots, she advises layering with a little plant oil.
For smooth glowing skin this winter, try an Ayurvedic skincare treatment, see Spayurda.co.nz or Rippan's recipe for a quick and easy face pack you can make at home. Follow this with a relaxing warm milk drink, boldly spiced with turmeric, for wellness inside and out. (This recipe also contains cinnamon, another spice gaining attention for skincare that stimulates to offer a plumping effect.)
TURMERIC MASK RECIPE 
¼ tsp organic turmeric powder
1 Tbsp fine oats
½ Tbsp of organic, raw, local honey
1 Tbsp of unsweetened natural yoghurt
1-2 drops of lemon juice
1. Wash face and hands first to remove impurities and any makeup.
2. In a small bowl or jar, mix the turmeric powder with the honey, yoghurt and optional lemon.
3. Try to get a consistency that will stick to your face. Be careful not to make it too thin as it may drip.
4. Apply the mask, carefully avoiding your eyes. Keep on for 15-20 minutes then rinse with warm water.
5. If you have any mask left over, cover and leave in the fridge for your next application.
READ: Creamy Chamomile, Honey & Nut Milk Tea
TURMERIC MILK
This classic, comforting drink serves two
2 cups organic milk
1 Tbsp honey
1 tsp ground turmeric
1 cinnamon stick or 1 tsp ground cinnamon
Small pinch of black pepper and grated ginger (fresh is best)
1. Pour all ingredients into a small saucepan and bring to a light boil. Whisk to combine.
2. Reduce heat to low and simmer for up to 10 minutes.
3. Strain the milk if you have large pieces of ginger, cinnamon, peppercorns, etc.
4. To serve, add honey or a dash of cinnamon.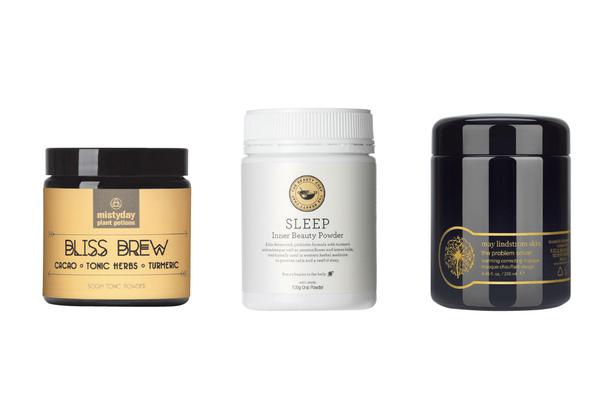 TURMERIC PRODUCTS TO TRY
1. Misty Day Plant Potions Bliss Brew $23
A taste-good, feel-good tonic said to help the imbiber cope with stress and feel happier, thanks to mix including raw cacao, herbs, turmeric and cinnamon. Tonicroom.co.nz
2. The Beauty Chef Sleep Inner Beauty Powder $69
Make a warm nut, coconut, rice or dairy milk drink with this probiotic drink containing bio-fermented turmeric. It is said to soothe the nerves and deepen sleep while nourishing the gut and your skin health. From Superette stores, Superette.co.nz
3. May Lindstrom The Problem Solver $163
This jet-black treatment mask of bamboo charcoal, raw cacao, soil nutrients, salts and warming spices, including turmeric, is designed to detoxify and calm the complexion and jump-start its radiant recovery. Tonicroom.co.nz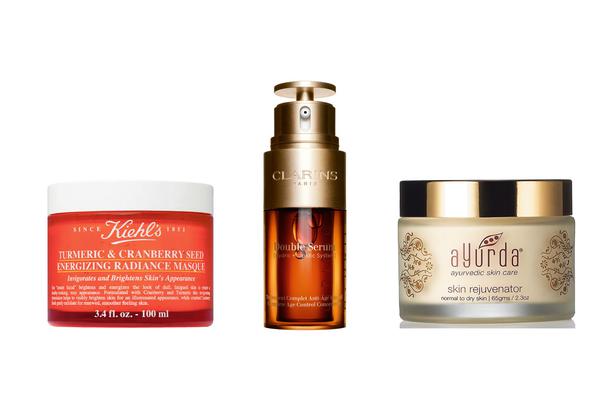 4. Kiehl's Turmeric & Cranberry Seed Energizing Radiance Masque $75
Here turmeric is included to invigorate and brighten dull skin, along with berry seeds from another antioxidant-rich ingredient, cranberry, used in crushed form as an exfoliator. From Kiehl's Britomart, Sylvia Park and Westfield Albany and Riccarton boutiques and Smith and Caughey's stores.
5. Clarins Double Serum $120
Plant extracts, including turmeric, are included in this serum to fight signs of lines, with the multi-tasking formula also helping even skin tone and boost radiance. From department stores and selected pharmacies.
6. Ayurda Skin Rejuvenator $70
This nourishing natural cream is best applied at night on normal to dry skin. It uses turmeric to brighten and deter age spots and uneven skin tone. Saffron is included to cool skin, alongside softening sesame oil, hydrating lotus liquorice and relaxing rose. NZ.ayurda.com
Share this:
More Beauty & Wellbeing / The Latest