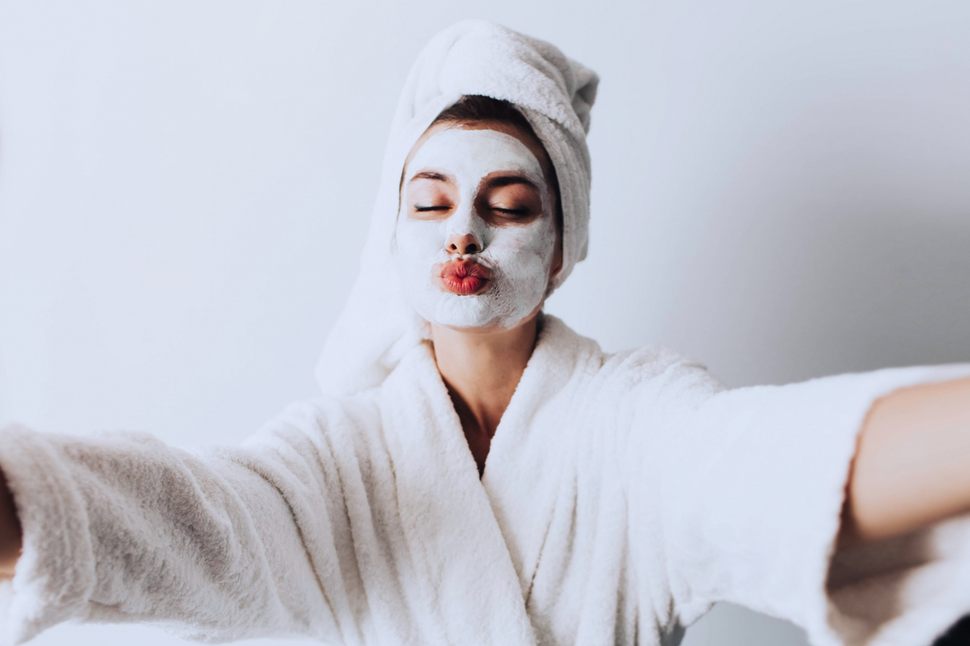 Fresh Start: Your January 1st Self-Care Routine
Indulged in one too many glasses of Champagne last night? This simple self-care routine will save your complexion (and your head)  
Friday Jan. 1, 2021
We've all been there — woken up on the first day of the year saddled with a monstrous headache and a dull, parched complexion to boot.  
While there's no one-and-done cure-all for your hangover, there are ways to kick it quickly. 
Drinking plenty of water is a start, although there are other means of restoring the hydration your skin loses during a night out.  
The right 'morning after' self-care routine can minimise the chance of alcohol-induced breakouts and redness, leaving skin glowing even if you're not feeling quite so radiant upstairs.  
7am: Calm your anxiety 
If your morning 'roll and scroll' has you feeling a little hot under the collar, try a little aromatherapy. Quell any camera roll anxiety by daubing a drop of lavender oil on your temples or behind your neck — experts say its calming properties can help the wearer relax. In lieu of lavender oil, pop a supplement containing gamma-Aminobutyric acid (GABA), which can promote an overall calming effect on the nervous system.  
READ: Celebrity Trainer Tracy Anderson Shares Her Spring Wellbeing Tips 
7.30am: Hydrate, hydrate, hydrate  
It's the step you always knew was coming — drink water. More specifically, flush out toxins with a glass of hot water with fresh lemon. Experts say this simple elixir is restorative to your liver tissue, helping it to optimally perform its detoxification processes. Continue to drink plenty of fresh water at room temperature throughout the day to rehydrate your system and beat bloating.  
8am: Go for cold 
It may sound like a form of torture, but taking a two-minute cold shower the morning after a big night may be the key to jump-starting the body's fat-burning processes. Not only this, but the icy cold is sure to wake you up faster than you can say "double shot trim flat white please".  
While you're in there, thoroughly cleanse your skin with a balm or oil-based cleanser to wash away any remaining makeup from the night before. Look for products containing soothing ingredients like chamomile or calendula to reduce inflammation. Viva loves Bare Minerals Oil Obsessed Total Cleansing Oil, $53, which contains mineral-rich sea salt to purify and refine skin.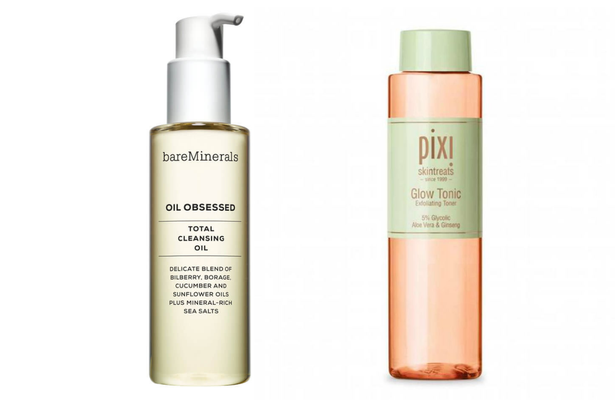 Left to right: Bare Minerals Oil Obsessed Total Cleansing Oil, $53; Pixi Glow Tonic, $53. Photos / Supplied

8.30am: Your hangover skincare routine  
Rubbing on all manner of creams and lotions may sound like an impossible task when you'd rather be prostrate, but speeding through a simple skincare routine will make all the difference to your skin's tone and texture after a night on the tiles.  

After cleansing, apply your exfoliant of choice (either physical or chemical) to slough away flaky patches that may appear due to dehydration. An acid-based toner like Pixi Glow Tonic, $53, works to improve skin clarity and radiance to skin — which is even more important when grappling with a hangover. 

Next, pop on a cooling mask in either cream or sheet form to deeply hydrate skin and save a tired complexion. Try Kiehl's Calendula & Aloe Soothing Hydration Mask, $70, an ultra-gentle mask that provides a refreshing burst of cooling hydration upon application. Apply a generous dollop to your face and neck and relax for five minutes before removing with a damp face towel.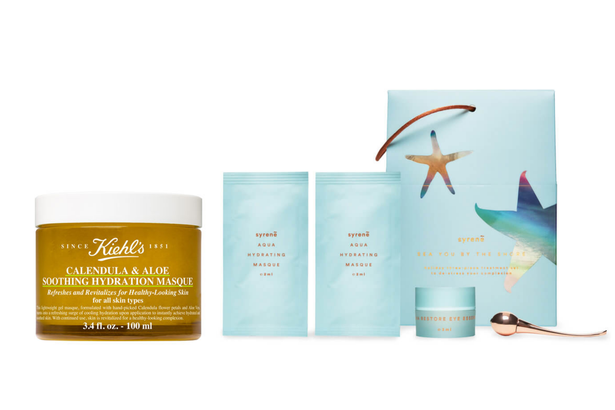 Left to right: Kiehl's Calendula & Aloe Soothing Hydration Mask, $70; Syrene's Sea You By The Sea Shore holiday three-piece treatment set, $50. Photos / Supplied

Take a two-pronged approach to depuffing tired eyes — pair a refreshing eye gel with a nifty tool to promote lymphatic drainage. Syrene's Sea You By The Sea Shore holiday three-piece treatment set, $50, contains it's popular Aqua Restore Eye Essence and the new Copper Eye Wand, which can be used together to massage the under-eye area, reducing puffiness and brightening dark circles. 

Lock in all of that goodness by slathering on a moisturiser with the same cooling and soothing properties of other products in your hangover-proof skincare routine. Suitable for even the most sensitive skin, Clinique Moisture Surge 72-Hour Auto-Replenishing Hydrator, $105, helps the skin to create its own internal water source to remain hydrated for up to 72 hours. The secret lies in the combination of two powerful humectants: hyaluronic acid fragments and activated aloe water to reduce water loss and seal in moisture.  

The finishing touch? A spritz of facial mist for one final wake-up call to skin, and to add another layer of hydration. Viva loves Dermalogica's Antioxidant Hydra Mist, $85, which creates an antioxidant shield over skin, protecting it from free radicals and environmental damage. 
Left to right: Clinique Moisture Surge 72-Hour Auto-Replenishing Hydrator, $105; Dermalogica's Antioxidant Hydra Mist, $85. Photos / Supplied

9am: Load up on nutrients  
It's a common misconception that a hangover and something greasy go hand-in-hand, but reaching for a calorie-dense, highly processed breakfast is actually one of the worst things you can do for your sore head. A heavy meal can mean the body's energy is diverted from important tasks like brain function to a downward focus on digestion instead.  

Consider whipping up a smoothie made from fresh fruit and vegetables to supply the body with a whole heap of antioxidants, vitamins, minerals, fibre and amino acids to kickstart your system. It's an easy way to consume nutrients quickly while you're still not feeling 100 per cent.   

10am: Time for tea 
If your nausea still hasn't passed mid-morning, brew a fresh ginger tea as strong as you can handle, or add a pinch of trace mineral-rich sea salt into your water to support your adrenal system.  

READ: Discover The Tranquil Calm Of Wellness Centre Hana 

11am: Stretch it out 
Bowel movements are especially important after a few too many beverages, so if this hasn't happened for you automatically try drinking a little more water and doing some yoga poses to get things moving. Poses that see you twist and bend in your midsection will help speed up the process, and reduce bloating. Supplement your movement with a dose of probiotics to regulate your digestion.  

12pm: Just juice  
Throughout the day, drink diluted, unsweetened cranberry juice in water. The natural diuretic will help flush out any bloat linked to water retention (and is also a much more exciting way to rehydrate your body).  

1pm: Get moving 
If those few yoga twists have you feeling limber and ready for something a little more strenuous, try a re-energising backbend, or squats and lunges to activate the hips and glutes. Head outdoors for an uphill walk or hike to sweat out toxins.  

3pm: Snack on potassium  
Foods rich in potassium may also help ease your weary head, as this mineral is rapidly depleted while the body tries to eliminate alcohol. Guzzle back some coconut water or snack on a banana. 

Share this: