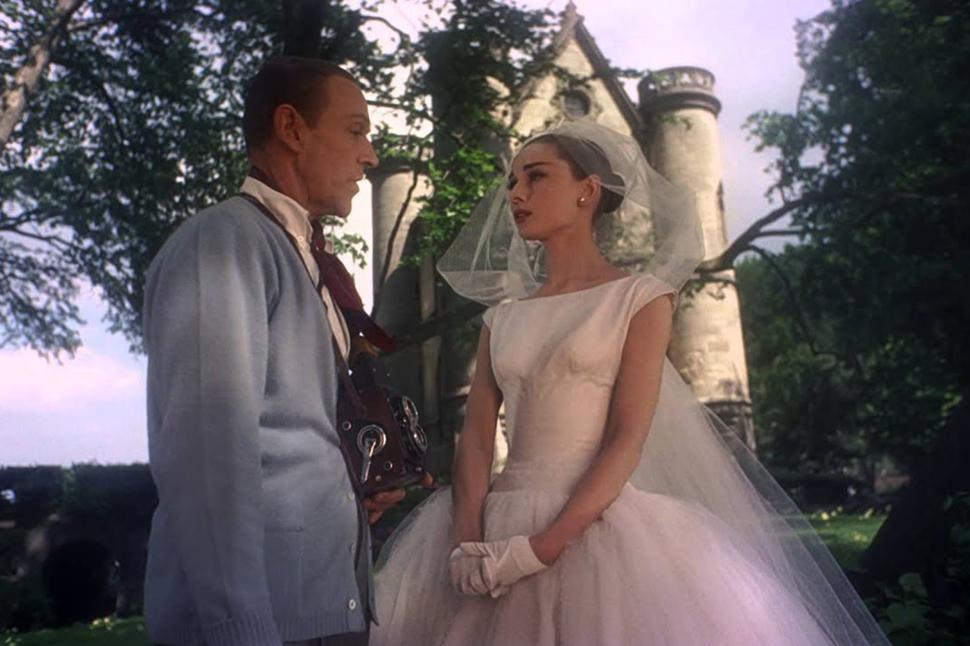 9 Of The Most Memorable Movie Wedding Dresses
From Crazy Rich Asians to Romeo & Juliet, these wedding scenes on film are unforgettable and so are the dresses
Tuesday April 9, 2019
Funny Face, 1957 (pictured, top)
Audrey and Givenchy go together like peanut butter and jelly; that is to say, they were made for one another. The designer and the actress had a decades-long friendship, with Hubert de Givenchy creating several iconic looks for Audrey, his ultimate muse.
READ: Viva's Definitive Bridal Beauty Countdown
While most of the costumes in Funny Face were designed by legendary costume designer Edith Head, Audrey wears a couple of very memorable looks by Givenchy, including a red strapless gown and a sweet bridal gown. With its full, calf-length skirt and fitted bodice, this wedding dress manages to be playful yet totally elegant — just like Audrey was herself.
Crazy Rich Asians, 2018
The wedding of Crazy Rich Asians characters Araminta Lee and Colin Khoo is borderline ridiculous it's so lavish. Araminta, played by Sonoya Mizuno, enters literally walking on water, and her dress is suitably over-the-top, with a gold bodice and multi-layered skirt.
According to an InStyle interview with the film's costume designer Mary Vogt, the ensemble took a team of 30 people three weeks to adorn with gold Swarovski crystals, and in the film you can see Sonoya wore bare feet with it so she wouldn't slip on the wet floor.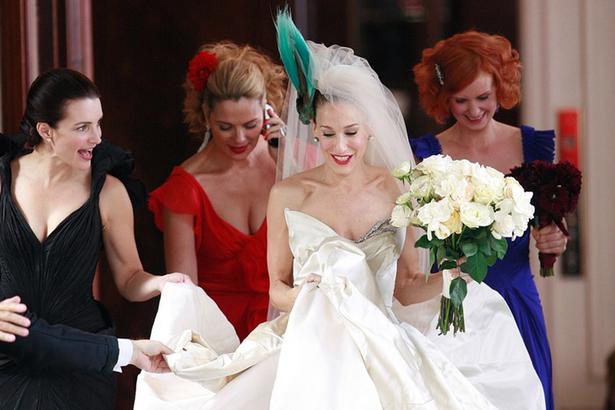 Sex and the City, 2008
Even though (spoiler alert) it ended in disaster with Carrie's white roses being pummeled all over Mr. Big's head and shoulders, her bridal outfit was something to behold. The dress was designed by Vivienne Westwood, a customised version of the 'cloud dress' that first showed in the designer's winter 2007 collection.
FLASHBACK: Our Favourite Viva Real Weddings
With its voluminous, double-layered skirt, signature Westwood bodice and two-toned hue, the dress was as memorable as the scene itself. Last year, it was put on temporary display at Vivienne Westwood's New York flagship store in honour of the film's 10-year anniversary.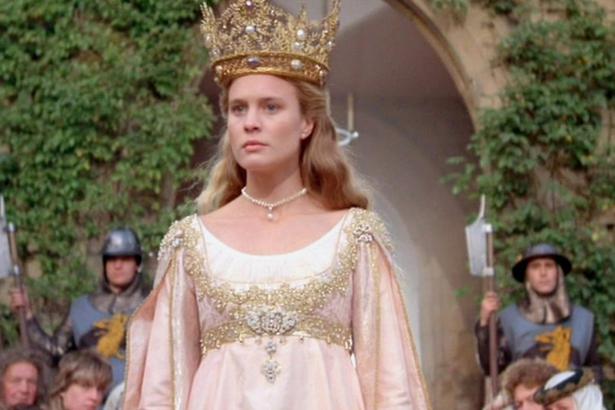 The Princess Bride, 1987.
Okay, so maybe the most memorable thing about Princess Buttercup and Prince Humperdink's wedding scene isn't her dress — although she is beautiful in the Phyllis Dalton design. Peter Cook steals the scene as 'The Impressive Clergyman', giving a rousing and hilarious sermon about the sacred act of "mawwiage."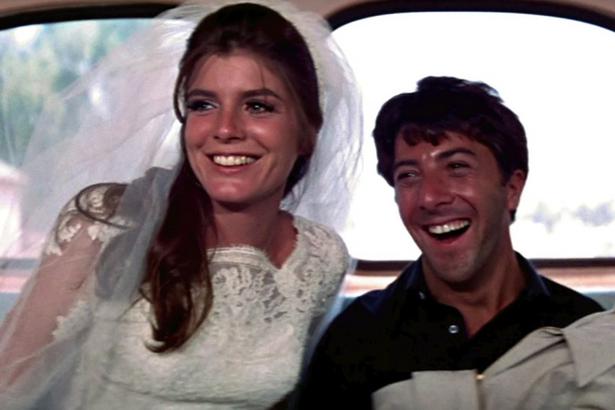 The Graduate, 1967.
Whether it's a love story or a cautionary tale for the kind of drama you want to avoid at your wedding, there's no denying that Elaine, played by Katharine Ross, looks radiant in her Patricia Zipprodt-designed lace gown and voluminous white veil. The epitome of a sixties beauty, Katherine's peachy makeup and glossy hair are great inspiration too.
Bridesmaids, 2011
I'm going to be honest; I put this movie in here even though Maya Rudolph's wedding dress isn't particularly memorable. This scene, however, definitely is.
Edit: I just re-watched the final wedding scene and concede that Maya's over-the-top frilly gown is hilarious (and was meant to be) but the plane scene is my favourite so it's staying.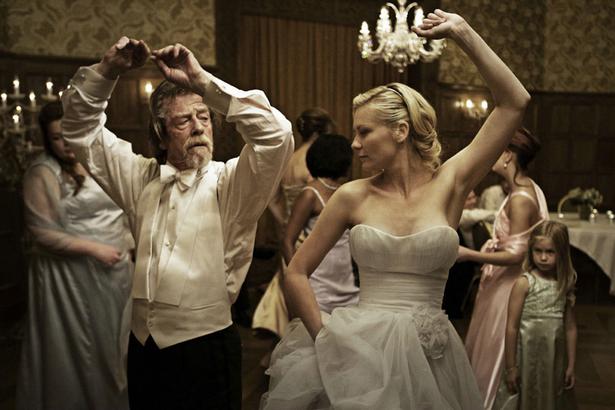 Melancholia, 2011
Lars von Trier's arresting meditation on depression and the end of the world opens with Justine, played by Kirsten Dunst, trying and failing to enjoy her wedding night. In this film, the wedding dress becomes much more than just a garment, acting as an expression of Justine's wavering emotional state.
When she first arrives at her reception, she looks pristine in her veil and dress with its fitted bodice and voluminous skirt, finished with a rose bolero around her shoulders. As the evening progresses, Justine becomes steadily more erratic and her dress is alternately discarded and put back on as this happens.
Romeo & Juliet, 1996
In Baz Luhrmann's iconic interpretation of the famous tragic tale, Juliet walks down the aisle wearing a simple button-up dress that, while very nineties, works perfectly for the film. She and Romeo are married as Quindon Tarver's angelic voice sings Everybody's Free by Rozalla — a scene made all the more poignant as we know what tragedy lies ahead for the young couple. I'm not crying, you're crying!
READ: How To Choose The Right Celebrant For Your Wedding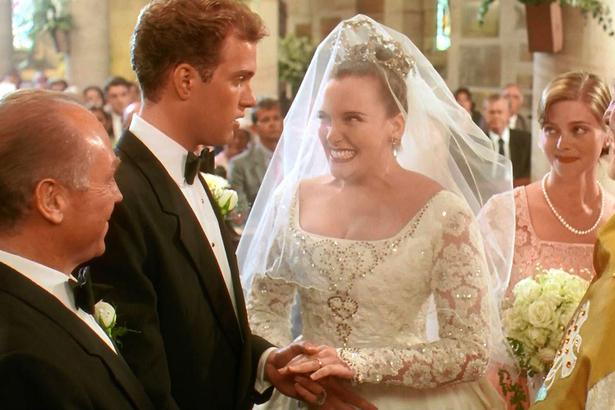 Murial's Wedding, 1994.
A wedding dress can often be a strong indicator of the era, and Toni Collette's turn as the hapless Murial features an eighties gown of epic proportions. It might not have aged well, but you can't help but love the hilarious Murial, and the fact that she walks down the aisle to I Do by ABBA.
Share this: