SPONSORED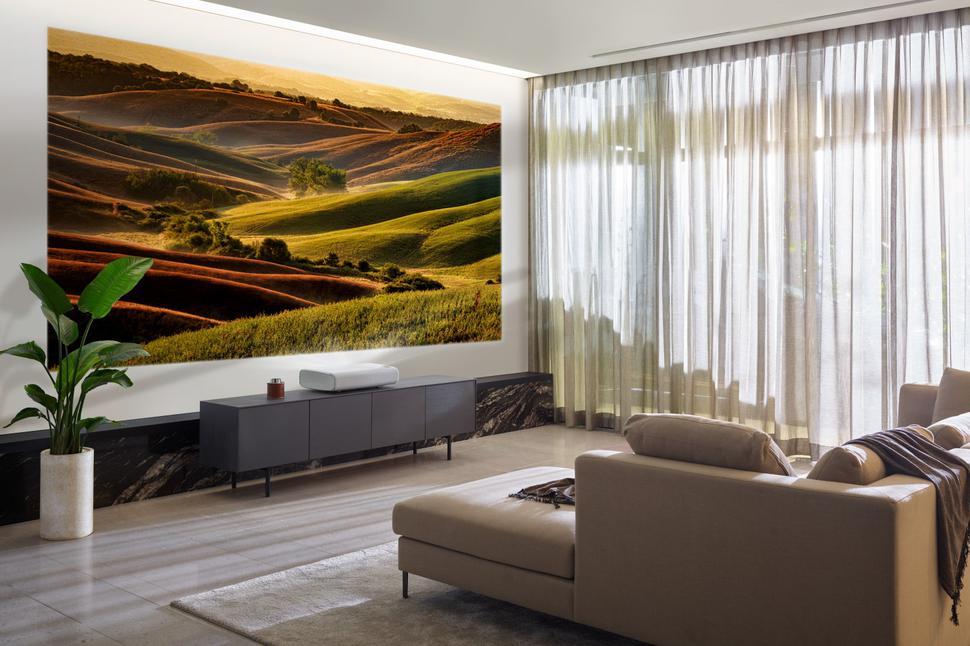 12 Things To Stream Now - And The Cinematic New Way To Watch Them
From cult classics to Hollywood blockbusters, everything looks better on a big screen
Friday Sept. 10, 2021
We're all wondering what to watch next, with the streaming of films and shows commanding a good deal of our attention lately. From much-hyped new movies to cult classics, there's plenty to enjoy right now, so Viva has put together some of our favourites.
Whether you're partial to fresh releases, archival icons or the latest binge-worthy shows (or all of the above) there's nothing quite like watching something while ensconced at home — especially now. But if you're missing the big screen, there's a way to get that theatre experience in your abode, with Samsung's game-changing The Premiere projector.
Sleek and minimalist, it's an unobtrusive (and portable!) addition to the living room. Ultra-short throw technology means it can be as close to 24cm from the wall and still show a 130" picture, while that cinematic feeling is served by an ultra-high resolution 4K display and a built-in speaker with acoustic beam technology.
Streaming couldn't be easier — the Samsung Premiere works over wifi and has all the apps you need — and there's a wealth of newness to explore, making now a good time to upgrade your home viewing experience.
Here's what we're watching.
Nine Perfect Strangers (2021)
The latest in a crop of shows to combine unease, wealth and a beautiful location — The White Lotus has a similar vibe — this series features an all-star cast that includes Nicole Kidman, Michael Shannon, Manny Jacinto, Melissa McCarthy and Bobby Cannavale. Filmed in regional Australia, it takes place in a picturesque mansion, with architecture, landscapes and fashion to entice, and a plot that will have you hooked.
Watch it on Prime Video.
A Cry In The Dark (1988)
A classic story that's close to home, with all the renewed interest around Lindy Chamberlain's unfair imprisonment and treatment by the media, and how it captured the prejudice of the period, this drama is worth a watch. Starring Meryl Streep and Sam Neill, it has held up remarkably well, and its portrayal of the controversial case is even more empathetic given what has unfolded since the original conviction. Expansive outback vistas and very retro costumes make it captivating viewing.
Watch it on Netflix.
Tenet (2020)
Arguably the biggest cinematic release of 2020, with its mind-melting special effects, breath-taking locations and stylish costumes, this ambitious movie by Christopher Nolan deserves a big-screen experience. Dynamic cinematography and fast editing call for ample viewing space and the comfort of home while you make sense of the complex story, which sees John David Washington and Robert Pattinson traverse time to stop a future war. The plot and physics are hard to parse (good thing the Samsung Premiere lets you pause, rewind, and try and make sense of it all) so we recommend sitting back and enjoying the spectacle.
Watch it on Neon.
Panthers (2021)
One of the pivotal local productions of the year, TVNZ series Panthers dramatises the foundation of Aotearoa's Polynesian Panthers movement. From the social significance to the soundtrack and costumes (by Viva contributor Sammy Salsa) its story is more relevant than ever, and essential viewing.
Watch it on TVNZ On Demand.
Notting Hill (1999)
Something of a modern classic as far as the rom-com genre goes, this movie is enjoying renewed popularity; partly due to the enduring charm of its stars, Julia Roberts and Hugh Grant, and because its costumes have swung into fashion again — think leather jackets, preppy shirts, crisp basics and small sunglasses. For those who never saw it in the cinemas when it came out in 1999, give it the big screen experience with the Samsung Premiere and enjoy a nostalgia trip.
Watch it on Google Play.
Cruella (2021)
Set in 1970s London and embracing a gritty punk undercurrent with its art direction, the costumes and soundtrack of this recent Disney film command as much attention as the high-energy performances from its stars Emma Stone and Emma Thompson, and make it apt for a cinematic experience. Bombastic outfits — designed by award-winning costume designer Jenny Beavan, who told Viva all about it — and captivating sets capture the period with frenetic, intoxicating energy. So does the Cruella score, and with its built-in stereo sound, the Samsung Premiere heroes the music, which includes songs by Blondie, David Bowie, The Clash and Nina Simone to name a few.
Watch it on Disney+.
Twin Peaks (1990)
For those who've never seen David Lynch's cult series, or who have only ever watched it on a small screen, now's your chance to lose yourself in the eery, unsettling and artfully realised world of Twin Peaks thanks to the cinematic experience provided by the Samsung Premiere.
Watch it on Neon.
The Pursuit of Love (2021)
A new adaption of Nancy Mitford's influential —and semi-autobiographical — novel, this mini-series is written and directed by Emily Mortimer, and follows an aristocratic family the Radletts as they navigate love, family and societies expectations of women during the 1920s, 1930s and 1940s — all while dressed exceptionally well (with 1200 costumes, this is one for fashion fans). With this in mind, and the sweeping English country estates and European locales, it's ripe for wide-screen viewing. Starring Lily James, Dominic West and Andrew Scott (Fleabag's "Hot Priest"), it's a delightful romp.
Watch it on Prime Video.
Cousins (2021)
A critically acclaimed adaptation of a Patricia Grace novel, and an important piece of Māori filmmaking co-directed by Ainsley Gardiner and Briar Grace-Smith, this locally-made drama follows three cousins Mata, Makareta and Missy over the years as they drift apart and come back together. The cast includes some leading local names like Briar, Tanea Heke, Rachel House, Chelsie Preston Crayford and Miriama Smith. Costumes are a pivotal part of the storytelling, with costume designer Sacha Young using colour for characterisation. A must-see, if you haven't already, and a rewatch if you have.
Watch it on Neon.
Talented Mr Ripley (1999)
One of our favourite films to watch ahead of summer, the sun-soaked Italian locations and dashing 1960s costumes set an elegant backdrop for this tense psychological drama by Anthony Minghella (based on the book in Patricia Highsmith's Tom Ripley series). It's all played out by Jude Law, Gwyneth Paltrow, Matt Damon, Cate Blanchett and the late Philip Seymour Hoffman at their most suave. Gripping, stylish, and worth a rewatch. Ciao!
Watch it on Netflix.
Only Murders in the Building (2021)
A charming new show, this New York City crime caper has four main characters under its lens; Steve Martin, Selene Gomez, Martin Short and the stylish grande dame of an apartment building, the Arconia, where they all live — the latter of which ought to be appreciated on an expansive viewing scale.
Watch it on Disney+.
The Power of the Dog (2021)
Not out until November 11 but worth a mention, Jane Campion's new noir-western film was the talk of the town last year; filmed in the South Island, it stars Kirsten Dunst and Benedict Cumberbatch. Beyond its talented cast — which also includes Jesse Plemons, Keith Carradine and New Zealand's own Thomasin McKenzie — is equally impressive cinematography, capturing sweeping landscapes and historic buildings, and a story about familial drama on a Montana Ranch which takes place in 1925 (it's based on Thomas Savage's novel). Long-awaited, it's the first feature film from the Oscar-winning New Zealand director since 2009's Bright Star (she co-directed television series Top of the Lake: China Girl in 2017).
Watch it on Netflix.
Upgrade your streaming with Samsung's The Premiere, available now. Discover the cinematic viewing experience at Samsung.co.nz.
Share this: