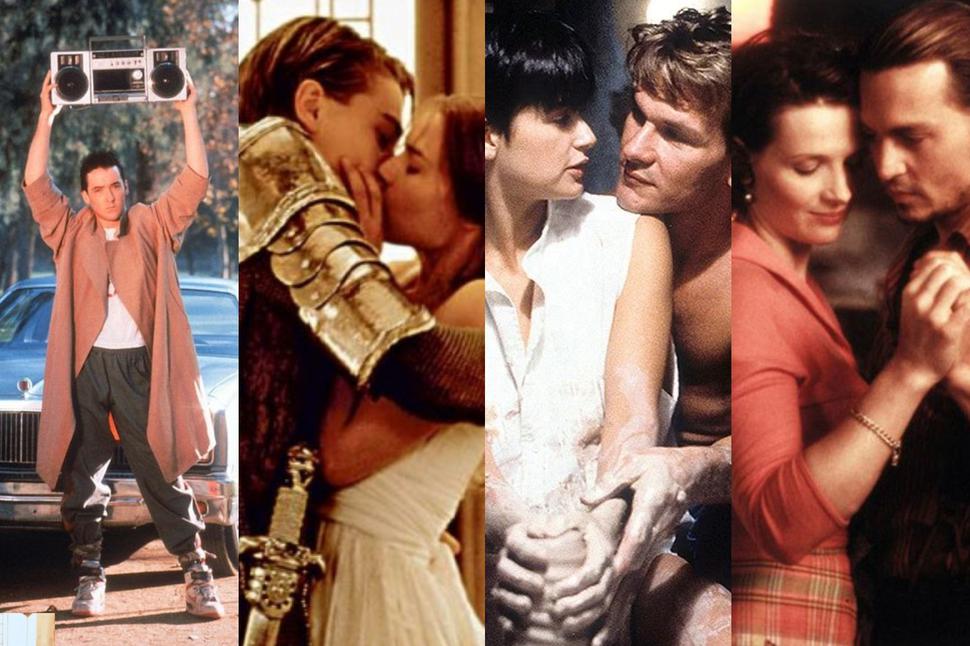 30 Movies To Help You Celebrate (Or Escape) Valentine's Day
These time-honoured classics will leave you weak at the knees (or reaching for a bucket)
Wednesday Feb. 13, 2019
Gone With The Wind (1939)
Based on the 1936 novel of the same name, Gone With The Wind is set during the American Civil War and Reconstruction era, where Scarlett O'Hara (Vivien Leigh) finds herself subject to a case of unrequited love — she falls for a man destined to marry her cousin. She ends up marrying her cousin's younger brother (incest, anyone?) who later dies and she rediscovers love at a charity bazaar with rogue Rhett (Clark Gable).  
Titanic (1997)
"Paint me like one of your French girls," says a nude Rose DeWitt Bukater (Kate Winslett), as Jack Dawson (Leonardo DiCaprio) furiously sketches the heart-shaped pendant dangling between her breasts. This fictionalised account of the sinking of the RMS Titanic in 1912 explores the tumultuous relationship between penniless artist Jack and aristocrat Rose who is set to marry a much older man. We all know how this story ends, but maintain there was definitely enough room for two on that door.
Ghost (1990)
Many have tried and many have failed to recreate the infamous 'pottery wheel' scene in Ghost — you know the one, where Sam Wheat (Patrick Swayze) sits behind girlfriend Molly Jensen (Demi Moore) and they sculpt the clay together. But before we dive any further into the plot, let's preface this by adding that he's a ghost. Sam is shot by a mugger at the start of the film, and the story follows his efforts to connect with Molly from the other side, via a psychic Oda Mae Brown (Whoopi Goldberg).
Say Anything (1989)
It's the movie that inspired every other knock-off of its most iconic scene — the one where protagonist Lloyd Dobler (John Cusack) holds up a boombox playing In Your Eyes by Peter Gabriel outside Diane Court's (Ione Skye) window. It's a case of opposites attract for these young lovers who fall in deeply for one another despite challenging family circumstances.
Dirty Dancing (1987)
It's the summer of 1963, and Frances 'Baby' Houseman (Jennifer Grey) is vacationing with her family at Kellerman's resort, where she (quite literally) stumbles across the resort's dance instructor, Johnny Castle (Patrick Swayze). To the tune of Eric Carmen's Hungry Eyes, Baby is taught how to dance to fill in for one of Johnny's pregnant colleagues to perform with him at a neighbouring resort. Despite missing her cues the first time her and Johnny try that lift, she nails at the end — giving people everywhere false confidence that they, too, can recreate it. (It's harder than it looks folks, trust me – I've tried).
Sixteen Candles (1984)
One of the original 'coming of age' movies, Sixteen Candles hones in on the life of high school sophomore Sam Baker (Molly Ringwald) and the ups and downs of her 16th birthday. Love triangles, high school gossip and teenage angst ensue in this time-honoured classic.
To All The Boys I've Loved Before (2018)
What would this list be without a bubble-gum, teen love story? Cue Netflix's latest teen romance film, where high school junior Lara Jean Covey (Lana Condor) is exposed by her younger sister when she posts Lara's secret love letters to her three childhood crushes to them. It's a relatively mindless watch, with some cute lessons about life and love sprinkled throughout.
Love, Rosie (2014)
Based on Cecelia Ahern's 2004 novel, Where Rainbows End, Lily Collins and Sam Claflin star in this rom-com centred on two best friends, Rosie and Alex. A drunken kiss at Rosie's 18th birthday party spurs on a love story that traces from England to America. It's one of those 'love must win against all odds' kinda stories, filled with frustration and warm fuzzies intermittently.
Silver Linings Playbook (2012)
If you're still crying into your popcorn after Bradley Cooper's performance in A Star Is Born, then may we distract you with a love story of a different kind. Silver Linings Playbook sees bipolar Pat Solitano Jr. (Bradley Cooper) meet dark and mysterious widow, Tiffany Maxwell (Jennifer Lawrence). In a scheme to win back his estranged wife, Nikki, Pat enters a dance competition with Tiffany, while the subplot follows Patrizio Sr.'s (Robert DeNiro) quirks and superstitions around American football team, the Philadelphia Eagles.
Valentine's Day (2010)
Please don't navigate away from the page. We're sorry, but we couldn't help but include this extra-cheese-with-cheese-on-top rom-com in this list. All lactose aside, it's the star-studded cast that gets us. There's Bradley Cooper, Jessica Alba, Eric Dane, Patrick Dempsey, Jamie Foxx, Jennifer Garner, Jessica Biel, Anne Hathaway, Julia Roberts, and Ashton Kutcher just to name a few. Every character's story intertwines with another, making for a multi-layered journey of love, heartbreak and reconciliation.  
500 Days Of Summer (2009)
This film is an emotional rollercoaster to say the least — and we're pegging it as a film that could be enjoyed by anyone in either camp (the lovers or the haters of V Day). The rom-com stars Joseph Gordon-Levitt (Tom) and Zooey Deschanel (Summer) and their 500-day romance. Frustrating, funny and sweet all at the same time, 500 Days Of Summer isn't reserved purely for the loved-up.
Mamma Mia! (2008)
It seems they had to make up a film category to pigeon-hole Mamma Mia! — its classed as a jukebox musical romantic comedy — but we think it's in a league of its own. Featuring an all-star cast and ABBA hits in spades, Mamma Mia! sees bride-to-be Sophie Sheridan (Amanda Seyfried) invite three men she suspects to be her father to her upcoming nuptials on the Greek Island of Kalokairi. Worth a watch alone just to see Meryl Streep take on the role of free-spirited and sassy Donna.
P.S. I Love You (2007)
Good lord — where do we even start. We're tearing up just writing this. Forever cemented in our minds as the ultimate, sexy husband, Gerard Butler comprises the role of Gerry, who tragically dies of a brain tumour at the start of the filming (no spoiler alert needed). He leaves a series of messages for his widowed wife Holly (Hilary Swank), all ending with 'P.S. I Love You', which ultimately lead her down a path of rediscovery and fresh starts.
Definitely, Maybe (2008)
"Is she my mom?" was the big question asked by a super-cute Abigail Breslin stars alongside everyone's favourite heartthrob, Ryan Reynolds, in this 'is she/isn't she' tale of love and heartbreak. The film launched on Valentine's Day back in 2008, and explores Will Hayes' (Reynolds) entire relationship history as told to his daughter, Maya (Breslin), following her first-ever sex ed class. An easy watch, yes, but the ending will definitely (maybe) have you sighing: 'Awww'.
50 First Dates (2004)
It takes a certain level of patience to take the same person on their first date over and over again, but that's exactly what Henry (Adam Sandler) does with amnesiac Lucy (Drew Barrymore). Set in Hawaii, Lucy lost her memory in a tragic car accident on October 13. To avoid her reliving the pain of the accident, her family protects her by re-enacting the same narrative every day. Henry persists by helping Lucy recover from her accident, making her tapes to make her remember the day before. 
The Notebook (2004)
Damn you, Nicholas Sparks. The 2004 film adaptation of the author's best-selling novel conjures up all the feels as an elderly man, Duke, recounts the love story of wealthy debutante Allie Hamilton (Rachel McAdams) and poor quarry worker, Noah Calhoun (Ryan Gosling), to a patient in a nursing home. We defy you not to well up when Noah cries: "I wrote you 365 letters. I wrote you every day for a year."
Love Actually (2003)
We've never quite forgiven Alan Rickman for buying that necklace for his assistant and breaking poor Emma Thompson's heart right on Christmas. No other film has managed to pull off the intermingling stories quite like Love Actually. The festive film follows ten separate stories portraying different types of love shared between individuals, which later interlink. The ensemble cast includes the likes of Liam Neeson, Colin Firth, Emma Thompson, Laura Linney, Keira Knightley, Bill Nighy, and Hugh Grant — whose dance routine to Jump has inspired many a meme. 
Moulin Rouge (2001)
Step inside the peculiar mind of director Baz Luhrman in this visual feast. This avant-garde film is set in 1900 Paris during the Bohemian revolution, and explores the tumultuous love story shared between Moulin Rouge courtesan Satine (Nicole Kidman), and penniless writer, Christian (Ewan McGregor). There's music, secret trysts and can-can skirts aplenty as the characters plan to save the Moulin Rouge through an Indian-themed extravaganza, Spectacular, Spectacular.
Chocolat (2000)
Pick yourself up a box of Roses to nibble at while you indulge in this sweet treat. Chocolat tells the story of young mother Vianne Rocher (Juliette Binoche) who, along with her daughter, Anouk (Victoire Thivisol) opens a boutique chocolaterie in a repressed French Village. Vianne's sweet delicacies have a powerful effect on the townspeople, including the broody Roux (Johnny Depp).
Romeo + Juliet (1996)
Baz Luhrman's modern take on Shakespeare's Romeo + Juliet is nothing if not iconic. While the film honours the original Shakespearean dialogue, the film is set in contemporary America, with the warring Montagues and Capulets depicted as mafia, with guns in place of swords. Romeo is played Leonardo DiCaprio and his floppy fringe, while Claire Danes is a youthful Juliet. The star-crossed lovers fall madly, deeply in love to the tune of Kissing You by Des'ree, and the film follows the drama that surrounds their relationship, until they meet their tragic end.
And for those who would rather celebrate solo, check out our anti-Valentine's Day picks:
The Graduate (1967)
Heathers (1988)
The Truman Show (1998)
Under The Tuscan Sun (2003)
Atonement (2007)
Blue Valentine (2010)
This Is 40 (2012)
Bachelorette (2012)
6 Years (2015)
Sex Education (2019)
Share this: