28 Great Things to Do in February
Maintain the summer holiday vibe and enjoy these music, art, film and food events on across the country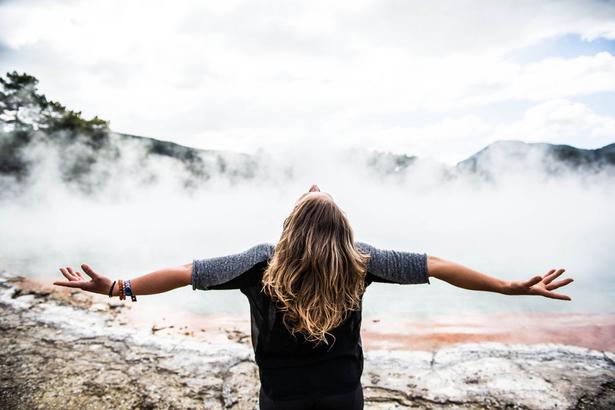 Wednesday Feb. 1, 2017
1. Wanderlust
Find inner peace at Lake Taupo over Waitangi Weekend at the Wanderlust festival, a four-day event dedicated to mindful living. On offer are yoga and meditation classes, workshops, speakers, artists and musicians (including Ladyhawke, Norman Jay and Tiki Taane), and there are several food events and outdoor adventures planned too — including the opportunity to bungy jump. If four days is too long you can choose to go just for part of the festival — visit its website for details about ticket sales and accommodation options, including camping and glamping
— Wairakei, Great Lake Taupo, February 2-5. Visit Wanderlust.com
2. Auckland Lantern Festival
The Auckland Domain will be transformed at night with over 800 handmade lanterns during the weekend of February 9-12 for the annual Auckland Lantern Festival celebrating the Chinese New Year. There'll also be music, dance and martial arts performances, food and Chinese art and crafts for sale, and lantern-making demonstrations. Suitable for all ages.
— Auckland Domain, Grafton, February 9-12. Free. Visit aucklandnz.com/lantern 
3. Urban Polo
Polo comes to the inner city environs of Auckland and Wellington for the first time this month at the Heineken Urban Polo event, which showcases a mini version of the sport featuring three players per team on the pitch at any one time. There'll be a couple of games during the day, and the event's awards ceremony will be followed with music from a DJ so you can party on into the night.
— Ian Galloway Park, Wellington, February 11, from 1pm; Shore Rd Reserve, Parnell, Auckland, February 25, from 3pm. Tickets at urbanpolo.co.nz
4. New Zealand Polo Open
If you're more of a polo purist and want to experience the longer-form version of the sport, the Land Rover New Zealand Polo Open takes place in between the two urban events in the more rural setting of Clevedon. As well as the official games, the day-long event features Fashion on the Field, a Car v Pony Horsepower Race, and an afterparty with DJs. Buses are available from Britomart.
— Auckland Polo Club, 102 Clevedon-Kawakawa Rd, Clevedon, February 19, from 10.30am. Tickets at iTicket
5. Simple Minds and The B-52's
Hey, hey, hey, hey — if you haven't forgotten about them, or if you need a refresher, flash back to the 80s with Scotland's most famous rock band Simple Minds when they visit Auckland and Christchurch this month with another iconic band, The B-52's.
— Vector Arena, February 14. Tickets at Ticketmaster; Horncastle Arena, Christchurch, February 16. Tickets at Ticketek
6. Flochella
Spend Waitangi Weekend in Taupo and relax on the Sunday at ZM Presents Flochella, a free all-ages festival where the crowd will enjoy music from the likes of Jupiter Project, Theia, Maala and Mitch James while floating on the water (with 300 free floaties provided for those aged 16 and over). There are also plans for a bomb competition, register at NZBombComp.co.nz.
— Wharaewaka, Lake Taupo, February 5, from 3pm. Visit zmonline.com
7. Being Chinese in Aotearoa: A Photographic Journey
The Chinese have a long history in New Zealand, from the first settler Appo Hocton — who arrived in 1842 — to the new migrants and established communities of today. Explore the stories and experiences of 175 years of Chinese settlement in this country at the Being Chinese in Aotearoa photographic exhibition at Auckland Museum which features nearly 100 rarely-seen photographs. Also showing are a new series of contemporary artworks by graphic artist Ant Sang and writer Helene Wong which tell the story of a boy and his grandmother as they tour modern-day Auckland.
— Sainsbury Horrocks Gallery, Auckland Museum, from February 10. Free with museum entry. Visit aucklandmuseum.com
8. T-Pain/Ty Dolla $ign
Two major US rappers are touring New Zealand this month. T-Pain brings his hip-hop hits to New Zealand off the back of new record Stoicville: The Phoenix but the R&B superstar is sure to delve into his back catalogue and bust out a few of his big jams too, such as I'm 'n Luv (Wit a Stripper) and Bartender. Also touring is Ty Dolla $ign, who will perform his Campaign tour across the country, with Kent Jones, Jess B (Auckland only), DJ Sir-Vere and SWIDT in support.
— T-Pain: Studio, K Rd, Auckland, February 2; ASB Baypark, Mt Maunganui, February 3; The Foundry, Christchurch, February 4. Tickets at The Ticket Fairy; Ty Dolla $ign: The Bedford, Christchurch, February 1; Logan Campbell Centre, Auckland, February 2. Tickets at Ticketek
9. Guns N' Roses
Iconic US rockers Guns N' Roses perform their Not In This Lifetime tour at Western Springs in Auckland and Westpac Stadium in Wellington, which sees Slash, Axl Rose and Duff McKagan playing together for the first time since 1993. They'll perform classic hits from their back catalogue, think Welcome to the Jungle, Paradise City and Mr Brownstone, and will be supported by Aussie rockers Wolfmother.
— Westpac Stadium, Wellington, February 2. Tickets at Ticketek; Western Springs Stadium, February 4. Tickets at Ticketmaster 
10. The Winery Tour
The annual Winery Tour is underway for 2017, with this year's lineup featuring the three Bs: singer-songwriters Brooke Fraser, Bic Runga and Benny Tipene. The trio are performing at some of New Zealand's most beautiful wineries throughout February, including Hawke's Bay's Black Barn Vineyards and Matakana's Ascension Wine Estate.
— Various venues across New Zealand until February 19. Visit Winerytour.co.nz
11. North West Wine, Beer and Food Festival 2017
Waimauku's The Hunting Lodge plays host to a new festival, which has attracted a heavyweight lineup for its debut: Dave Dobbyn (with full band), Trinity Roots and Nomad. As well as the excellent musical performances at the inaugural North West Wine, Beer and Food Festival, guests will have the chance to enjoy the wares of five local vineyards and two breweries, as well as food from the North West region which encompasses the area from Riverhead to Kaukapakapa. For those not wanting to drive the half-hour to the lodge, there will be buses available from central Auckland from 12pm, returning to the city at 7pm.
— The Hunting Lodge, 307 Waikoukou Valley Rd, Waimauku, February 11, from 12pm. Tickets from $59.50 at Eventfinda
12. Raggamuffin X
You'll definitely be wanting to get along to Raggamuffin this year, its tenth anniversary, because this is the last year the roots and reggae music festival will be taking place in Aotearoa. At least it'll be going out on a high (no pun intended), with Shaggy, Six60, The Wailers featuring Family Man AND Ky-Mani Marley among the acts performing at this year's show.
— Raggamuffin X which was due to be held on February 18, has unfortunately been postponed until later this year, to find out more visit raggamuffin.co.nz
13. Courtney Sina Meredith
Courtney Sina Meredith — playwright, poet, musician and fiction writer — recites some of her works this month as part of Auckland Live's excellent Summer in the Square programme. The writer describes her work as an "ongoing discussion of contemporary urban life with an underlying Pacific politique", which is sure to get you thinking and inspired this Valentine's Day.
— Aotea Square, February 14, 12:30pm. Free. Visit aucklandlive.co.nz

14. Bruce Springsteen and the E Street Band
Following his triumphant tour here in 2014, Bruce Springsteen and his E Street Band return to New Zealand for two shows: one in Christchurch on the eve of the anniversary of the 2011 earthquake, and the other at Mt Smart Stadium. Most of the songs are from The Boss' The River album from 1980, which was marked in 2015 with the release of The Ties That Bind: The River Collection box set. Setlists from the tour so far reveal he plays a few of his other classic tracks, however, especially during one of his legendary encores. With support from Marlon Williams and the Yarra Benders and Jet.
— AMI Stadium, Christchurch, February 22, tickets at Ticketek; Mt Smart Stadium, Auckland, February 25. Tickets at Ticketmaster  
15. Pork Pie
Pork Pie, a reboot of 1980s cult Kiwi classic film Goodbye Pork Pie hits the silver screen this month, starring Dean O'Gorman, James Rolleston and Ashleigh Cummings as the three protagonists roaring about New Zealand in a yellow Mini as the Blondini gang. Watch the trailer below.
— In cinemas February 2 
16. Auckland Fringe Festival
The biennial Auckland Fringe Festival returns for 2017, with a huge lineup of comedy, cabaret, theatre, puppetry and dance performances by local and international artists across a range of venues. One of the festival's top offerings is Alice Birch's Revolt. She Said. Revolt Again which is being presented by Silo Theatre just before the official programme kicks off. Starring Fasitua Amosa, Sophie Henderson, Michelle Ny and Amanda Tito, and directed by Virginia Frankovich, the play is a series of vignettes exploring the next wave of feminism.
— The Basement, Lower Greys Ave, from February 15. Tickets at iTicket. The Auckland Fringe Festival runs from February 21 to March 12. Visit aucklandfringe.co.nz
17. The Auckland Pride Gala
This black-tie event, hosted by Georgina Beyer and Jaycee Tanuvasa, will showcase the best performances from this year's Auckland Pride Festival including the likes of Eli Matthewson, Cole Meyers and Eddie Elliot. The Auckland Pride Gala will also feature guest appearances from rainbow community icons, such as Michael Parmenter, Mika, and Jay Chasland, who'll perform with local rainbow community choir, Gals.
— Q Theatre, 305 Queen St, Auckland Central, February 10, 8pm. Tickets at aucklandpridefestival.org.nz
18. Marlborough Wine & Food Festival
One of the biggest events on the Marlborough calendar is its annual Wine & Food Festival, showcasing the best the region has to offer. Taking place at the iconic Brancott Vineyard in Blenheim, the festival features demonstrations by chefs including Annabelle White and Karena and Kasey Bird, culinary masterclasses, and some top-notch entertainment from the likes of Supergroove and Hollie Smith
— 110 Brancott Road, Fairhall, Blenheim, February 11, from 10.30am. Tickets at Ticketek.
19. Splore
Splore is cited by many as their favourite New Zealand music festival, and when you see pictures of the stunning location at Tapapakanga Park with the Firth of Thames as the backdrop, you can see why. This year's headline acts include Fat Freddy's Drop, Blackalicious and Skye and Ross, and as well as the great music lineup, you can enjoy a varied visual arts programme, workshops, spoken word performances, forums, sustainability talks and more.
Fat Freddy's' Splore set is one of just a handful they're performing in New Zealand this summer - they played Villa Maria in mid-January, and hit Queenstown on February 5, and Wellington's Homegrown festival on March 4. We went hat shopping with a couple of the boys for the hats they'll wear on tour; see the video here.
— Splore: Deerys Rd, Orere Pt, February 17-19. Tickets at iTicket; Fat Freddy's Drop: John Davies Oval at Queenstown Events Centre, Joe O'Connell Dr, Frankton, February 5. Tickets at Eventfinda; Homegrown, Wellington Waterfront, March 4. Tickets at Eventbrite.
20. T2 Trainspotting
Trainspotting fans have been waiting 21 long years for the sequel of the brilliant adaptation of Irvine Welsh's breakthrough novel, and early reviews indicate that despite its silly name T2 Trainspotting is a worthy-enough successor. Directed again by Danny Boyle, T2 picks up the story of the Scottish reprobates in middle-age where they're remarkably all still alive — though some have fared better in the past 20 years than others. Watch the trailer below.
— In cinemas February 23 
21. Myers Park Medley
Historic inner-city Auckland green space Myers Park plays host to a free, family friendly festival featuring live music, art, entertainment and market stalls, aimed at bringing the community together. Myers Park Medley has two entertainment stages with music performances from the likes of Hopetoun Brown and Sal Valentine and The Babyshakes, poetry from Tourettes and puppetry from Spike Bones. Also on offer are food trucks, entertainment for the children, and the Twice as Nice markets.
— Queen St, Auckland Central, February 28 from midday. Visit Eventfinda
22. Flamingo Pier Waiheke
Picturesque Rangihoua Estate is the setting for Flamingo Pier Waiheke, an outdoor DJ event with one stage in the estate's olive grove, and another under the native forest canopy. Entertainment will be provided by Weird Together Soundsystem, Psychemagik, Francis Inferno Orchestra and more, while the food and drink options include Miss Moonshine's BBQ, Bearded Clam Burgers, Shaka Bowl Poke, Bedford Soda and Liquor, Crate Brewery and Man 'O War Wines.
— 1 Gordons Rd, Rocky Bay, Waiheke Island, February 4. Tickets at iTicket 
23. Waitangi Wahine
If you haven't visited the new Te Kongahu Museum of Waitangi just out of Paihia in Northland yet, you really should — it's truly excellent and something every New Zealander should see. A good excuse to go right now is to see the Waitangi Wahine exhibition featuring the work of five female artists with reputations for pushing boundaries with powerful political statements — Linda Munn, Robyn Kahukiwa, Tracey Tawhiao, Suzanne Tamaki and Andrea Hopkins.
— 1 Tau Henare Drive, Waitangi, Bay of Islands. Visit Waitangi.org.nz
24. Big Gay Out
One of the biggest events of the Auckland Pride Festival is the Ending HIV Big Gay Out in Pt Chevalier, one of the city's biggest celebrations of the rainbow community. Performing on the Durex main stage all afternoon are the likes of Parson James, Openside, Lavina Williams, Buckwheat, Miss Ribena, Susanne Paul and more. Take along some ID for the Urge Events Bear Garden, which promises to have a big bar and shady chill-out zone, and take your dancing shoes along so you can bust some moves in the Stay Safe Dance Zone. Buses are available from K Rd and Ponsonby Rd, and there'll be stalls offering food and shopping.
— Coyle Park, 528 Pt Chevalier Rd, Auckland, February 11, from midday. Free. Visit Biggayout.co.nz
25. Art Deco Festival
February means it's Tremains Art Deco Festival time, when all things 1930s take over Napier. New at this year's event is the Ruby Room Cabaret (February 17 and 18) featuring performances of music, circus, magic, dance and comedy; and don't miss the annual highlight of the free Gatsby Picnic on February 19, where guests dress up in deco threads, pack a hamper, and vie for the title of best tea setting and picnic.
— Various venues, Napier, February 15-19. Visit Artdeconapier.com
26. Heroic Garden Festival
We love any excuse to have a sticky-beak around someone else's beautiful garden, and the annual Heroic Garden Festival gives us an excellent reason to do just that — and all in the name of a good cause. This year's festival, its 20th anniversary, features 24 gardens across the city (including several new additions to the programme) and 14 are open for children. Buses are available, and all funds raised go to Mercy Hospice.
— Various venues, Auckland, February 18 and 19. Visit Heroicgardens.org.nz
27. Gibbs Farm Sculpture Park Tour
Here's a rare chance to have a look at the 27 impressive sculptures dotted around the famous Gibbs Farm overlooking the Kaipara Harbour north of Auckland, which opens up to the public on just a few days a year. This tour, on February 23, is a fundraising event by the Orewa Rotary Club, and tickets ($60 for adults, $20 for children over 5) will get you entry, a light packed lunch and access to a shuttle bus, if required.
— 2421 Kaipara Coast Hwy, Makarau. Tickets at iTicket 
28. A Window That Isn't There
A new exhibition at Allpress Studio turns the focus onto life in the Middle East as viewed by New Zealand photographer Joe Dowling. A Window That Isn't There features his pictures taken mostly on black and white film in the dangerous territories of Afghanistan, Iran and Iraq as Isis was beginning to make its lethal presence felt in the region.
— 8 Drake St, Freemans Bay, Auckland, February 1-10.
Share this:
More Culture & Travel / > Local