Mad Men's Last Hurrah
Spoiler alert: We look back at some life affirming quotes from fashion's favourite TV series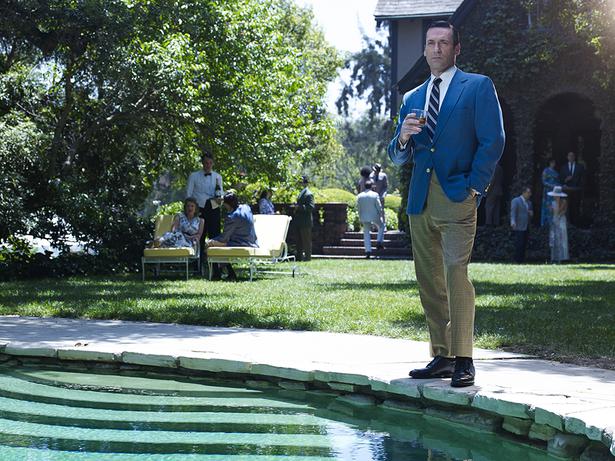 Sunday May 17, 2015
The final episode of Mad Men screens this weekend, and it's been a trippy ride. Not since Roger's LSD orgy in season five have we seen more nods to the other side than what we've seen so far this final season; from Don's ominous visits from the late Bert Cooper to the ever-elusive Diane, the brunette waitress whose encounters with Don have felt like they are somewhere between dreaming and reality. Even Don's glazed eyes during his first meeting at McCann Erickson before walking out in a daze had us thinking about whether or not our protagonist would ever find some sense of semblance with his life as he heads out on an aimless road trip listening to Space Oddity. That foreboding continued with last week's penultimate episode, where we discover Betty, she who represented the American dream, has lung cancer. Whether or not those subtle nods were designed to foreshadow things to expect this weekend as the curtain comes down on one of the most successful television series in history, the show has left us with plenty of memorable quotes to live by. Here are seven of our favourite from the past seven seasons.
1. "I always worried about you, because you marched to the beat of your own drum. But now I know that's good. I know your life will be an adventure"
- Betty to Sally, season 7, episode 13
2. "You're a very beautiful girl. It's up to you to be more than that."
- Don to daughter Sally, season 7, episode 10
3. "I want you to feel good about whatever you're doing. That's just the job."
"What's the job?"
"Living and not knowing."
- Don to Peggy, season 7, episode 6
4. "I have a life, and it only goes in one direction: forward."
- Don, season 1, episode 5
5. "If you don't like what is being said, then change the conversation."
- Don, season 3, episode 2
6. "I don't think anyone wants to be one of 100 colours in a box."
- Peggy, season 1, episode 6
7. "You want to be taken seriously? Stop dressing like a little girl."
- Joan, season 2, episode 6
Share this:
More Culture & Travel / Staying In